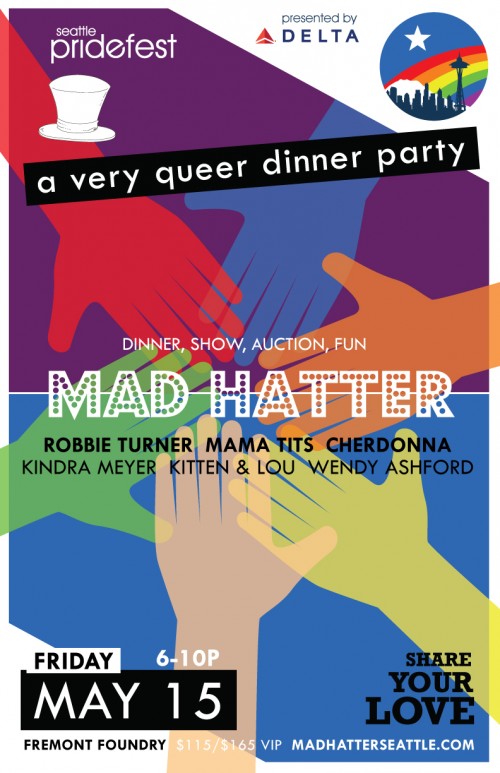 UPDATE: Sadly, PrideFest's "Mad Hatter" fundraiser event has been postponed, probably until fall.
We'll keep you posted!
In case you hadn't received that memo, "Seattle PrideFest" aka "Egan Orion and the fine folks who put on Seattle's Pride Festival at Seattle Center and NOT the folks who put on the Seattle Pride Parade" have now become a 501c3 non-profit which makes it easier for them to acquire sponsorships AND raise funds from the public to make sure Seattle PrideFest remains the biggest FREE public LGBTQ Pride event in the country.
(Yes. Were you AWARE of that? In many cities, to gain entrance to Pride Festivals costs $$$!!!!! Fundraisers like this, and getting corporate sponsorship helps make that happen! SOMEONE has to pay for the frivolity!)
So, to raise some money, PrideFest is staging an awesome night of food and entertainment on Friday, May 15, 2015 at Fremont Foundary. "Mad Hatter, A Very Queer Dinner Party" is the "Alice in Wonderland" themed party that will feature great food and drink, PLUS an original stage show created by PrideFest head, Egan Orion and starring some of your favorite local performers in some very iconic roles. It's not been officially released, but we heard through the grapevine that the Hashtag Queen of Seattle, Miss Robbie Turner will star as Alice, with Mama Tits as the titular (get it?) Mad Hatter, plus Cherdonna as ….the Red Queen? Maybe.
PLUS, Kitten & Lou, Kindra Meyer, Wendy Ashford and MORE, to be announced.
(Who's the Cheshire Cat, we ask? The Tweedles?)
We're sure, much more will be announced SOON! We're also sure this will be way better than the awful Tim Burton movie!
Grab advance tickets over HERE! Yes, it's a bit spendy but it's a FUNDRAISER! To keep PrideFest FREE!!!! Open up your wallets! Plus, you get a whole night of entertainment, food and drink…ALL for a good cause!
Do IT!!!
Otherwise, we might have to go back to that BORING Festival we used to have in Volunteer Park…you know, the one that felt like a badly planned church picnic but with less entertainment and terrible food.
(Visited 1 times, 1 visits today)