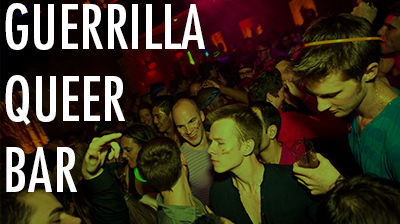 We've all noticed by now that the Hill has become overrun by Douchebros and Woo Girls every weekend. It's time for a taste of their own medicine!
The Welcoming Committee, a little group (of over 20,000 or so) focused on providing nightlife and non-nightlife things to do for the LGBTQ community, presents the Guerilla Queer Bar this weekend on June 5th at 9pm. On the first Friday of every month, typically heteronormative bars in ten cities across the country will fall prey to a big queer takeover. The location here? Super secret. If you join their mailing list, you'll get to know the day before where to bring your hookup, partner, or swagger.
If you're curious about TWC or not ready to take the Guerilla plunge yet, there'll be an informal meet-and-greet Wednesday the 3rd at Unicorn.
With new folks added to the QUILTBAG community daily, it's nice to know there's a strong organization to help newbies meet new people and find fun things to do, either sober or not. Stuff like an adult Underground Tour, sports things, and wine tastings make the list. The only agenda: have some fun!
If you're new in town, bring a pal and let the Committee help you discover Seattle. There's no shortage of things to do here, but it can be easy to get stuck in a rut of drinking at all the same bars. Or if you're a sober person, at least you can meet like-minded individuals. Go, and enjoy!  
(Visited 2 times, 1 visits today)