Those krazy kids over at Fantastic.Z Theatre Company, Seattle's LGBTQ identified theater troupe have a doozy of a play to wrap up their 2014/15 season. It's the Northwest premiere of an "existential transgender wild western" by playwright Basil Kreimendahl, called SIDEWINDERS and it has a VERY interesting plot:
Dakota and Bailey find themselves stranded in a strange barren land. While Dakota worries about how the two get home, Bailey is more concerned with the matter of their sexual identity.  Guided by the majestic gender sherpa Sandy and their servant Sam, the two discover that true love does not come from your genitalia, but from your heart. 
The show time for Fantastic.Z Theatre Company's production of Sidewinders is 8pm  and runs from July 16th – August 1st at Richard Hugo House, 1634 11th Avenue on Capitol Hill in Seattle.
Tickets are $10 – $15 online, at brownpapertickets.com, or $20 at the door an hour before show time at 7pm with a special PWYC/Industry Night on Tuesday July 21st. And special 15% off "Brave the Block Party Pricing" Friday July 24th and Saturday July 25th.
Sidewinders will make the old Tab Hunter/Divine film, Lust in the Dust, look like a picnic in the park with the Care Bears…Check it OUT!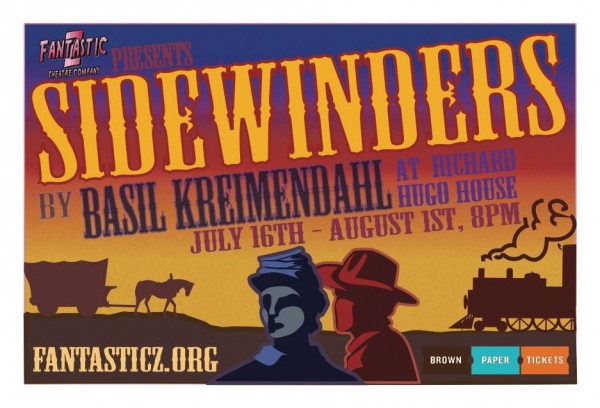 Tags: Fantastic Z, Hugo House, Queer Theater, Sidewinders, Transgender Theater