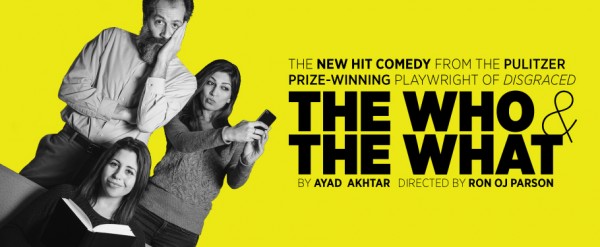 Review: The Who & The What by Ayad Akhtar. Produced by Victory Gardens Theater. Directed by Ron OJ Parson. With Rom Barkhordar, Minita Gandhi, Susaan Jamshidi and Shane Kenyon. Now through July 12, 2015 at Victory Gardens Biograph Theater, 2433 North Lincoln Avenue, Chicago, IL.
Ayad Akhtar has had a very big and very auspicious beginning to his play writing career. His very first play, once he embarked on playwriting, Disgraced, received a Pulitzer Prize! Seattle audiences have not seen that play produced here, though it's slated for Seattle Repertory's next season (January 8-31, 2016).
We did get a production of his second play, The Invisible Hand, at ACT Theatre, and it was a marvelous piece of writing that won the Gypsy Rose Lee Award for Excellence in Production of a Play (Large Theater), and Brendan Patrick Hogan won for Excellence in Sound Design of the production, while it also garnered nominations for directing, lead actors, ensemble, and lighting.
Similarly, it received Footlight awards for best play and best lead actor. It received critical raves from a number of reviewers in town, as well.
It was partly based on that history that caused me to choose to see his new play, The Who & The What, when I went to Chicago for a weekend. It was making its Midwest debut at The Victory Gardens Theater, an acclaimed company I have known about since I was a kid growing up in Chicago.
Akhtar writes from a unique slice of perspective. He is a Pakistani-American who grew up in Minnesota and has found his voice in writing about the cultural intersection between Arab immigrants to the United States and their particular issues in integrating within the larger U.S. population.
Similar to much of what our celebrated local playwright, Yussef el Guindi, has chosen to focus on, Akhtar mines the Arab American and immigrant experience for the crises they sometimes provide. Disgraced is focused on a dinner party with a disparate group of diners arguing about religion and politics.
The Invisible Hand is set in an unidentified Arab country where an American is kidnapped and is forced to ransom himself via stock market transactions. While not about the family, the different cultures play a huge role in whether the characters understand each other or not.
The Who and the What focuses on a conservative, traditional father Afzal (Rom Barkhordar) raising two very different daughters. The younger, Mahwish (Minita Gandhi) is content to at least appear compliant, engaging herself to a young Arab American who is approved by her father. The older, Zarina (Susaan Jamshidi), is not ready to marry someone her father chooses and, in fact, has written a potential explosive book about the Prophet Mohammed!
What works well in the scenario is delving into family relationships in the sort of family many know little about. I certainly don't know any Arab-American or Muslim families where I can sit like a fly on the wall and listen in to familial controversies. Their concerns are both familiar and fascinatingly different.
The play focuses on whether modern Americanized children should pay attention to their progenitors' prescriptions or if it is better for them to be free of the outmoded and (by implication especially for women) patriarchal edicts about who to marry and how to manage their lives. Without the potentially explosive book contents, the play would be a satisfying exploration in that area.
The inclusion of this book, written by an intelligent and thoughtful woman, but about Prophet Mohammed in a way that we have to presume could even get her killed, is kind of the elephant not discussed in the room. Yes, eventually after a presumed publication, there are consequences and not very nice ones in some areas.
But when people are under death threat world-wide for very similar kinds of content, we either need it to be more firmly addressed as to why Zarina isn't afraid or is willing to face those consequences and that which might apply to her family. The extension of risk to the family is completely lacking in Zarina's dialogue, which seems like it would be a failing of intelligence in that area, and prove her naiveté!
The actors serve the piece very well. Gandhi as Mahwish, the younger daughter, amuses in her attachment to current music and pop culture. Barkhordar as Afzal, a successful owner of a taxi company, is adorably sentimental and also bossy head of household over two women he has little hope of commanding. Jamshidi as Zarina has a nice reserve, although sometimes is too reserved to represent a daughter so headstrong and stubborn that she is compelled to abandoned virtually every cultural restriction she has grown up with. Zarina is still perhaps an underwritten character.
The nuclear family is joined by Shane Kenyon, who plays Eli, a convert to Islam, whose journey is in many ways the best explained of all the characters. He becomes the suitor to and then husband to Zarina, in a blend of the modern man who is also the father's choice. Kenyon, perhaps oddly, is the best actor in the bunch, and walks a careful line of respect for a culture he has to interpret for the audience, in some ways.
The two areas that don't serve the play very well are the fact that the play is presented as essentially a comedy and many of the directorial choices. First, I have come to feel like I need to sprinkle lots of salt on any play or movie called "funny," because so often it's not. This play has a few moments of levity, certainly, but it really is mostly a drama. It can't even be called a "dark comedy." Calling it funny sets up expectations that then fail, which is unfair to the play.
Director Ron OJ Parson made some choices that I think impact unfairly on the play, also. First, he chooses to place three locations on the stage in essentially a straight line. While that makes for seamless set changes, it flattens the playing area and the dynamism of the performance. The background is a weird bunch of curtain-y fabric segments where people appear and disappear in a ghost-like way.
Some of his direction involves the actors wandering for no clear reason around on one area of the set. The fact that the family home is in the middle, but only a piece of kitchen/dining area is included means that the actors don't get to create a reality for themselves of living there and being at home. They don't move like they live there.
Akhtar is a writer not to miss, even if this third play is less compelling than his first two, or in the process of being rewritten. I enjoyed having the opportunity to see the play and where his work is going. It's also true that not every play from even great writers is going to be a masterpiece. Maybe, if he works on this a bit more, he may yet get a hat trick.
Victory Gardens Biograph Theater
2433 North Lincoln Avenue | Chicago, IL 60614
Tickets: 773.871.3000
http://victorygardens.org/our-season/the-who-and-the-what/
Tags: Ayad Akhtar, Chicago Theater, Review, The Who and the What, Victory Gardens Theater