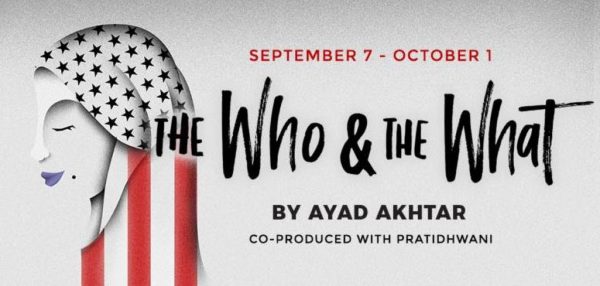 ArtsWest continues their string of producing fascinating contemporary plays with their 2017/18 season opener, the Seattle premiere of Pulitzer Prize winner Ayad Akhtar's play

THE WHO & THE WHAT

in a partnership with Pratidhwani, the South Asian theater company. The play opens September 7th at the West Seattle theater for a month long run through October 1st. Mr. Ahktar won the Pulitzer for his very controversial play DISGRACED, which had a provocative production at Seattle Rep in 2016.
The story:
At the heart of THE WHO & THE WHAT is Zarina, a brilliant Pakistani-American writer. While finishing her novel about women and Islam, she meets Eli, a young convert who bridges the gulf between her modern life and her traditional heritage. But when her conservative father and sister discover her controversial manuscript, they are all forced to confront the beliefs that define them. From Ayad Akhtar, the Pulitzer Prize-winning author of DISGRACED, THE WHO & THE WHAT is a thrillingly fierce and funny new play about identity, religion and the contradictions that make us who we are.
Here's a bit of an interview with Ayad Akhtar:
 

How would you describe The Who & the What?

It's a family story, about two sisters and their father. One of the sisters, Zarina, is writing a book which is a humanizing portrait of the Prophet Muhammad, and her father who's a believing, practicing Muslim – not particularly rigid, but certainly conservative – doesn't know that. And over the course of the play he finds out about the book. But it's also a play about how the image of the prophet figures in the lives of these folks, in the mythological space, notably the life of the lead character, Zarina. The deeper subject matter of the play is the Ummah's – the Muslim community's – relationship to the prophet. And the other side of the play is really just an immigrant tale of Afzal, the father, coming to embrace America on one level and, on the other, his continued at-oddness with American life and also with his own daughter's choices. It's a very old tale which is told again and again. I'm just telling it in this particular community.
AND, you can get a "First Look"  at this fascinating new production this coming Tuesday, August 22 at 7:30pm for their FIRST LOOK: THE WHO & THE WHAT, a behind the scenes look at the creation of the new production with cast, crew and Arts West staff. This is a FREE event at the theater but you should reserve your space.
The Who & The What
Season Opener!
By Ayad Akhtar
Directed by Samip Raval
Thursdays – Saturdays at
7:30pm
ArtsWest Playhouse & Gallery 4711 California Avenue SW Seattle, WA  98116 Box Office: 206.938.0339
www.artswest.org
Tags: ArtsWest, Ayad Akhtar, Controversial Theater, Fall Theater Seattle, Islamic Themes, Pakistani American Culture, The Who & The What