Review: We've Battled Monsters Before. Book, Music and Lyrics by Justin Huertas. Produced by ArtsWest. Directed by Mathew Wright. With Justin Huertas and Rheanna Atendido. Through December 26, 2021 (and virtually) www.artswest.org
Justin Huertas was born lucky. He is perfectly positioned to take advantage of exactly this age of "becoming inclusive," as theater works to widen and embrace diverse stories from diverse backgrounds. He's Gay and Filipino-American. He is also, luckily, a hugely talented musician/writer/actor/performer. And it's lucky for us (particularly in Seattle) that we get to experience his art.
Huertas often writes from a perspective of a young person uneasy with their circumstance or background or family. His first major musical, Lizard Boy, produced at Seattle Repertory Theater, set the table with a story of a boy who magically is turned into a lizard and has to manage how he stands in the world being so clearly different from everyone else. The genesis of the story is linked to Huertas' journey of coming out Gay, and his Filipino-American heritage, and having to deal with feeling different than others. Like the stories he's chosen subsequently, the boy triumphs in the end.
While his next effort for Book-It Repertory Theatre, Howl's Moving Castle, was not his own story (it's an adaptation of a well-known book and movie), it, too, has magical elements and young people struggling with who they will be and how they will navigate life. His songs showed progress in sophistication and in how they move the story along and help the musical come to life.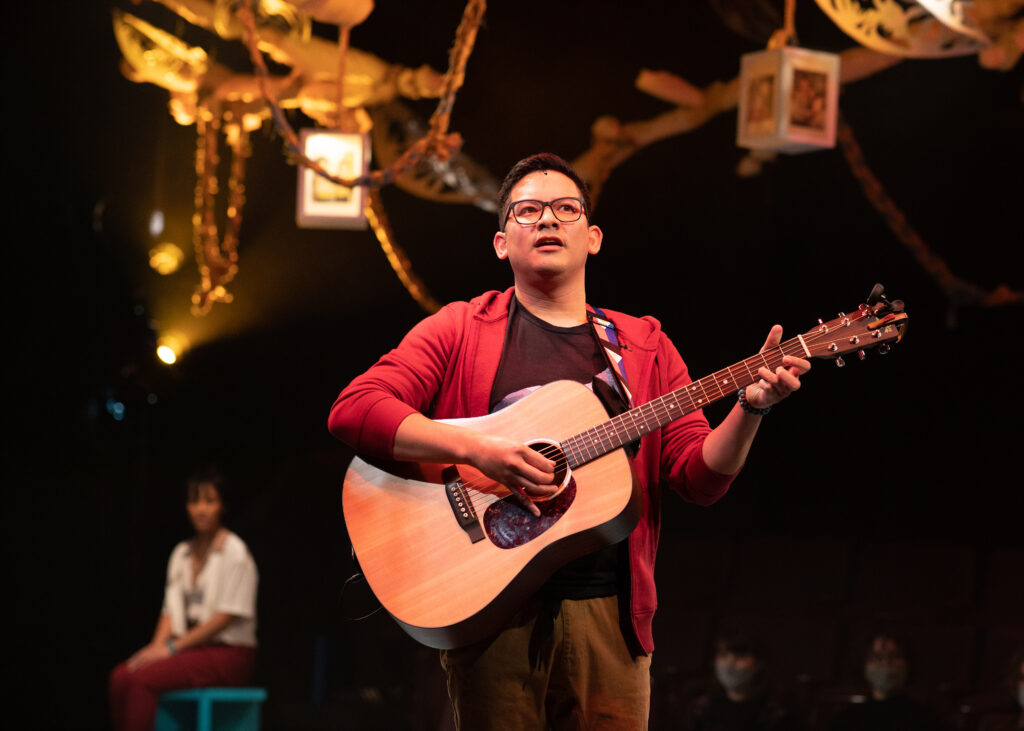 The summer before Covid, Huertas teamed up with Mathew Wright and Artswest, where you can also see We've Battled Monsters Before until December 26th or possibly virtually online, with his next world premiere, The Last World Octopus Wrestling Champion. The premise for that story is based on real Puget Sound octopus wrestling! Around that, he crafted a family story of secrets, magic (of course), and learning about how to accept and be your real self.
With each new creation, his musician-ship matures a little bit more, his lyrics become more pointed, and the "reasons" things happen in his musicals continue to strengthen. And now, his latest world premiere, We've Battled Monsters Before, arrives. Based on a Filipino poem, Ibong Adarna, we have a family of generations of secret warriors with a young woman who doesn't know her own power or what it's to be used for.
WBMB fully embraces his Filipino heritage, his family connections, even Filipino food! (There are real recipes sung about in the musical!) He infuses Tagalog into his lyrics and uses it as the basis for magical spells. While the production is a "two-hander" and Huertas and Rheanna Atendido are the only actors, Huertas also becomes "Lola," the grandmother of the two main characters, Diego and Adarna.
Lola is the keeper of secrets and the instructor of magical spells, but tries to dole them out only when a child is ready to receive the next level of instruction. Adarna is the impulsive and headstrong young person who wants to be done with instruction, already, and in the process, makes powerful mistakes when she doesn't quite pronounce a piece of spell language.
Adarna and Diego also reference struggling with feeling different as school children and relate how they tried to turn the difference into family pride. They have the sometimes-uneasy relationship of siblings, feeling competitive with each other. They also have an uneasy connection and relationship to a strange location called The Whisper, where all time occurs at exactly the same instant.
Huertas and Atendido are completely in sync with each other, play a half dozen stringed instruments, and captivate for every moment. Their emotions are completely accessible. The only mystery is whether they get what they need by the end of the story.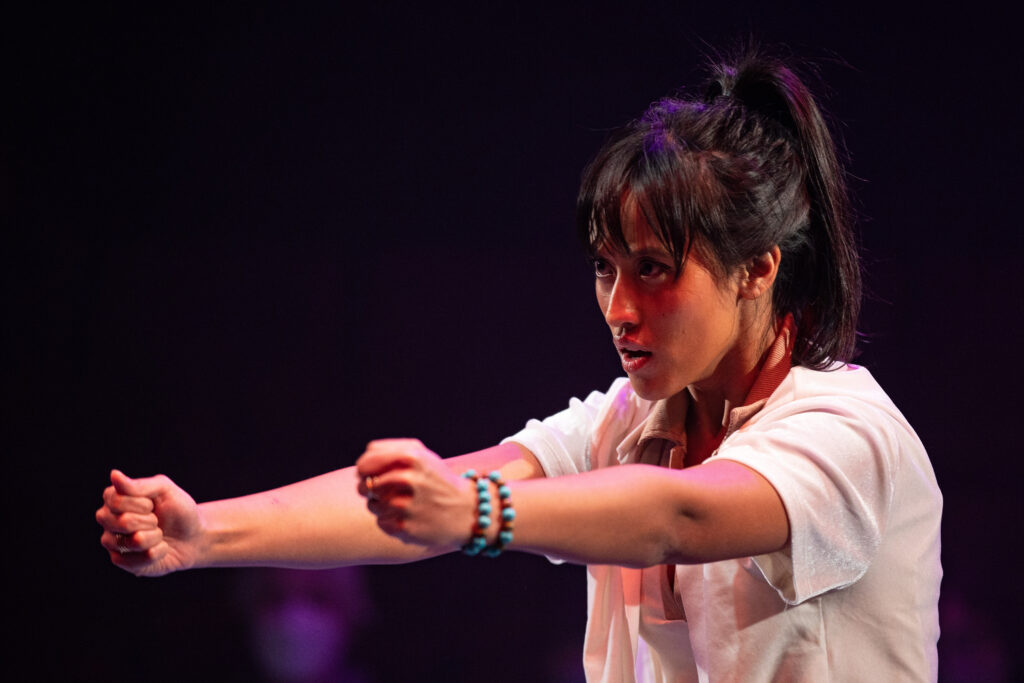 The production really should be seen in person, if you can get there to see it. Due to the closure of the West Seattle bridge, driving to West Seattle will probably take as much as an hour from most central Seattle locations, but can be done with a little patience. If you miss the live version, do try to get tickets to the online version. It's not the same, of course, but with a little magic and a little luck, you'll enjoy it that way, too.
If you want to follow what Huertas is doing in the future, as he works on Lydia and the Troll for production at Seattle Rep, go to: Justin Huertas is creating Music, Musicals, and More! | Patreon.
For more information, go to www.artswest.org or call 206-938-0339. More articles can be found at MiryamsTheaterMusings.blogspot.com.
(Visited 5 times, 1 visits today)