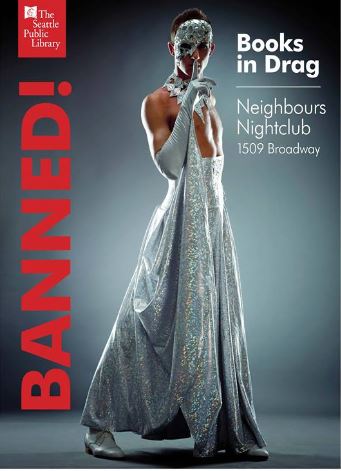 Who knew Drag Queens could read things other than the directions on a tube of eyelash glue??!?!?
Apparently, they can because a butt load of area drag divas will be reading OUT LOUD this coming Saturday, September 26, 2015 from 6:30pm to 9pm at Neighbours Nightclub on Capitol Hill for an event produced by Seattle Public Library called BANNED BOOKS IN DRAG part of their series of "Banned Books" event throughout the city.
Obviously, this is a 21+ event so leave the childrens at home! AND, to be clear, this is a READING event where queens will actually READ books, and NOT each other! In other words, no tea or shade will be served!
Well, we're sure SOME tea will be served…HELLO!!!! Homosexuals! Drag Queens!! DRAH-MUH!!!
The just unshackled from the chains of The S.S. Sinking Ship known as The Stranger, writer David Schmader will host the festivities!
Queens scheduled to read include: Sparkle Leigh, Robbie Turner, Isabella Extynn St. James, LaSaveona Hunt, Atasha Manila, Aleksa Manila, Charlie Menace, Gabriela Scherrer, DonnaTella Howe, Sylvia O'Stayformore and Kitty Kitty Bang Bang.
Registration and tickets are not required. This event is free and all are welcome. Doors open at 6:30 p.m.; program begins at 7 p.m.

CO-HOSTS:

Seattle LGBT Commission
Gay City Health Project
Lifelong
The Seattle Public Library
And, of course we kid about "dumb" drag queens. I know several names on that roster have master's degrees. Isabella Extynn St. James knows how to build bombs out of toilet paper, old make-up and a can of Fresca!!! Robbie Turner can whip through a Norma Shearer biography WITHOUT EVEN MOVING HER LIPS WHILE SHE READS!!! DonnaTella Howe has been known to complete a Sudoku book WHILE simultaneously putting on her make-up and changing the oil in her car! Sylvia O'Stayformore can fry up bacon in a pan while regrouting the tile in her maid's powder room AND refinishing a mid-century set of probably authentic Eames occasional tables!!!
Why?
BECAUSE THEY ARE PROFESSIONALS!!!!
(Visited 1 times, 1 visits today)