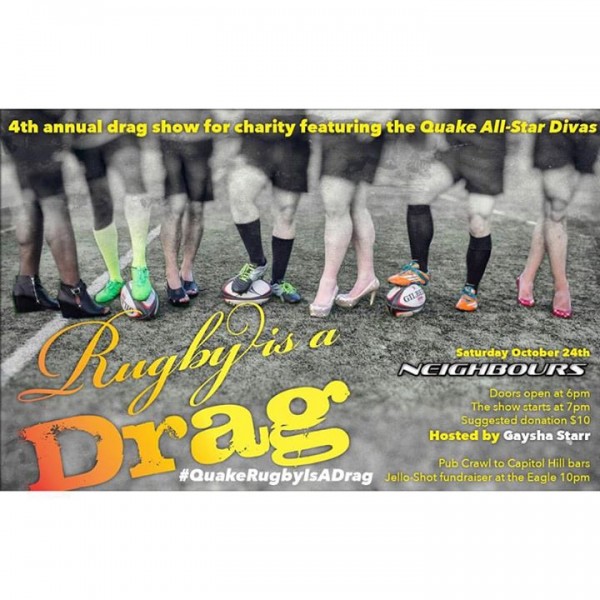 I have been SLAVING over the SGS Calendar for the last few days getting it up to date and full of meaty/juicy plump events. For today alone (Friday, October 23, 2015) there are 18 different options to choose from including BenDeLaCeme in her one woman show, COSMOS, plus Brown Derby's bastardized version of "Poltergeist" at Re-bar and a screening of the ULTRA cheezy 80s space vampire film LIFEFORCE at Central Cinema. Check out ALL the opportunities over at the Calendar!
Don't forget tomorrow's treats, too….including the Mad Hatter: A Very Queer Dinner Party to benefit Seattle PrideFest and RUGBY IS A DRAG at Neighbours with special guest star Gaysha Starr flying in from San Francisco to host. It's a fun fundraiser for Seattle Quake Rugby featuring jocks in frocks.
It's that time of year again! Seattle Quake Ruggers will remove their cleats and slip into their heels.
We have a lot of ruggers who will become divas for one night only, to perform your favorite hits.
Make up will be done by some of the fabulous queens of our community!
Hosted by the Beautiful Gaysha Starr
Door at 6, Show at 7.
There's also a shit ton of Halloween events on the Calendar for next weekend's cavalcade of costumed fun.
I've even got a butt load of Christmas stuff loaded in there including complete listings for Dina Martina's Xmas Show, Ham For The Holidays and Homo for the Holidays!
Start your Fall/Holiday Event planning!!!!
Tags: SGS Calendar, Stuff To Do