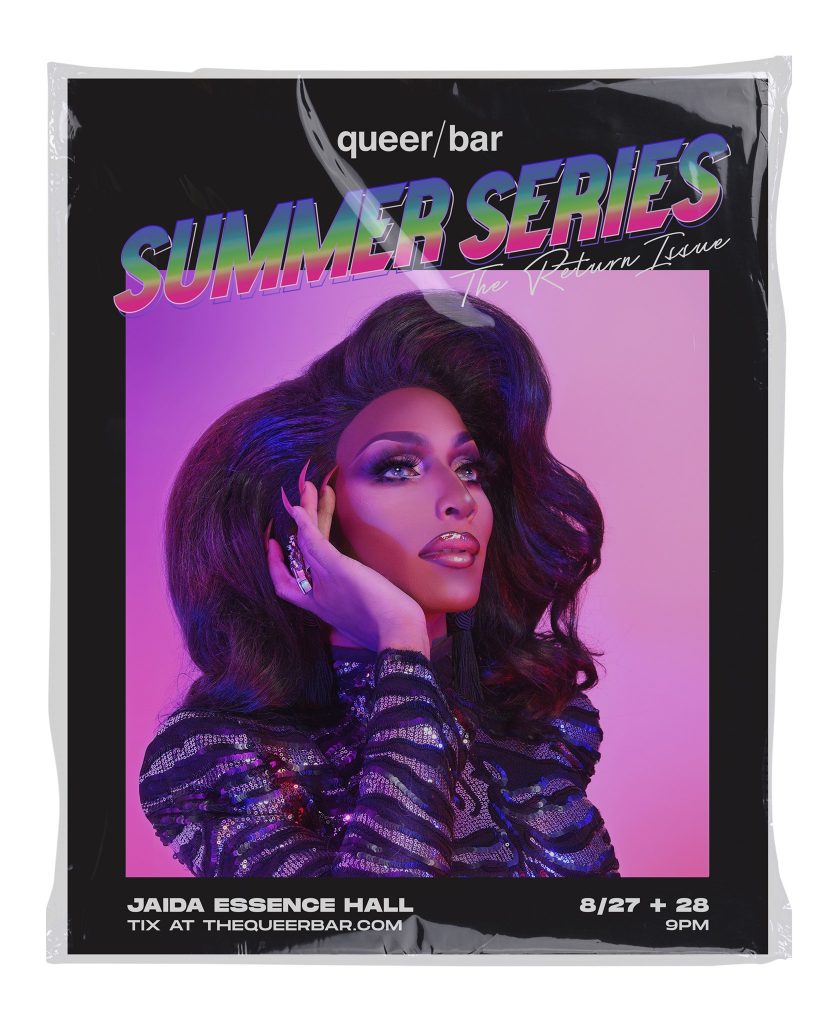 We really do have the biggest, best LGBTQ Calendar in town. NO ONE else even attempts to do a decent listing of LGBTQ events for the greater Seattle area.
It's not bragging if it's true.
Don't believe me? Go check it out…HERE!
In the meanwhile, I'll just list all the stuff happening tonight, Friday, August 27th.
Don't see your event listed? Then, let us know at info@seattlegayscene.com
6:00 PM
August 27 @ 6:00 pm – 10:00 pm|Recurring Event (See all)Kremwerk / Timbre Room Complex, 1809 Minor Avenue
Seattle, WA 98101 United States + Google Map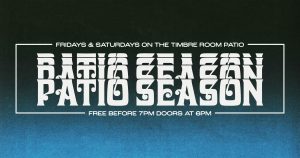 Take advantage of our limited Seattle Summer with some of our favorite local DJ's playing patio vibes every Friday & Saturday on the Timbre Room Patio! Please Note… ◈ You must RSVP by 5 PM on the Day of the event which you are attending to be eligible for free entry. ◈ Entry to Patio […]Find out more »
7:00 PM
August 27 @ 7:00 pm – 8:30 pm|Recurring Event (See all)Julia's on Broadway, 300 Broadway E
Seattle, WA 98102 United States + Google Map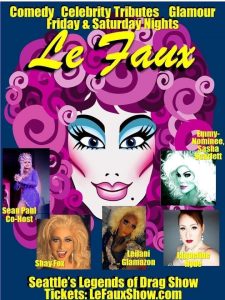 LE FAUX SHOW A celebrity impersonation/burlesque show featuring a full cast of professional impersonators, choreographed dancers and completely outrageous acts. You and your friends will have the time of your lives seeing our Las Vegas style productions. We are concert-like performances that are truly unbelievable. Le Faux is the largest cabaret-style celebrity impersonation show in […]Find out more »
August 27 @ 7:00 pm – 9:30 pm|Recurring Event (See all)The Cuff Complex, 1533 13th Ave
Seattle, WA 98122 United States + Google Map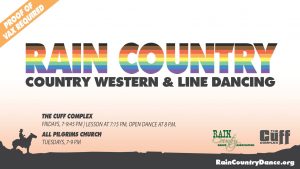 Welcome back to country dancing to the Cuff Complex, Rain Country Dance Association's home base since 2004! Join us from 7:00–9:45 pm each Friday, with free dance lessons at 7:15 pm. This week's lesson: Basic Two-Step + Mambo Moves Instructor: TBD / DJ: Ray Due to the rise of the Delta variant, the Cuff Complex […]Find out more »
August 27 @ 7:00 pm – 9:30 pmAngel of the Winds Arena, 2000 Hewitt Ave
Everett, WA 98201 United States + Google Map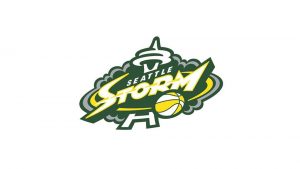 Designated section for fully vaccinated fans. Children between the ages of 2 and 11 are allowed in the vaccinated section and are required to wear masks at all times other than while eating or drinking in ticketed seats. Children under the age of 2 are also allowed in the vaccinated section and are not required […]Find out more »
8:00 PM
August 27 @ 8:00 pm – 10:00 pm|Recurring Event (See all)Neptune Theatre, 1303 NE 45th St
Seattle, WA 98105 United States + Google Map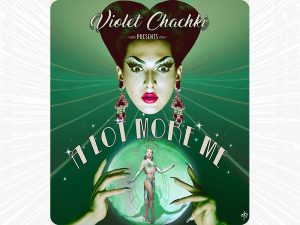 STG Presents & Voss Events Welcomes Violet Chachki's "A Lot More Me" to The Neptune on Thursday, August 26, 2021. Tickets for the originally scheduled April 24, 2020 and September 27, 2020 shows will be honored for entry! International drag performer and global fashion icon Violet Chachki is debuting her solo show ""A Lot […]Find out more »
August 27 @ 8:00 pm – August 28 @ 4:00 am|Recurring Event (See all)Supernova Seattle, 110 South Horton Street
Seattle, WA 98134 United States + Google Map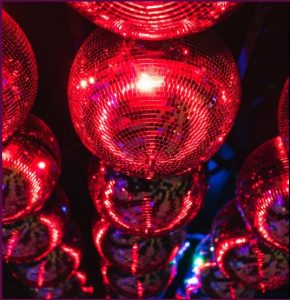 Thank God It's Friday at Supernova features Funky House, Chicago House, Vocal House and Gospel House DJ's accompanied by a circus troop of performers and entertainers! Expect the unexpected! Music by: Frida K Allen Oh Parker Mills Derek Pavone Dos Leches Tony H $25 before 10PM $30 after 21+ w/ID SGS Note: Supernova is LGBTQ […]Find out more »
August 27 @ 8:00 pm – 2:00 amNeumos, 925 E Pike St
Seattle, WA 98122 United States + Google Map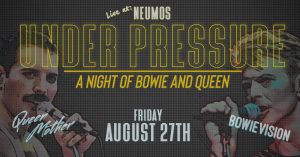 Neumos Presents UNDER PRESSURE: A NIGHT OF BOWIE AND QUEEN featuring BowieVision and Queen Mother FRI, 27 AUG 2021 at 08:00PM PDT Ages: 21 & Over Doors Open: 08:00PM OnSale: Fri, 25 Jun 2021 at 10:00AM PDT Announcement: Fri, 25 Jun 2021 at 10:00AM PDT Calling all young Americans itching to hear a bohemian rhapsody […]Find out more »
August 27 @ 8:00 pm – 10:00 pmKremwerk, 1809 Minor Ave
Seattle, WA 98101 United States + Google Map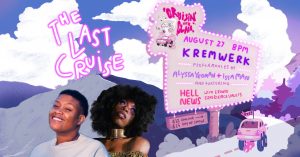 It's the final installment of Cruisin' With Clara before our beloved host moves to NYC! Follow us on our final cruise with local comedy star Alyssa Yeoman and drag princess Issa Man. It's going to be a delight filled as always with laughs, games, heartfelt sentiments and HELL NEWS with Erowid Experience Vaults. Tickets Available: […]Find out more »
9:00 PM
August 27 @ 9:00 pm – 10:00 pm|Recurring Event (See all)Queer Bar, 1518 11th Ave
Seattle, 98122 United States + Google Map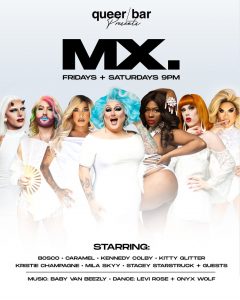 Bringing Back Our Girls! Queer Bar's MX Show Returns for LIVE shows!!! Starring Kristie Champagne, Kitty Glitter, Stacey Starstruck, Caramel, Kennedy Colby, and Mila Skyy! PLUS, special guests! Doors open at 5 and the show starts at 9 on Friday and Saturday! DJ Baby Van Beezly takes over from 11pm to close! Now […]Find out more »
August 27 @ 9:00 pm – 2:00 am|Recurring Event (See all)Pony, 1221 E Madison St
Seattle, WA 98122 United States + Google Map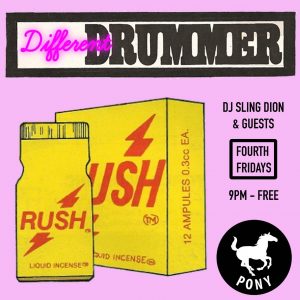 DJ Sling Dion and Guests 4th Fridays at Pony 21+ w/ID NO coverFind out more »
August 27 @ 9:00 pm – 2:00 amTimbre Room, 1809 Minor Ave.
Seattle, 98101 United States + Google Map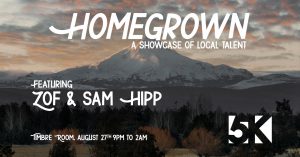 HOMEGROWN is 5K putting our local artists in the spotlight, the people we have here within our own city/state doing big things for themselves and/or others. 5K is a monthly event focused on bringing Producer/DJ's who we anticipate to go the distance. The Artists who create your favorite DJ's secret weapons, those who are yet […]Find out more »
August 27 @ 9:00 pm – 11:00 pmQueer Bar, 1518 11th Ave
Seattle, 98122 United States + Google Map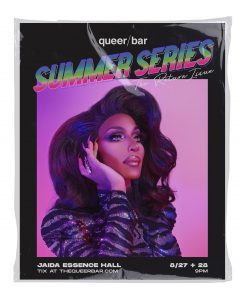 10 YEARS AGO, BURSTING WITH CREATIVITY, INSPIRED BY HER HOMETOWN'S INCREDIBLE LOCAL TALENT, AND READY TO TAKE ON THE DRAG UNIVERSE, THE WORLD WAS BLESSED WITH THE BIRTH OF DRAG SUPERSTAR JAIDA HALL. Catch here on the QB stage for a two-night double feature! Proof of full vaccination is required for entry. At the […]Find out more »
August 27 @ 9:00 pm – 2:00 am|Recurring Event (See all)The Cuff Complex, 1533 13th Ave
Seattle, WA 98122 United States + Google Map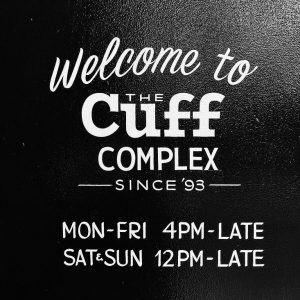 Dance, dance, dance the night away at The Cuff Complex every Friday and Saturday night. 9pm to 2am 21+ Cover varies depending on DJ and special event. Go to https://www.cuffcomplex.com/ for schedule of events and djs.Find out more »
August 27 @ 9:00 pm – August 28 @ 4:00 am|Recurring Event (See all)Neighbors Nightclub, 1509 Broadway
Seattle, WA 98122 United States + Google Map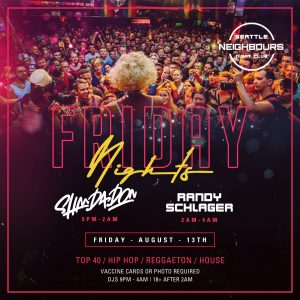 Friday RnB – Top 40- Hip Hop – House Dance music 9pm to 4am DJ Shan Da Don until 2am DJ Randy Schlager 2am to 4am 21+ until 2am 18+ after 2am Proof of vax requiredFind out more »
August 27 @ 9:00 pm – 2:00 am|Recurring Event (See all)Neighbors Nightclub, 1509 Broadway
Seattle, WA 98122 United States + Google Map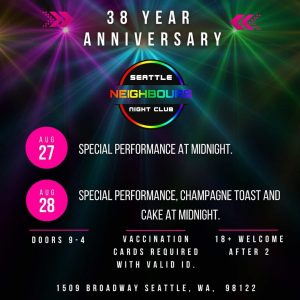 Seattle's OLDEST gay-ish night club owned by straight Egyptian-German Canadians is having anniversary celebrations this weekend! Friday and Saturday, August 27th and 28th 21+ until 2am and 18+ from 2am to 4am Special performances at Midnight on both days Cake and Champagne at Midnight on Saturday the 28th Masks and Proof of Vax RequiredFind out more »
10:00 PM
August 27 @ 10:00 pm – 2:00 amKremwerk, 1809 Minor Ave
Seattle, WA 98101 United States + Google Map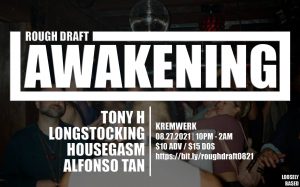 Wow, what a ride the last 1.5 years has been We truly hope that you are makin' it through! Loosely Based has missed you, have you missed us? Well, we're finally making a return!! Originally scheduled for 03/28/2020, Rough Draft: Awakening, has finally found a new date and the name 'Awakening' is all the more fitting. […]Find out more »
(Visited 1 times, 1 visits today)