Un-Masc: Pony Halloween 2017

Friday, October 27th

Live Performance from the legendary
JACKIE HELL!

Danceable Punk & New Wave Soundtrack by: DJ Sugar (Be Stiff!) & DJ King of Pants 9pm/No Cover

Saturday, October 28th

Ghostesses: Strawberry Shartcake & Cucci Binaca
w/ performances throughout the night

Disco & House Classix Soundtrack by: DJ Kirky (Luv' Ladder) & Dee Jay Jack (Meat/Hero Worship)

Costume Contest at Midnight!

Free Before 9/$5 After
Saturday is the BIGGEST night for Halloween events with just about every boozy venue in town offering up some kind of spooky vibe with the inevitable costume contest on hand
Saturday, October 28
For Families/Kids, Capitol Hill Chamber of Commerce is putting on their annual HILLOWEEN event on Saturday afternoon.
The Capitol Hill Chamber of Commerce's 8th annual HILLOWEEN returns this year with a fun Circus themed indoor carnival featuring live performances, games and fun activities. The carnival concludes with our traditional costume parade led by a marching band and trick-or-treating.

MORE INFO: http://www.caphilloween.com/

SATURDAY OCTOBER 28, 2017

12-3PM KID'S CIRCUS CARNIVAL | MAC -1718 BROADWAY
3PM COSTUME PARADE | BROADWAY (MEET AT MAC)
3-6PM TRICK-OR-TREATING ON BROADWAY, PIKE & PINE
3-6PM HAUNTED BANK LABORATORY AT 1ST SECURITY BANK

This event is FREE and open to all. RSVP/Tickets are optional.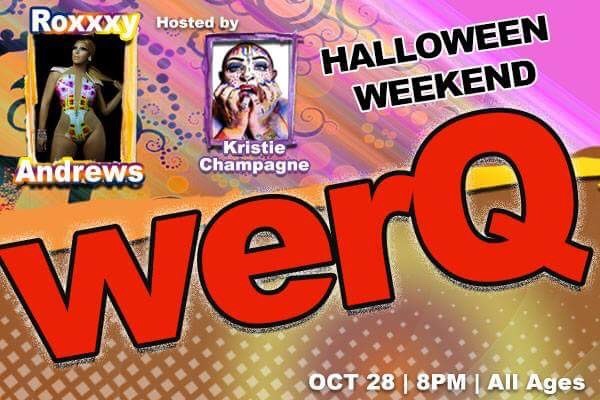 For Grown Ups, the big events are:
WerQ Halloween at Julia's on Broadway with special guest star, Jinkx Monsoon's arch nemesis, the one and only ROXXXY ANDREWS!
Five Senses Reeling presents werQ Halloween Weekend!

werQ Halloween Weekend takes place Saturday, October 28th at Julia's on Broadway.
Starring RuPaul's Drag Race superstar, Roxxxy Andrews!

Hosted by Seattle's Kristie Champagne, featuring Jaxen Brown, Kaleena Markos, Andrew Scott, Fraya Love, and Isaac Scott!
All the usual suspects have Halloween contests/parties including RPlace and The Cuff with their Wicked Woods Party and Neighbours has more "Season of the Witch" with Roxy Doll and Gaysha Starr. Kremwerk has KREWPOCALYPSE….Check out all 12,345 options on the SGS Calendar!!!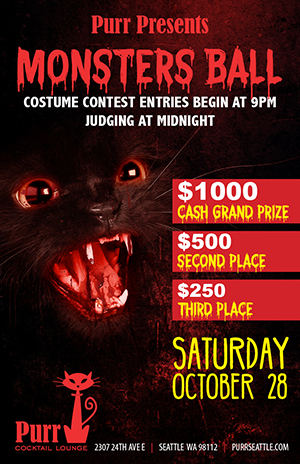 There's also PURR's very popular MONSTER'S BALL, their huge annual costume party and this year, they get to break in their new home in Seattle's Montlake neighborhood for their spooky hq. Judging begins at midnight for the costume contest with grand prize at $1000!
But, don't scare the neighbors, too much!
The Queen of Seattle Party Promoters, Verotica has her big Spooky Sex Fest down in the Pioneer Square hood and it's sold out online so you'll need to creep down there EARLY to snag the few remaining door tickets left for: "Masc4Masquerade with Alex Acosta"
More dirty info:
Discreet… masc… top…. hung…

We may or may not be referring to Verotica's Grindr profile but either way, your favorite party girl is throwing Seattle's hottest Halloween party!

Join us on Saturday, October 28th from 10 PM to 4 AM for Masc4Masquerade! Direct from San Francisco is a legend in the game itself, DJ ALEX ACOSTA!

Located in Pioneer Square, Merchants Café and Saloon is one of Seattle's oldest bars with a history of being visited by ghosts. Almost as frightening as Verotica before she tucks…

Keeping beats served LATE in the night, this is the Halloween event not to miss, boys. Mask up with some of the hottest bodies & faces, we can't wait to bring you what is sure to be on an unforgettable night.

See you hotties on the dancefloor!!

Xoxo,
Verotica

Alex Acosta
10 PM | 4 AM

Door – $40

This event is 21+
One of the newest Seattle venues, QUEER BAR has a Halloween line-up in store for their entire weekend…check out ALL their events:
MX. a QUEER drag show hosted by Robbie Turner of RPDR and DJ set by JUSTA/ 10pm to 2am.  $10 cover.  All door proceeds are paid to entertainment!
We'll return tomorrow with the best events for Sunday/Monday/Tuesday! OR, go check them out on the SGS Calendar NOW!!!