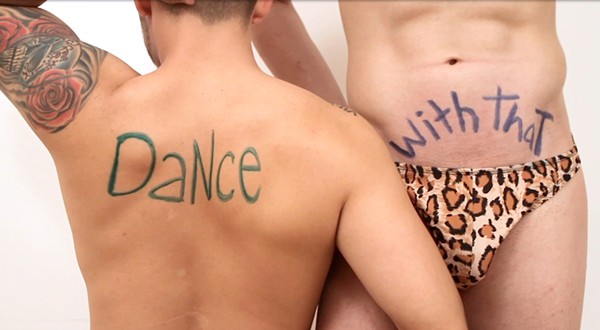 OMG!
We're already at Day Four for the 20th Annual Seattle Lesbian & Gay Film Festival! It's Sunday, October 11th and while the HUGE cast of "Capitol Hill Season 2" recovers from their big premiere last night, the rest of us can enjoy gads and scads of films including TONS of short film programs.
One of the most popular is the "Boys Shorts" package happening at 12:30pm at the Egyptian…it's VERY popular with the gentlemen of Gay Seattle and includes all sorts of films from the sexy to the sublime.
There's also the "Twist & Shout" program at Northwest Film Forum at 2:15 pm. It's about: "From a closeted BMX bike rider to an Aussie foot-baller in heels, these men all have one thing in common: they make bold, startling choices to live their lives to the fullest."
After that screening, stick around for some "funkier" films… "Infrared VI: New Visions from the Queer Avant-Garde" is a program of the odder, stranger, more perverse short films. There's always a trippy film (or six) to delight the eye and stimulate the senses. It screens at 4:30 pm at NWFF.
If you like a more participatory role in enjoying film, there's always the option of "Cineoke: Special Festival Edition" down at Re-bar at 7 pm. Cineoke is the popular monthly karoke to movie music program put on by Three Dollar Bill Cinema the parent of the Seattle Lesbian & Gay Film Festival….this is just a VERY special edition.
SING OUT, LOUISE!!
Tonight's Centerpiece Gala is "Beautiful Something", a sweetly sexy movie about the lives of gay men in Philadelphia. It screens at 7 pm at the Egyptian with director Joseph Graham scheduled to attend.
Loosely based on writer-director Joseph Graham's experiences in the '90s, BEAUTIFUL SOMETHING weaves through the lives of four creative men during one night in the City of Brotherly Love.

Brian, a poet with writer's block and a penchant for being unlucky in love, manages to have a steamy sexual encounter with Jim, a hot young aspiring actor and dramatic muse for Drew (Colman Domingo, LEE DANIELS' THE BUTLER, LINCOLN), a sculpted sculptor. Jim's jealousy of Drew's talent precipitates dangerous choices, which both inspire and infuriate Drew. Meanwhile, talent agent Bob cruises the streets in his big white limo playing both sugar daddy and knight in shining armor in a quest for his next stripling man-ingénue. They soon discover that their hollow, quick, dirty romps can't mask their insecurities and failures.

Much like New York City's role in Sex & the City, Philadelphia plays the mood-setting supporting fifth character during the 24 hours during which our protagonists comb the city's back alleys for the unknown. All are thirsty for something more as they follow their desires and urges in this compelling, sexually charged portrait of gay life.

Sponsored by Gay City

Director Joe Graham and actor Colman Domingo in attendance

Northwest Premiere
AND, a party follows at 9 pm at Gay City, 517 E. Pike Street!
For the entire schedule, go HERE!
(Visited 1 times, 1 visits today)