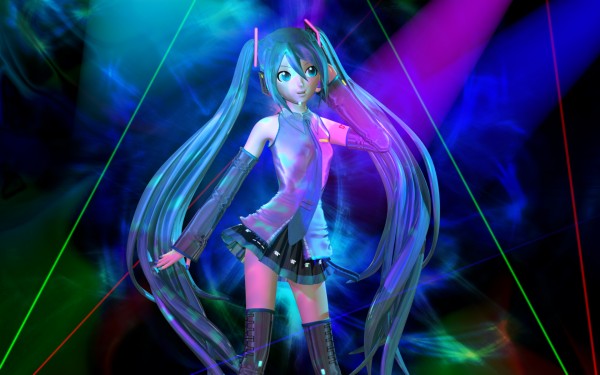 Here's our question:
What does a digital/virtual performer's "rider" look like?
Does she need virtual blow and sushi in her virtual dressing room pre-show? Does "she" require 3-D cunnilingus to be performed on her by Sailor Moon or Princess Mononoke? (Now, I'm assuming she's lesbian….)
HATSUNE MIKU is a world wide sensation apparently and she's returning to the U.S. for another tour next year after the mega success of her last tour. She's bopping into Seattle's WaMu Theatre down in SoDo on April 23, 2016 then continuing on to other cities including San Francisco and NYC.
It appears she's big in major cities that have lots of anime and J-Pop nerds…which makes Seattle a natural stop. It's the best of all worlds for the Geeky of the Emerald City…they are LEGION!
Personally, we're hoping LADYBEARD opens for Hatsune. And, we want Mr. Ladybeard to be fully fleshy and real so we can enjoy all his beefy Australian goodness.
MORE on Hatsune's tour:
Perhaps it was only a matter of time before a virtual 3D performer took the world by storm. On the heels of sold-out concerts in New York, Los Angeles, Indonesia, Shanghai and Japan, Hatsune Miku, the computer-generated pop music sensation, will return to North America in 2016 to headline a six-city tour beginning

April 23rd

.

The Hatsune Miku Expo 2016 North America

 tour, visiting Seattle, San Francisco, Dallas, Los Angeles, Toronto and New York, with more cities to be announced. The tour promises to be a seminal moment in entertainment history, giving many North American fans their first chance to experience the international pop culture phenomenon "live" in concert.

Through groundbreaking CG technology, the Hatsune Miku 3D live show features the animated "Miku" projected on stage, singing and dancing alongside a live band. The digitized character is 16 years old, stands 5'2″ and wears her hair in two long, blue, ever-swaying ponytails. The global reaction to Miku has been astonishing, catching the attention of Pharrell Williams and Lady Gaga, who selected the animated star to be the opening act on her North American Art Pop tour.

The songs selected for Miku to perform are chosen from thousands of compositions created by a global community of artists. Created by Crypton Future Media, Hatsune Miku is the product of a revolutionary music software program that gives creators the ability to produce original music with a synthesized voice and a digitized, virtual performer. Over 170,000 songs have been released, attracting over 100 million hits on YouTube, two Top 10 Singles, and thousands of illustrations and videos featuring Miku.

To date, Miku has performed these songs in front of an estimated 200,000 people, and a first-of-its-kind performance on The Late Show with David Letterman captivated millions. The star power of Miku, the world's most famous crowd-sourced performer, has been celebrated around the world with toys, fashion, video games and food products.

The Hatsune Miku Expo 2016 North America tour will be one of the most talked about entertainment events of the spring, and its significance in pop culture will generate interest and attention around the world.

 

Tickets will go on sale

Friday, November 20th at 9am PST

for Seattle, San Francisco and Los Angeles. At

10am CST

for Dallas, and at

12noon EST

for Toronto and New York.

 

Tour Dates (additional dates TBD):
April 23rd         WaMu Theatre                      Seattle, WA

April 23rd         The Warfield                         San Francisco, CA ** Two Shows

May 6th            Microsoft Theater                  Los Angeles, CA

May 14th          The Bomb Factor                   Dallas, TX

May 20th          Sony Centre                           Toronto

May 28th          Hammerstein Ballroom         New York, NY ** Two Shows
(Visited 8 times, 1 visits today)