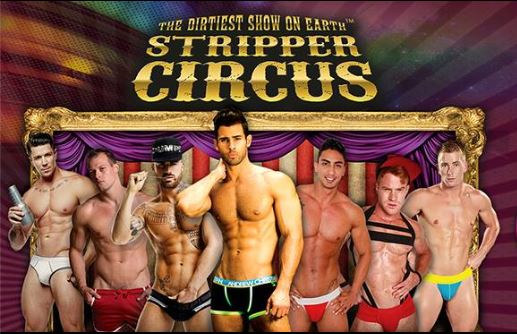 The "Dirtiest Show on Earth" comes to Seattle.
TONIGHT!
Thursday, November 12, 2015 to be precise. It's a big day for the old skool gay dance club Neighbours as they try and dirty up their image by bringing the naughty gay club night franchise, STRIPPER CIRCUS to their beleaguered Thursday night slot. For decades, Neighbours ruled Thursday nightlife on Capitol Hill with ROCK LOBSTER, its 80s themed dance party originally hosted by Mark "Mom" Finley back in the golden days of the Clinton Administration. But, as the original fans of 80s music have aged out of night clubbin', the night struggled and eventually died….more than once. Rock Lobster has had more comebacks/farewells than Cher…
Since the Lobster was last dropped into the pot, Neighbours has tried to program several different events into that slot but they've all tanked. Can the filthy raunch of Stripper Circus inject some new life into the old gal? Originally co-created by porn diva/dj/drag queen CHI CHI LaRUE at WeHo's Next Lounge, the stripper/porn star bedazzled event became very popular very quickly and earned a reputation for providing filthy fun to jaded Los Angelenos. Since then, the Circus has moved to Las Vegas, Austin and San Diego and had great success in each of those hot-blooded cities. Will chilly, early to bed Seattle embrace the Circus Stripper lifestyle?
More importantly, are the Circus producers and Neighbours committed to keeping the party going until it takes off? They've committed to bringing in top notch talent from their other parties including djs, strippers and porn stars. Will the LA to Seattle Virgin flights become a "Stripper Shuttle" every Thursday?
Hope so. We desperately need some new events. The old ones are getting….tired.
For tonight's opening, they've got a butt load of talent (Pun fully intended) including:

Hosted by Andrew Christian Superstar
PABLO HERNANDEZ
Performing his new single "Bitch I'm a Bottom"

Music by DJ BLACKLOW (LA)

Featuring Stripper Circus All Stars from across the USA including

Fleshjack Model and Porn Superstar – TRENTON DUCATI
Stripper Circus All Stars – MICHAEL, DAN BEVAN,
DAVID REST, & EDDIE EDUARDO!
Falcon Pornstar – SCOTT RILEY

Play Carnival Games to WIN Prizes from AC, Swiss Navy & More!

Get your Circus looks on & take a pic in our FREE Photo Booth!

$7 ABSOLUT Drinks and $5 FIREBALL All Night!
No Cover All Night – 10pm-when do you want to close?
Here's to hoping Neighbours and Stripper producer Paul Nicholls can pull it off.
(That pun was also intended…)
(Visited 3 times, 1 visits today)