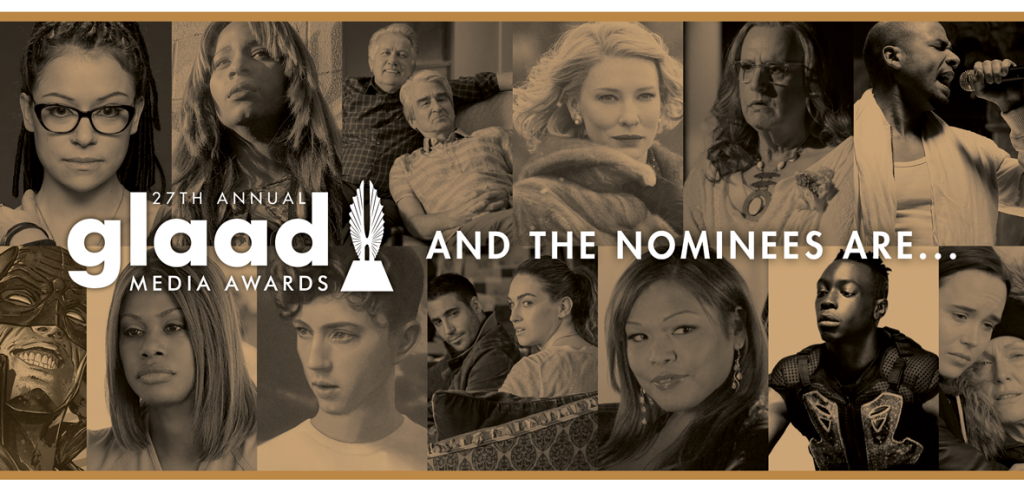 GLAAD, (aka: "Gay & Lesbian Alliance Against Defamation" but that wasn't very inclusive so "GLAAD" is just "GLAAD" now…) announced the nominations today for the 27th annual GLAAD Media Awards which are awarded in two separate events.
The GLAAD Media Awards will be held on April 2, 2016 in Los Angeles and May 14th, 2016 in New York. Tickets can be purchased here: www.glaad.org/mediaawards/events.The GLAAD Media Awards recognize and honor media for their fair, accurate, and inclusive representations of the LGBT community and the issues that affect their lives.

"For nearly three decades, the GLAAD Media Awards have propelled inclusion in media and driven LGBT acceptance forward," said GLAAD CEO & President Sarah Kate Ellis. "This year's nominees have raised the bar for creating thoughtful and diverse LGBT images and storylines, deepening audiences' understanding of LGBT people and accelerating acceptance across the world."
And, for the first time, LOGO TV will televise the awards in April.
Here are all the English language nominations. GLAAD also awards positive queer representations in Spanish language media. Go here for full list. 
Outstanding Film – Wide Release
Carol
The Weinstein Company
The Danish Girl
Focus Features
Dope
Open Road Films
Freeheld
Lionsgate
Grandma
Sony Pictures Classics
Outstanding Film – Limited Release
52 Tuesdays
Kino Lorber
Appropriate Behavior
Gravitas Ventures
Boy Meets Girl
Wolfe Video
Drunktown's Finest
Nehst Studios
Tangerine
Magnolia Pictures
Outstanding Comedy Series
Brooklyn Nine-Nine
FOX
Faking It
MTV
Grace and Frankie
Netflix
Looking
HBO
Master of None
Netflix
Modern Family
ABC
Orange Is the New Black
Netflix
Please Like Me
Pivot
Transparent
Amazon Instant Video
Vicious
PBS
Outstanding Drama Series
Arrow
The CW
Black Sails
Starz
Empire
FOX
The Fosters
ABC Family
Grey's Anatomy
ABC
How to Get Away with Murder
ABC
Nashville
ABC
Orphan Black
BBC America
Sense8
Netflix
Shameless
Showtime
Outstanding Individual Episode (in a series without a regular LGBT character)
"Gender"The Carmichael Show
NBC
"Please Don't Ask, Please Don't Tell"Black-ish
ABC
"The Prince of Nucleotides" Royal Pains
USA Network
"Rock-a-Bye-Baby"NCIS New Orleans
CBS
"We Build, We Fight"NCIS
CBS
Outstanding TV Movie or Limited Series
Banana
Logo
Bessie
HBO
Cucumber
Logo
Outstanding Documentary
Kumu Hina
PBS
Limited Partnership
PBS
Mala Mala
Strand Releasing
Tab Hunter Confidential
The Film Collaborative
Tig
Netflix
Outstanding Reality Program
I Am Cait
E!
I Am Jazz
TLC
New Girls on the Block
Discovery Life
The Prancing Elites Project
Oxygen
Transcendent
Fuse
Outstanding Daily Drama
The Bold and The Beautiful
CBS
Outstanding Music Artist
Brandi Carlile, The Firewatcher's Daughter
ATO Records
Miley Cyrus, Miley Cyrus & Her Dead Petz
Smiley Miley, Inc.
Adam Lambert, The Original High        
Warner Bros. Records
Le1f, Riot Boi
XL Recordings/Terrible Records
Troye Sivan, Blue Neighbourhood
Capitol Records
Outstanding Comic Book
Angela: Queen of Hel,by Marguerite Bennett, Kim Jacinto, Israel Silva, Stephanie Hans
Marvel Comics
Harley Quinn, by Amanda Conner, Jimmy Palmiotti, Chad Hardin, John Timms, Jed Dougherty
DC Comics
Lumberjanes, by Noelle Stevenson, Shannon Watters, Kat Leyh, Carolyn Nowak, Brooke Allen
BOOM! Studios
Midnighter, by Steve Orlando, Aco, Hugh Petrus, Alec Morgan, Stephen Mooney
DC Comics
The Wicked + Divine,by Kieron Gillen, Jamie McKelvie, Kate Brown, Tula Lotay
Image Comics
Outstanding Talk Show Episode
"Alison Bechdel" Late Night with Seth Meyers
NBC
"Aydian Dowling" The Ellen DeGeneres Show
syndicated
"Janet Mock" Super Soul Sunday
OWN
"Jazz Jennings" The Meredith Vieira Show
syndicated
"Transgender Rights" Last Week Tonight with John Oliver
HBO
Outstanding TV Journalism – Newsmagazine
"Bruce Jenner: The Interview" 20/20
ABC
"The Courage Game" SportsCenter
ESPN
"Dividing The United Methodist Church" To The Contrary
PBS
"Showdown in Indiana: The Battle Over Religious Rights" CNN Special Report
CNN
True Life: I'm Genderqueer
MTV
Outstanding TV Journalism Segment
"Interview with Jim Obergefell" Anderson Cooper 360
CNN
"Mary Bonauto on Her SCOTUS Victory" The Rachel Maddow Show
MSNBC
"Nicholas Coppola: Gay & Catholic" America Tonight
Al Jazeera America
"Pushing for Equality for Transgender People" Melissa Harris-Perry
MSNBC
"Toddler Plays Role in Marriage Equality Case" MSNBC Live with Thomas Roberts
MSNBC
Outstanding Newspaper Article
"Cold Case: The Murders of Cosby and Jackson" by Dianna Wray
Houston Press
"Gay and Transgender Catholics Urge Pope Francis to Take a Stand" by Laurie Goodstein
The New York Times
"Meet Dr. Levine, The State's Top Doc" by Michael A. Fuoco
Pittsburgh Post-Gazette
"Navy's First Openly Gay SEAL Builds His Life Anew" by David Zucchino
Los Angeles Times
"Transgender Today" [series]
The New York Times
Outstanding Magazine Article
"Behind Brazil's Gay Pride Parades, a Struggle with Homophobic Violence" by Oscar Lopez
Newsweek
"The First Black Trans Model Had Her Face on a Box of Clairol" Jada Yuan and Aaron Wong
New York
"Gus Kenworthy's Next Bold Move" by Alyssa Roenigk
ESPN The Magazine
"Just Your Average (Transgender) Teen" by Andrea Stanley
Seventeen
"Pride & Prejudice" by Linda Villarosa
Essence Magazine
Outstanding Magazine Overall Coverage
Outstanding Digital Journalism Article
"How the Killing of a Trans Filipina Woman Ignited an International Incident" by Meredith Talusan
Vice.com
"The Faces of Transgender Teen America" by David Yi
Mashable.com
"The Ky Peterson Saga" [series] by Mitch Kellaway and Sunnivie Brydum
Advocate.com
"This Is What It's Like To Be An LGBT Syrian Fleeing For Your Life" by J. Lester Feder
Buzzfeed.com
"This Tiny Clinic is Fighting for Trans Patients Illegally Denied Medical Care" by Jennifer Swann
TakePart.com
Outstanding Digital Journalism – Multimedia
"Freed Trans Woman Ashley Diamond On Life Behind Bars In Men's Prison" HuffPost Live
HuffingtonPost.com
"Holler if You Hear Me: Black and Gay in the Church" by Clay Cane
BET.com
"Queerness On The Front Lines Of #BlackLivesMatter" MSNBC Originals
MSNBC.com
"Stopping HIV? The Truvada Revolution" Vice Reports
Vice.com
"Transgender, at War and in Love" by Fiona Dawson
NewYorkTimes.com
Special Recognition
Beautiful As I Want To Be
Logotv.com
This is Me
Amazon Instant Video
(Visited 1 times, 1 visits today)