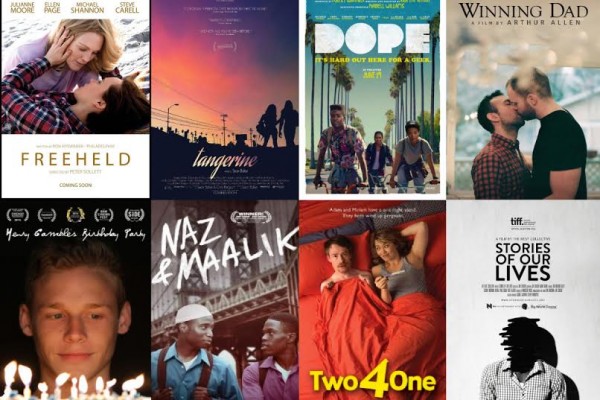 Gay City and Three Dollar Bill Cinema have teamed up again for their annual Oscar Party. It's their 11th annual celebration of the Academy Awards and once again they're back at the Seattle Cinerama for the Oscar watching event/party/fundraiser on Sunday, February 28, 2016. You can grab tickets HERE (both plebian and VIP) for this year's par-TAY which is hosted by "The Allegedly She's On Season 8 of RuPaul's Drag Race" Seattle mega diva and movie fan, Miss Robbie Turner.
AND, Three Dollar Bill Cinema and Gay City are also announcing their nominees for the 2nd annual Rainbow Cinema Awards which recognize the talent and artistry of queer filmmakers/films. (We were TOTALLY unaware they did this last year…) They'll give out the awards at this year's Oscar Party but EVERYONE can vote on the nominees, in the five categories (Film, Documentary, Director, Actor, Actress) and you can even right in names and vote for them if your favorites aren't on the list. Go HERE to vote.
Seattle Gay Scene recommends voting for the locally made Jinkx Monsoon documentary DRAG BECOMES HIM and writing in director ALEX BERRY for Best Director…hint, hint.
(We're confused by the noms…who picked them? The press release doesn't give out that info…there are some odd omissions and some odd inclusions. Why is John Boyega on here, from the new Star Wars movie?)
Here's the press release:
As part of the film awards season, Three Dollar Bill Cinema and Gay City are pleased to announce their 2nd Annual Rainbow Cinema Awards, recognizing and honoring the incredibly diverse talents of actors and filmmakers from 2015. The awards will given out during their 11th Annual Academy Awards Party, taking place on

Sunday, February 28

at Seattle Cinerama.

"There are a number amazing of actors, actresses, directors, and filmmakers that we want to honor at our event," said Gay City Executive Director Fred Swanson. "These awards recognize the performances and work of queer people and people of color, and celebrate the diversity that exists in cinema today."

The 11th Annual Academy Awards Party serves as a benefit for both organizations, and is a fun and exciting way to honor their combined four decades of service to Seattle's queer community. The Rainbow Cinema Awards, introduced last year at their 10th Annual Academy Awards Party, has become a way for the community to honor the richness and diversity in cinema shown in the previous year.

"It's important to both organizations that we acknowledge under-represented talent and stories," said Three Dollar Bill Cinema Executive Director Jason Plourde. "We want to recognize a wide range of cinema through our event."

Voting is now live for the 2nd Annual Rainbow Cinema Awards. Go to

threedollarbillcinema.org

to view nominations, and vote for your favorites before

February 26th

. For more information about the 11th Annual Academy Awards Party, visit

gaycity.org/oscars

.
Tags: Cinerama, Drag Becomes Him, Gay City Health Project, Oscar Party, Rainbow Awards, Three Dollar Bill Cinema