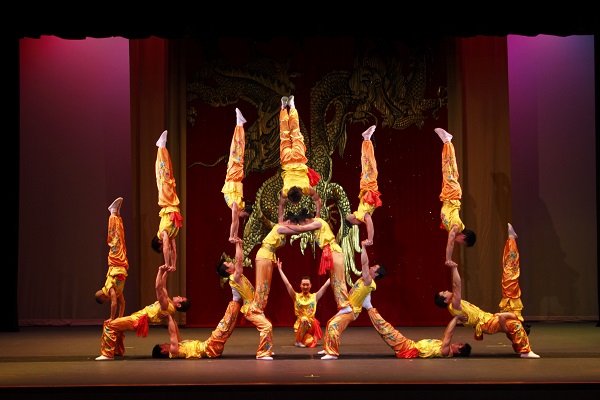 Bet you didn't know that acrobatics, including routines like precision tumbling, somersaulting, gymnastics, standing on balanced chairs and body contortioning, has been around for thousands of years in China. As the publicity says, "Each new movement or action takes many years to practice and perfect, and (Chinese) tradition demands that each generation of acrobats add their own improvements and embellishments to their acts. This tradition continues today, and can be seen in The Peking Acrobats performances."
This unique tour comes to Meany Theater at the University of Washington this Saturday, only for one day (two performances at 3:00pm and 7:30pm)! Tickets are available HERE!
In a conversation with Cynthia Dike-Hughes, the co-producer of the tour, SGS got some interesting behind-the-scenes additions to information available on their website. She explains that, before each tour, scouts in China go around to schools and acrobatic academies to find young people who are good enough to join the tour. Young children in China, as young as five or six, audition to be enrolled in special boarding schools to train to become professional acrobats. It is considered a great honor to become an acrobat, and acrobats can gain fame and celebrity.
Ken T. Hai, the tour director, was an acrobat (now in his 70s) and is a 3rd generation acrobat. He began touring around the world and met (now co-producer) Don Hughes in South Africa. They decided to bring the tour to the U.S. Mr. Hai came with his wife from China to the US. They started the Peking Acrobats 30 years ago.
The touring company is a blend of veteran acrobats and newbies. The vets show the newbies how to tour in the U.S. There are 26 performers in the show, including six live musicians playing traditional Chinese instruments and 20 acrobats. They are thrilled to come to America and work.
First, after they are chosen, they go to the studios in Beijing and start training on the choreography of the evening. The touring company works for three to four months to secure the visas for them, and when they arrive here, they rehearse here and then tour for four months. For many, it's a big adventure.
Cynthia says, "Being a Chinese acrobat in China is the equivalent of going into the opera field. Very similar to the training for ice skating or gymnastics, this is a similar dedication. Touring in the West, they return to China as celebrity acrobats and it enhances their resumes.
"The bulk of the performers in the tour range in age from about 16 years old to about 25 years old. Because 16 is the age of emancipation in China, young people are considered adults when they reach this age."
This is a great opportunity to see these dedicated young people. The UW World Series reports that their visits are great favorites of their series audiences. If you would like to read more about the acrobats, their website is: http://www.chineseacrobats.com/pa.php.
Tags: Meany Theater, The Peking Acrobats, University of Washington, UW World Series