Arthur Miller's Incident at Vichy, an under-produced gem of a drama, opens October 24; it's arguably more timely now than ever.  PLUS: scroll down for other drama out now, straight from the headlines.
What does complicity look like?
That is what France had to reckon with in the wake of its Petain regime in Vichy, said to be in cahoots with the Nazis.  And that is what Arthur Miller's 1964 play, Incident at Vichy, grapples with at its core.  UW Drama will open its season with the challenging play, which runs October 24 through November 4 at the Jones Playhouse on the Ave, near the main campus.
In the big-cast but intimate drama, Miller considers complicity both in the regime and in the many townspeople around who let them get away with it, whether knowingly or believing that things simply cannot be that bad.  As Miller shows, part of that complicity, and its success, relies on a populace convinced it will not affect them of their loved ones; or, perhaps, any good law-abiding citizen. ("I go on the assumption that if I obey the law with dignity I will live in peace.  I may not like the law, but evidently the majority does, or they would overthrow it.")
This play is striking all the time, but feels particularly urgent now: As Black people and sexual assault survivors have taken to the streets to tell others, No really, it is this bad, to underwhelming (or deafeningly silent) responses.  As immigrants and their children are rounded up and held indefinitely.  As those accused of crimes (often, young Black men) are rounded up and held indefinitely.  As queer folks tell others this administration is teeing up something awful. Those unaffected can listen politely, note their concern or philosophical agreement, while assuring, It isn't really that bad.
It also considers just how crass an administration can be and still remain in (or worse, expand in) power; the descriptors "[a]n ocean of vulgarity"; "[n]othing angers them more than a sign of any … refinement" could be written just as readily about Trumpism today as about Nazism in their day.  
Incident at Vichy isn't a preachy play, but it is a convicting one.  A standout among classic American plays, this is one which current America could most stand to tune in.  Unfortunately, it's rarely produced these days (and with no recent local productions found). That means take advantage of it while it's here.
Expect UW to do a good job with it, with a strong student cast (including Philip Ray Guevara, who just starred in Intiman's Native Gardens, which just closed at the Jones), and guest director Kelly Kitchens (from Seattle Public Theater).  They'll also hold a free pre-show talk with UW History Professor Susan Glenn, called "That Agony We Cannot Feel: The Enduring Importance of Arthur Miller's Incident at Vichy" (Sunday, 10/28, at 1 pm); info here.   
Incident at Vichy has previews 10/20 & 10/23; it opens 10/24 and runs through 11/4, at the Jones Playhouse near the UW main campus (7:30 pm Wednesday-Saturday, 2 pm Sunday).  Tickets $20, available here.  (Financial accessibility note: pay-what-you-can at the door show on 10/31, discounted previews, plus student pricing available for all shows; bus service is plentiful in the area; free parking is limited.  Gendered bathroom policy: UW Drama encourages patrons to use bathroom matching their identity, with policy posted; no gender-neutral bathrooms are provided. Physical movement accessibility: Jones Playhouse is wheelchair accessible; check with box office for access route.)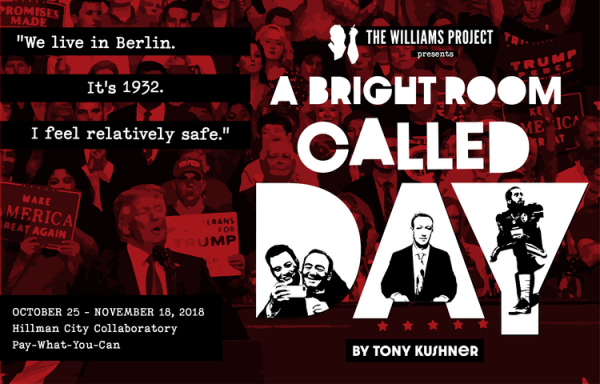 And in other timely, hard-hitting world-events-related drama news:
The Detention Lottery, 11/8

@ Youngstown Cultural Arts Center (Delridge) &

11/14

@ Our Lady of Guadalupe Church (West Seattle) – this immersive play by local playwright & immigration attorney Margaret O'Donnell takes audiences through the quick & dirty process of a deportation hearing, drawing on real cases from her & fellow attorneys' experiences.  No reservations needed, admission is free; info

here

(Youngstown) and

here

(Our Lady of Guadalupe).  

(Financial accessibility: admission is free for all; ample free parking, bus service available but limited.  Youngstown: gendered, multi-stall bathrooms, though one is designated gender-neutral for some shows; venue is wheelchair accessible via north entrance.  Our Lady of Guadalupe: venue accessibility info not currently available.)

  
Deadline 2037, 11/9 (one night only)

@ the new Palace Theatre & Art Bar (Georgetown) – reading of a new work in development, also by Margaret O'Donnell, looks at a utopia that's solved all of America's social & budgetary ills, with one trade-off: everyone's life ends at age 75.  Part of the ongoing Seattle Playwrights Salon. No reservations needed, admission is free, with $10 donation suggested; more info

here

.  

(Financial accessibility: admission is free for all, with donation requested from those who can; free parking in area, bus service available but limited.  Gender-neutral bathroom policy: venue has one single-stall, gender-neutral bathroom; and two bathrooms made available to Palace patrons at Tavern next door are also single-stall and gender-neutral.  Physical movement: venue is wheelchair accessible.)

  
Hostages, 10/19 thru 11/3

@ 18th & Union (Central District) – an old play with current relevance by nationally-produced, Seattle-based playwright Yussef El Guindi,

Hostages

looks at two college professors whose new country descends into war and whether they can adapt to sudden confinement.  In its West Coast premiere. Tickets $15-25; info and schedule

here

.  

(Financial accessibility: sliding scale tickets; free tickets available for volunteers; ample free parking and bus service.  Gender-neutral bathroom policy: venue has one single-stall, gender-neutral bathroom. Physical movement: venue can set up ramp that makes stage seating accessible by wheelchair, but restroom is not accessible.)

 
Oslo, now thru 11/12

@ ACT (Downtown) – this three-hour play has both won awards and critical acclaim, and drawn ire from social justice communities and Palestinians for its Euro-centric views and stereotypes, and misleading characterization of the Oslo Peace Accords process (on which the play centers).  Tickets $50; info and schedule

here

; info from local artists in protest

here

.  

(Financial accessibility: ACT offers several discount options to its mainstage shows, including pay-what-you-can tickets for Sunday evenings and $25 Tuesdays; mainstage discount info available

here

; ample bus service but virtually no free parking.  Gendered bathroom policy: ACT encourages patrons to use bathroom matching their identity, and policy is posted though doesn't well-accommodate non-binary-identified people; ACT also has one single-stall, gender-neutral bathroom available to patrons, on the second floor near the elevator, far away from the Falls Theatre.  Physical movement accessibility: ACT is wheelchair accessible.)
A Bright Room Called Day, 10/25 thru 11/18

@ Hillman City Collaboratory (Rainier/South Seattle) – the latest production from The Williams Project presents Tony Kushner's 1985 play about 1932 Berlin — where a new president has come to power by slim margins, with alarming rhetoric.  The story is set in an apartment, centered around a group of artists and activists weighing the balance between their beliefs and their safety and comfort. Tickets pay-what-you-can; info and schedule

here

.  

(Financial accessibility: all tickets are PWYC; ample free parking and bus service.  Gender-neutral bathroom policy: venue has single-stall, gender-neutral bathrooms. Physical movement: venue is wheelchair accessible.)
Tags: A Bright Room Called Day, Collegiate Theater, Incident at Vichy, Seattle Theater October 2018, University of Washington, Upcoming Seattle Theater, UW Drama