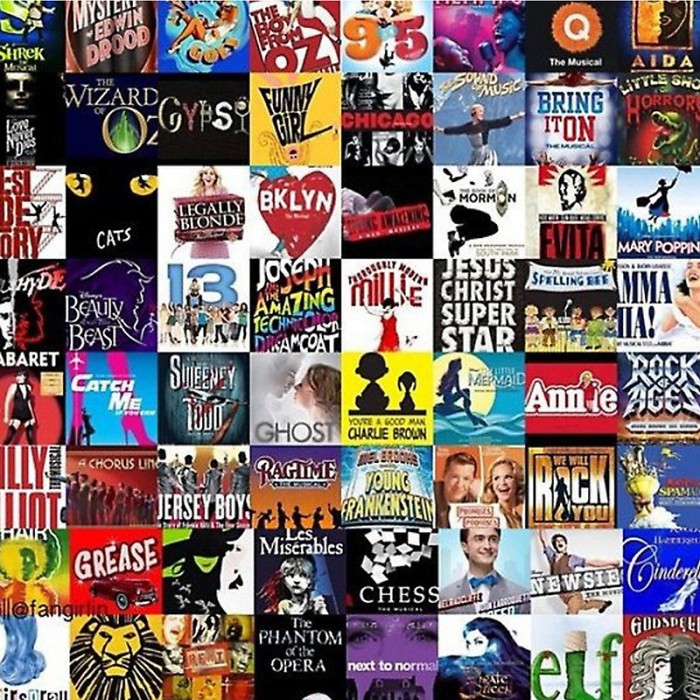 Alert the media!
(But, let The Stranger know 4 hours ahead of everyone else so Chris Frizzelle can feel good about his journalistic "scoop" and the honor of getting a 4 hour head start on rewriting a press release! #SoJelly)
Broadway at The Paramount announced quite awhile ago and The Village Theatre out in the far reaches of Issaquah announced a couple weeks back but now that the 5th Avenue Theatre has released their season schedule, we have a full picture of what we can expect in the way of Equity level musical theater productions for the next year for the Musical Theater Nerds and Geeks of the Greater Seattle Area.
Squee!
We're beside ourselves with excitement, our sweaty little hands clutching on to our Mandy Patinkin signed program of "SITPWG" and our genuwine almost official Patti LuPone Popcorn Maker/Taffy Pulller and our stack of Darren Criss fake Photoshopped gay porn photos!!!
WE J'ADORE MUSICALS!!!!
(EVEN THE SHITTY NEW KIND WITH TERRIBLE SONGS WITHOUT GOOD TUNES AND AWFUL RHYME SCHEMES AND THE JUNKY LIBRETTOS STRAIGHT FROM The BMI Lehman Engel Musical Theatre WORKSHOP WHICH HAS MOSTLY RUINED MUSICAL THEATER IN THE LAST 30 YEARS OR SO BUT I DIGRESS!)
Back on track, I wanted to take some time here to discuss and compare the announced seasons for all three Big Musical Theater venues in our area. We'll start with the one who announced first, Broadway at The Paramount which brings the big tours to Seattle of recent (or recent-ish) hits on Broadway, mostly musicals but with an occasional non-musical thrown in as well like this summer's "The Curious Incident of the Dog in the Night" which closes out Paramount's 16/17 season. There are no plays on tap for 17/18 but…PLENTY OF DOGS!!
THE SOUND OF MUSIC: September 6 – 11, 2017

ALADDIN: October 12 – 29, 2017

THE BODYGUARD: November 14 – 19, 2017

ELF THE MUSICAL: December 5 – 10, 2017

THE BOOK OF MORMON: January 2 – 14, 2018
HAMILTON: February 13 – March 18, 2018
LOVE NEVER DIES: May 8 – 13, 2018
LES MISERABLES: June 6 – 17, 2018
THE PHANTOM OF THE OPERA: August 8 – 19, 2018
So, that's their season….a bunch of shit and Hamilton.
And, of course they've sold out their advance season tickets…solely because of the presence of the mega hit, Hamilton. So people were willing to pay very large amounts of money to see the 12,345th tour of Les Miz, Phantom, TBOM, TSOM and to endure the horror of The Bodyguard and Love Never Dies just to insure they got tickets for Hamilton.
Nuts!
That really is a terrible season. Which isn't really anyone's fault…there's not a lot of shows out there right now. Broadway musicals in recent years have been smaller and big hits are few and far between and the ones that are "semi-hits" are either too minor or twee to go on the road.
It's also odd that several of these shows have been done by the 5th Avenue Theatre in recent years: Elf, Aladdin and The Sound of Music. Les Miserables was done by Village just a couple years ago or so.
Copycats.
I don't have much else to say. There's one interesting show on here and everything else is old and/or awful. I also don't want to give too much time to the Broadway at The Paramount line-up for a couple reasons: they don't buy ads and they don't give me comps to their shows anymore because their PR person is….problematic. Tried to dictate my coverage of "her" shows and when I wouldn't, pulled the plug on comps.
Poo on that. And, this awful line-up.
NEXT!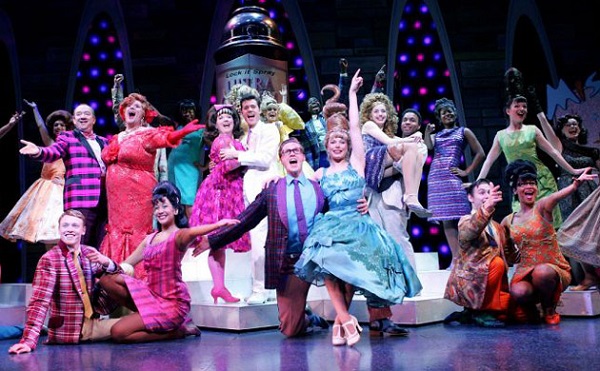 The Village Theater announced their 16/17 on March 1st. It consists of 4 musicals, one of which is new, and one play. The Village opens each production in their home theater in Issaquah and then moves that show to Everett for a month long run.
Into the Woods: Directed by Brian Yorkey
Issaquah:

September 14, 2017 – October 22, 2017 /

Everett:

October 27, 2017 – November 19, 2017

Disney's Newsies, The Musical: Directed by Steve Tomkins
Issaquah: 

November 9, 2017 – December 31, 2017 /

Everett:

January 5, 2018 – January 28, 2018

The Gin Game: Directed by Jeff Steitzer
Issaquah: 

January 18, 2018 – February 25, 2018 /

Everett:

March 2, 2018 – March 25, 2018

String: Book by Sarah Hammond / Music and Lyrics by Adam Gwon / Directed by Brandon Ivie
Issaquah: 

March 15, 2018 – April 22, 2018 /

Everett:

April 27, 2018 – May 20, 2018

Hairspray: Directed by Steve Tomkins
Issaquah: 

May 10, 2018 – July 1, 2018 /

Everett:

July 6, 2018

–

July 29
Nothing much to say about the play, the popular two hander, The Gin Game which has been delighting elderly audiences for decades. It's the perfect kind of play for the Village and obviously plays to their core fan base of older/white/suburban. Nothing wrong with that.
Those four musical choices are all interesting though. I love/love/love Sondheim's Into the Woods and I'm thrilled to see that as their season opener this fall. It's a show that requires a big talented cast and some gorgeous design elements…and the Village can handle both. We'll be very interested to see who gets cast in this but I'll go out on a tiny limb right now and GUESS (no insider knowledge) that Bobbi Kotula will probably play Jack's Mother and Jessica Skerritt will either be Cinderella or The Baker's Wife with her real life hubby Dane Stokinger as The Baker. But, who will play the Witch? Anne Allgood??? I vote for Nick DeSantis because he's FABULOUS and can do anything!
(Again…I don't know any casting for this production. GUESSES!)
Newsies should be a cute show. I'm not really that familiar with it or the original movie but it's an ideal holiday themed show. A period piece with cute kids and a very loyal fan base of younger musical theater fans.
I've heard good things about String  which will actually have a workshop production at Village in June of this year (2017) to be followed by this full production in March of next year (2018). Here's what you need to know:
On a mountaintop high over ancient Greece, three sisters – goddesses known as the Greek Fates – are responsible for spinning, measuring, and snipping the String of Life. After falling out of favor with Zeus, they find themselves stuck in a drab modern skyscraper, left to live and work among world-weary office workers and the security guards who watch over the building. But when the eldest sister falls in love with a mortal, her destiny gets all tangled up in this brand-new musical fable about fate and the fragile fabric of the universe. This World Premiere new musical was developed in the Village Originals' Festival of New Musicals last year, and is also slated to be the final show in The Beta Series this summer.
Sounds Xanadu-rific!!!
Now, Hairspray is of course a treat on this schedule but also a bit of a puzzling one…why isn't the 5th Avenue Theatre doing a big revival of this very fruity hit show which actually had its debut AT the 5th Avenue in 2002 prior to its mega Tony winning debut on Broadway? It's 15 years old and perfect for a revisit. Now, the 5th did partner with the Seattle's Men's Chorus for a fun semi-staged concert production in 2013 with our own Jinkx Monsoon on hand as Velma…why not bring Jinkx back and add our own MAMA TITS to the cast as Edna and make it a drag extravaganza! TONS of press for that! (Also: Mama Tits sings better than Harvey Fierstein or John Travolta…hint, hint)
Now, I j'adore the Village but I don't see them casting any drag queens for their production…it would scare the neighbors. I am a tad worried that Village regular Eric Polani Jensen might be playing Edna. The actor played that same role for the 5th Avenue concert and, I have to be frank, he was a bit flat and tentative in the role. He really didn't seem comfortable with it, or with the drag/campiness required which is vital to the success of that performance. We'll see.
(Oh, but I DO see the aforementioned Jessica Skerritt as Velma…that's kinda "duh" casting. Right on the nose.)
Overall, it's a good season for the Village. It's a nice mix of family entertainment shows with 3 recent musicals popular with the younger musical theater fans but accessible to older crowds and a play strictly geared to Grams/Gramps and a nice shiny new show to enjoy as well.
FINALLY, on to the 5th Avenue Theatre and their just announced (4 hours earlier for Chris Frizzelle!!!) 2016/2017 season which combines touring shows with collaborations with other theater companies along with 5th Avenue solely produced works as well. The Season:
Something Rotten!: September 12 – October 1, 2017
National Tour

Ragtime:

October 13 – November 5, 2017


Directed by Peter Rothstein/Produced in collaboration with Asolo Repertory Theatre in Florida
Irving Berlin's Holiday Inn: November 24 – December 31, 2017
Directed by David Armstrong/5th Avenue Production
INTERMISSION! THE MUSICAL! : February 9 – March 4, 2018
World Premiere/Book by Jerry Zucker // Music and Lyrics by Alan Zachary and Michael Weiner
Directed by Jerry Zucker // Choreography and Staging by Alan Van Laast
Ride the Cyclone:

March 9 – May 20, 2018


West Coast Premiere // A Co-Production with ACT—A Contemporary Theatre
Book, Music and Lyrics by Brooke Maxwell & Jacob Richmond // Directed and Choreographed by Rachel Rockwell
Kiss Me, Kate: April 6-29, 2018
Directed by Alan Paul/5th Avenue Production

The Hunchback of Notre Dame:

June 1-24, 2018


Music by Alan Menken/Lyrics by Stephen Schwartz/Book by Peter Parnell
Directed by Glenn Casale/5th Avenue Production
Meh.
OK…that's not entirely fair. I'm excited for Something Rotten! the tour of the recent minor Broadway hit which was supposed to open at the 5th Avenue prior to its Broadway debut but ended up heading to Broadway first. To refresh your memory, it's the musical about "Shakespeare rivals who write the first musical". And, Ragtime is a musical I very much admire and I'm keen to see what the 5th Avenue does with it. I'm also modestly intrigued by the idea of Kiss Me, Kate only because I haven't ever seen it on stage before… but, the key word in that phrase is "modestly".
The two new shows are both problematic. Not only because they are "new" but also due to subject content and talent involved. Jerry Zucker did create some very funny movies with his film making partners Jim Abrahams and brother David Zucker…but it's been many years since the heyday of their Airplane! and The Naked Gun hits. The trio broke up and Jerry made the mega hit Ghost while his brother David became a right winger who made that shitty pro-conservative nonsense, An American Carol with Kelsey Grammer and Jon Voight.
As for Jerry's new musical, Intermission! The Musical! here's the rundown:
The 5th Avenue Theatre will launch into 2018 with its 19th world premiere: INTERMISSION! THE MUSICAL! (February 9 – March 4, 2018), a sensationally funny new musical from the master of wacky comedies including cinematic sensations Airplane! and The Naked Gun, Jerry Zucker. INTERMISSION! is the story of two dim-witted brothers who come to Potku-Potku (a tiny monarchy located… somewhere…) after receiving an email from someone they never heard of, claiming that money has been left to them by a relative they never knew they had. They each fall in love, get caught up in a military coup, join a band of revolutionaries and have to save the country—of course. The book is by Zucker, with music and lyrics by Alan Zachary and Michael Weiner—in residence at The 5th for the third time following Secondhand Lions and the pre-Broadway development of First Date. Zucker directs with choreography and staging by Anthony Van Laast.
I don't know…this sounds worrisome. Always be wary of funny place names…that shit was cute in 1944 but less so now. Zachary and Weiner's Secondhand Lions was a disaster. And, what exactly is Zucker directing if Anthony Van Laast is doing choreography and staging?
I've heard some good word of mouth on Ride The Cyclone but hasn't the "dead people in Purgatory tell their story" been done a MILLION TIMES?!?!?!? Like a couple years ago in that awful purgatory musical at the 5th with dead teenagers and Louis Hobson as the Devil? It sucked so bad I can't remember the title…
Also: who doesn't love a musical about dead teenagers? Carrie: The Musical was a huge hit!!!
We'll see…
As for "Hunchback" and "Holiday Inn"…eh. I'm not a Disney fanatic (and "Hunchback" wasn't even a GOOD Disney cartoon) and while I love classic cinema of the 1940s, I also kinda hate Bing Crosby.
(I know. I'm un-American. But, he beat his kids! Drove his first wife to drink!)
Final word on the 5th Avenue's season…it's kinda weird. Skews rather old and rather obscure. They have a family show and a recent Broadway hit but new shows can be tough sells especially if they aren't based on known properties. And, the rest skews over 50 or even 60. Not  a lot here to lure in those 20 to 40something musical theater fans. (And, no shows for co-associate director Bill Berry to direct for 17/18? So odd.)
Break it down:
Broadway at The Paramount has Hamilton + overplayed and tired mega hits/caca. That's it. (Good luck snagging those "Ham" tix!) Grade: D+
The 5th Avenue has Something Rotten!, some golden OOOOOOOOLDIES and new works of unknown quality. Grade: C+
The Village has an Oldie, a Newbie and three very popular musicals. Despite not having a big touring show (they don't do that)…Grade: A-
Village wins for best programmed season despite the fact they have the smallest number of shows and far smaller budgets. AND, despite not having a super recent Broadway touring show, they still cover all the bases you should cover. They have:
A show for the Oldies (Gin Game)
A show for the Disney freaks (Newsies)
Family friendly shows (Newsies, Into the Woods, Hairspray)
Shows with gay appeal (Into the Woods, Hairspray)
Sondheim! (Into the Woods)
Shows for the younger musical theater geeks (Newsies, Into the Woods, Hairspray)
Something new and intriguing (Threads)
Something for…everyone.
---
Season Subscriptions are sold out for Broadway at The Paramount. Individual Tickets go on sale later this year. Obviously, Hamilton will be the hard to get ticket but the other shows should be readily available.
Season Subscriptions for The 5th Avenue Theatre are available now. Individual Tickets go on sale later this year.
Season Subscriptions for Village Theatre are available now. Individual Tickets go on sale later this year.
(Visited 2 times, 1 visits today)