The Seattle Jewish Film Festival begins on March 25th, and one selection of particular interest to gay audiences is Who's Gonna Love Me Now?, a powerful documentary, co-directed and -produced by brothers Barak and Tomer Heymann. It tells the story of Saar, a gay, HIV-positive man living in London, and his conservative, religious family back in Israel. They disapprove of his choice to flee his homeland, his family, and his responsibilities as the eldest male child, to live a gay life in London. He disapproves of their conservative views about his life. Will they make amends? Will he return to his family in Israel? Or is the gulf between them too great?
As the film begins, Saar is in the thick of a mid-life crisis that is complicated by loneliness, disease, and worry. His situation isn't exactly dire: He has friends; he sings with the London Gay Men's Choir; and he works at the Apple Store. But neither is his situation particularly great: He lives with HIV; he's single when he'd rather be in a relationship; and he works at the Apple Store. He seems stuck in a life of uncertainty, disquietude, and potential disaster. As he begins to reconsider his old attitudes toward his family, his family begins to reconsider their old attitudes toward him. This is the central dynamic and dramatic engine of the film: The gay prodigal reconnecting with his conservative family.
Over the course of the picture, contact between home-world and satellite of love is tentatively re-established, and not easily. There is a lot of reaching out, but a lot of static and interruption. Each player on this stage has his or her own perspectives, and those perspectives are all familiar, even if you've never set foot in England or Israel. It seems the central difficulties that exist between a family and a family member who falls outside of that family's expectations and assumptions are usually the same at their deepest roots, regardless of scenario specifics: Identities and definitions clash; judgments are made, navigated, endured, and revised; histories and futures are reappraised. When you add HIV to an already complex mixture of sexuality, religion, family and dignity, there is always at least one certainty: You will never lack for a story to tell, and the Heymann Brothers tell it well here.
This is true, in part, because Who's Gonna Love Me Now? is not rigidly structured as a conventional story. It has structure, of course, and there is definite movement within the story, but it is more concerned with dialogue and human connections than it is with hard plot points, shallow narrative progressions, or clean conclusions. Partial conversations are had. Reactions to emotionally complicated statements are shown. This is a film about faces, and eyes, and moments. It is a triangulation of a family dynamic, a collection of snapshots, a museum of details that we move through and draw our own conclusions from.
For all the weightiness of its themes, there is plenty of sardonic, pragmatic humor in the telling of Saar's mid-life crisis, and in his interactions with his family; and there is an electricity in the editing together of those details. Saar says, to his prejudiced younger brother, "This is me. Take it or leave it." Cut to Saar at the airport, walking away. Saar sings, in his London Gay Men's Choir, "I need a hero." Cut to Saar's father. These sorts of edits happen throughout the film, and while, highlighted crudely here in text form, they may seem too on-the-nose, within the flow of the film itself they convey a sense that the filmmakers have really paid attention to the smallest of details.
Who's Gonna Love Me Now? is, in part, a film about miscommunication. Opportunities for reconnection emerge and are squandered, or are interrupted, or end tight-lipped, weeping, silent. There is always much more that could be said than is. And who is to blame for communication breakdowns? Who is supposed to reach across the gaps, the broken years, the misunderstandings, the assumptions, prejudices, fears?
Naturally, as members of an oppressed group of people, it is easy for us gay folk to blame intellectually lazy members of dominant, hetero/religionist paradigms for these interpersonal conflicts. To some extent, though, and as this film illustrates, we have to take responsibility for our own willingness to endure the periods of adjustment and change that privileged members of dominant paradigms must undergo in reaction to us, especially when their paradigms are founded on conservative and traditionalist ideologies that actively train them to resist change.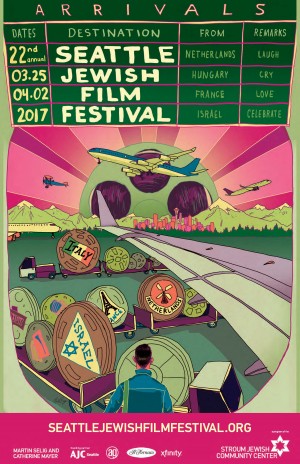 In short, if we want to be loved, we have to make ourselves available to be loved. There is danger, of course, in making ourselves vulnerable in this way to people who have been hostile or even violent toward us; and so, very often, we avoid doing the hard work of remaining present in their lives. And while none of this is likely new to any of us, it doesn't have to be. To see the complexities of these familiar dynamics depicted on screen, without heavy-handed authorial intervention, is a strangely welcome comfort, and a significant accomplishment.
I spoke with Who's Gonna Love Me Now? co-director Barak Heymann about these and other points. Our conversation, held via Skype from Seattle to Tel Aviv, can be found in the second installment of this two-part film spotlight.
Who's Gonna Love Me Now screens as a part of the Seattle Jewish Film Festival at AMC Pacific Place on 26 March at 8 PM. The screening will include a 10-minute-long, pre-film performance by members of the Seattle Men's Chorus. You can find more information about this and other festival films at seattlejewishfilmfestival.org.
(Visited 1 times, 1 visits today)