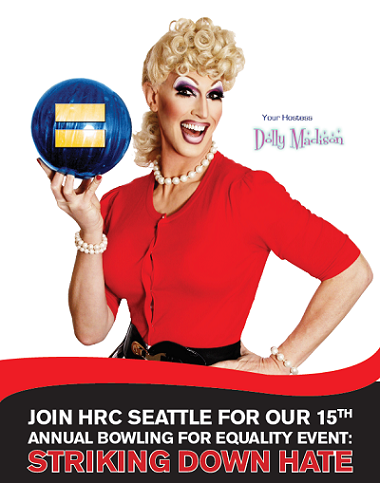 The Human Rights Campaign Seattle branch sure does love them some bowling fundraisers! They do one every year. This year, they've snagged the very tasty drag diva DOLLY MADISON (she's moist as a snack cake!) to host this year's Bowl-A-Rama benefiting HRC-Seattle who do so much…like put on that fancy gala fundraiser with all the celebrities every year!
This year's party is at West Seattle Bowl on Saturday, March 25th with three time frames to choose from:
Saturday, March 25
Three two-hour bowling waves available:
3:00 – 5:00 p.m.
6:00 – 8:00 p.m.
9:00 – 11:00 p.m.
West Seattle Bowl
4505 39th Ave SW
Seattle, WA 98116
More skinny!
Join HRC Seattle for our annual bowling event! This year we are excited to return to Saturday nights and really amp up the party. West Seattle Bowl is proud to host HRC Seattle this year and we have lots of fun planned. Our 3:00 – 5:00 p.m. session is a great option for families and kids and our 9:00 – 11:00 p.m. session is when the party really heats up!

November's election results have been a hit to our community, our allies and many Americans. Now is the time for us to come together, support each other and HRC and have fun while we do it. We will win because we are strong, you are strong and your participation makes HRC strong. Come join the fun for a great cause, equality.

Tickets are $40 per person ($20 for 18 & under) or $320 for a lane of 8. Included in your ticket price are 2 hours of bowling, shoe rental, appetizers and an annual HRC membership or membership renewal!

DON'T FORGET ABOUT THE AFTER PARTY!

OutWest Bar, West Seattle's very own LGBTQA bar, located at the corner of California & Brandon, invites you to join the after party fun! Featuring drink specials available starting at 4pm! Keep the party going at OutWest!
Tags: Bowling, Bowling Fundraisers, Dolly Madison, HRC Seattle, Human Rights Campaign, OutWest Bar, West Seattle