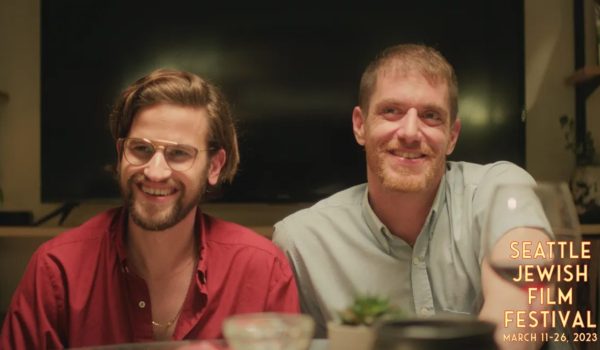 The Seattle Jewish Film Festival returns for its 28th outing from March 11 through the 26th and yes, there WILL be live screenings in addition to online screenings! And, as always, the SJFF will also feature special events featuring food, music and very special guests.
Tickets and passes for SJFF are on sale now at www.SeattleJFF.org.
And, the LGBTQ+ spotlight film for this year's festival is CONCERNED CITIZEN screening on March 12th at 5:15pm at AMC Pacific Place, downtown Seattle. More on this film:
Gay Gezunt! LGBTQIA+ Spotlight
CONCERNED CITIZEN (אזרח מודאג)
Idan Haguel, Narrative Drama/Comedy, Israel, USA, 2022, Hebrew w/English subtitles, 82m
Architect Ben thinks of himself as a socially progressive, enlightened gay man. But an interaction with neighbors in his gritty south Tel Aviv neighborhood challenges his view of himself in this smartly crafted, multilayered satire about racial privilege, xenophobia, and identity.
AND, more info about the entire festival via press release:
SJFF features 21 film programs from around the world, including Spain, Israel, Switzerland, Australia, Belgium, Poland, France, Italy, and more. In-person screenings take place at AMC Pacific Place and the Stroum Jewish Community Center, with a Short Film Program encore free to students at the University of Washington right after the Festival. Virtual screenings will be released each Monday of the festival (March 13 & 20). All virtual screenings have a 48-hour viewing window once the film is started, and all virtual programs expire on Sunday, March 26.
The festival opens at AMC Pacific Place with the bittersweet comedy KARAOKE. Nominated for 13 Israeli Academy Awards, including Best Picture and Best Director, KARAOKE pairs Israeli superstars Lior Ashkenazi (LATE MARRIAGE, FOOTNOTE, and at this year's festival: ONE MORE STORY) and Sasson Gabay (SHTISEL, THE BAND'S VISIT) in a film about a downtrodden, suburban couple in their sixties who are drawn to their charismatic new neighbor who holds karaoke evenings at his apartment. Before the screening, enjoy truffle popcorn and mocktails, and after the screening, step up to the mic for some karaoke.
SJFF is proud to present the 2023 SJFF Reel Difference Award to Sasson Gabay, the award-winning Baghdad-born Israeli actor known for his many roles on screen and stage. Recently, he brought his portrayal of an Egyptian police band leader from screen to stage in the Tony-winning musical THE BAND'S VISIT, for which he won the European Film Award for Best Actor. Gabay will introduce the opening night film virtually and accept the SJFF Reel Difference Award.
A favorite SJFF event, the Sunday Brunch Film, returns with a screening of ART OF SILENCE. The first documentary about legendary French mime artist Marcel Marceau traces Marceau's long history, career, and artistic journey through archival images and footage and revelatory testimonials. Before the screening, enjoy homemade brunch boxes of wild lox, bagels, shmears, salad, fruit, and dessert while listening to music by The KlezKatz! and special guests Pizmon, a co-ed, pluralistic Jewish a cappella group from New York City.
Close out the film festival at the Stroum Jewish Community Center with AMERICA, the uplifting drama and second feature film from Ofir Raul Graizer (THE CAKEMAKER, SJFF 2018). Winner of Best Narrative Feature at the Philadelphia Jewish Film Festival, AMERICA is about an Israeli swimming coach living in the United States who must unexpectedly return to his native Israel. A seemingly innocuous visit with a childhood friend and his fiancée sets in motion a chain of events that will irrevocably change all of their lives. The screening will be followed by a reception with birthday cake and a champagne toast for Israel's 75th milestone.
From Opening Night to Closing Night and festival guests, SJFF features seven films as part of the Israel@75 birthday series, celebrating Israel's milestone and showcasing the diversity and complexity of Israeli life, culture, history, and people and how Israeli filmmakers portray and reflect the challenges and joys of their homeland. This series includes the Israel@75 Spotlight, ONE MORE STORY, a rom-com directed by award-winning actor, director, and comedian Guri Alfi, who also stars in the film and will join from Israel via Zoom for Q&A after the screening. Additional films in the series include AMERICA, CONCERNED CITIZEN, DIVORCE DENIED, HONEY TRAP, KARAOKE, and SAVOY.
Additional highlights include the Sephardic Spotlight ALEGRÍA, a moving, comedic Moroccan family drama, the LGBTQIA+ Spotlight film CONCERNED CITIZEN, and DIVORCE DENIED for Women's History Month about women struggling in the religious courts to be granted a divorce. A Zoom conversation with human rights lawyer and visiting Professor Smadar Ben-Natan, FOUR WINTERS (screening in-person only), Julia Mintz's documentary of partisan Nazi resistance, heroism, and resilience, and a short film program SAYING KADDISH.
Tickets, ticket packages, and passes for SJFF are on sale now. Single film ticket prices range from $13-$15, and virtual household (2+) tickets are $18-20. Special events are $15-30. Ticket packs range from $80-$115, and Full Festival Passes are $180-$200 and include all in-person and virtual screenings. Add on virtual access to any in-person ticket for $5. Discounts are available for seniors 65+, students, youth under 13, and TeenTix members.
(Visited 40 times, 1 visits today)