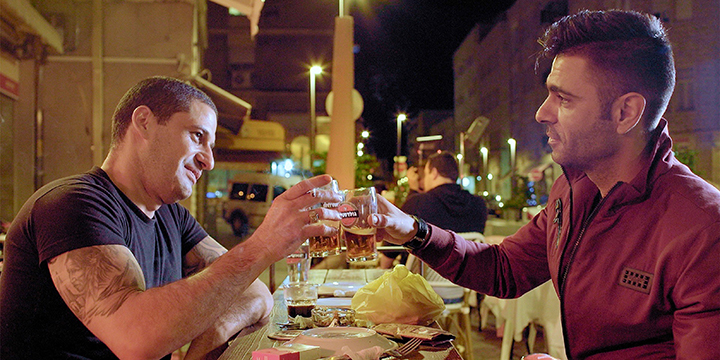 There are a lot of great films to check out at the upcoming 26th annual Seattle Jewish Film Festival which will screen virtually March 4th to the 18th including a fun opening night film, HOWIE MANDEL: BUT, ENOUGH ABOUT ME, a documentary about the comedian/actor/germophobic game show host.
Probably of more interest to LGBTQ film fans would be the festival's gay offerings and they have two this year as part of their "Gay Gezunt!" programming. The films are: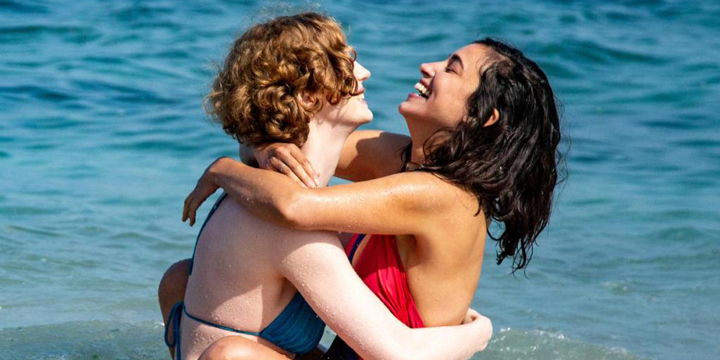 KISS ME KOSHER
KISS ME KOSHER is an endearing dual love story and romantic misadventure about so-called un-kosher love between clashing cultures, generations, and families. Berta, a sprightly Jewish grandmother, and her equally vivacious granddaughter, Shira, argue passionately about love and what women can and cannot do. When one falls for a German woman and the other a Palestinian man, it gets complicated. Their families collide over shared, fraught historical pasts, and their romances must bridge that wide chasm to have a fighting chance for a future together. What happens with lovers who don't fit—but belong together?

With a loving eye for characters grappling with societal and religious conventions, Israeli director-writer Shirel Peleg crafts a wonderful story that goes beyond clichés to unmask them, saying, "I wanted to see if it would be possible for a young couple to build a future without ignoring the past."
and, a film that screened at last year's Seattle Queer Film Festival: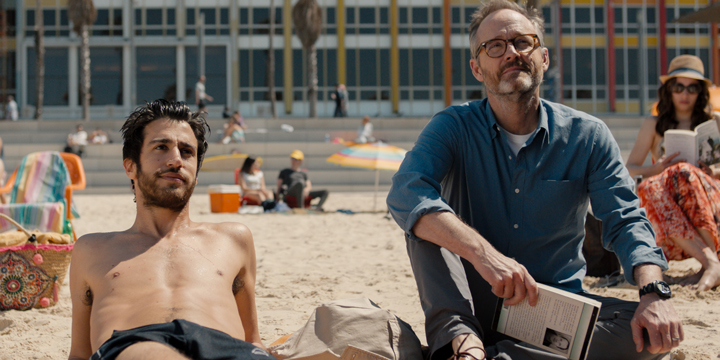 SUBLET
Travel writer Michael (John Benjamin Hickey, THE BIG C, THE GOOD WIFE) arrives in Tel Aviv on assignment after suffering a personal tragedy. He just wants to grieve, do his research quietly, and go home. But when he sublets a flat from Tomer, a handsome film student who has nowhere else to stay, Michael offers him the couch in exchange for showing him around the energetic local scene. They couldn't be more different, though: Michael, 55, is married and long settled into life with his husband back home, while Tomer is young and messy, a free spirit with little responsibility. Over seven days, they form an intense bond that transforms both of their lives in unexpected ways. The latest film from Eytan Fox (YOSSI & JAGGER, WALK ON WATER,THE BUBBLE) evokes humor, charm, and human connection.
Here's the full press release with info on how to view the films in the festival. Full festival schedule and online ticket sales at www.SeattleJFF.org
SEATTLE, Wash. (February 12, 2021) – The Seattle Jewish Film Festival (SJFF) has announced its full line-up of streaming films for the 26thfestival, running March 4-18, 2021.

SJFF features 19 films from around the world, including Germany, Poland, Argentina, Israel, and Norway.  This year's festival features comedies, love stories, and tales of triumph and overcoming adversity to joyously bring us virtually together again, even though we're far apart.
The festival opens with the documentary film HOWIE MANDEL: BUT, ENOUGH ABOUT ME, a revealing and funny look at the Emmy-nominated comedian and game show host's quirky career and struggles with mental health. The film will be available for streaming March 4-7; as with all films in the virtual line-up, it will be available for 72 hours. Howie Mandel will also join us, along with acclaimed documentary film director Barry Avrich, for a Zoom conversation.
Films also include WINTER JOURNEY, starring Bruno Ganz (WINGS OF DESIRE) in his final role; the star-studded ON BROADWAY (a half-price matinee for seniors 65+) featuring Helen Mirren, Alec Baldwin, and Lin-Manuel Miranda, among others; THEY AIN'T READY FOR ME, a powerhouse profile of African American rabbinical student, mom, and Chicago community activist Tamar Manasseh; and the hilarious Argentinian comedy MY AMAZING FUNERAL to close out the festival. This year's festival features two LGBTQ+ Spotlight films: SUBLET by acclaimed Israeli director Eytan Fox and romantic comedy KISS ME KOSHER, director Shirel Peleg's brave debut.
"The films in this year's virtual festival focus on light, levity, and laughter to brighten our spirits in dark, challenging times," says Pamela Lavitt, SJCC Arts + Ideas and Festival Director. "Comics, romantic comedies, inclusivity, and triumphant gritty stories will bring everyone in your household together—even if virtually—to gather 'round and laugh, cry, debate, and celebrate global Jewish and Israeli cinema in our hearts and homes."
The two-week festival will also feature Zoom conversations with filmmakers and guests, delicious partnerships with culinary vendors, and engaging community events.
Tickets for SJFF are on sale now. Single household film ticket prices range from $12-20. Ticket 6-packs range from $60-75 and Full Festival All-Access passes for $160-180. Discounts are available for seniors 65+ and students. While tickets and passes are per household, only one device can watch a film. Once you start playing a film, you must continue watching on the same device/location. All films are available for 72-hour viewing windows. All films can be viewed in WA state and many can be viewed from outside of WA. Check the film descriptions for specific geographic viewing areas.  We recommend reading our Streaming FAQs before purchasing tickets.
Full Festival Lineup (alphabetical order)
For a list of all programs in schedule order, including streaming windows for each film, visit www.SeattleJFF.org
ADVENTURES OF A MATHEMATICIAN
Fascinating story of one of the greatest scientific minds of the 20th century, a Polish mathematician, humbled and haunted by his greatest achievement.
AMERICAN BIRTHRIGHT
A Jewish millennial embarks on a conversational journey with family, friends, and faith leaders as she grapples with her sister's intermarriage as well as her own Israeli birthright and Jewish values.
AULCIE
The rise, fall, and redemption of an American-Israeli basketball legend.
BREAKING BREAD | Culinary Cinema
The first Muslim Arab to win Israel's MasterChef makes social change through food.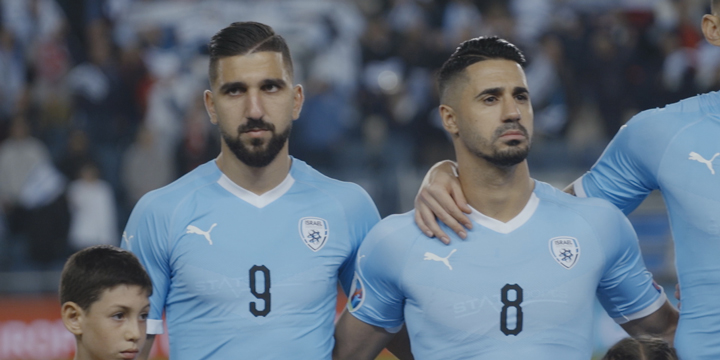 COMMON GOAL | Brunch Film
Almost half the players on the Israeli national soccer team are Muslim. Questioned by all sides, they try to guide the team through their biggest international tournament. Takeout brunch pairing from Zylberschtein's. Pick-up and delivery options available: Order here
THE CROSSING
Adventurous 10-year-old Gerda and brother Otto discover two Jewish children hiding in their basement and embark on a courageous journey to reunite them with their parents.
FROM CAIRO TO THE CLOUD | Sephardic/Mizrahi Spotlight
In Cairo's ancient synagogue, a vast treasure trove of cast-off documents revolutionizes our understanding of Jewish history now that these fragments have been digitally reunited.
Includes Zoom conversation withfilmmaker Michele Paymar
GOLDEN VOICES | Israeli Night
Film-dubbing stars find quirky ways to make a living as Soviet immigrants in Israel.
HOWIE MANDEL: BUT, ENOUGH ABOUT ME | Opening Night
A revealing and very funny look at the wildly creative veteran comedian, actor, Emmy-nominated TV game show host, and America's Got Talent judge.
Includes Zoom conversation withfilm subject Howie Mandel and director Barry Avrich.
IN YOUR EYES I SEE MY COUNTRY
Neta Elkayam and Amit Haï Cohen take a musical journey to bridge the dissonance of their fragmented, dual Israeli and Moroccan Jewish identities through song.
Kamal Hachkar | Documentary | Morocco | 2019 | Hebrew, Arabic, French w/English subtitles | 72m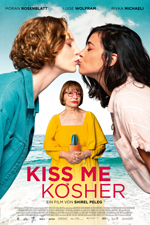 KISS ME KOSHER | Gay Gezunt! LGBTQ+ Spotlight
An endearing dual love story and romantic misadventure of clashing cultures and families. Can the couples build a future together without ignoring the past?
MY AMAZING FUNERAL | Closing Weekend
In this uproarious Argentinean slapstick comedy, a controlling Jewish mother fakes her own funeral to hastily reunite her far-flung family.
ON BROADWAY | Half-Price Senior 65+ Matinee
An all-star cast tells the inside story of Broadway's (pre-pandemic) revival, from A Chorus Line to Hamilton.
SCHOCKEN | US Premiere | Local Connections
Salman Schocken was much more than the king of department stores in Germany. The bibliophile and maverick modernist bought Israel's Haaretz newspaper, founded Schocken Books, and standardized Hebrew type.
Includes Zoom conversation:Joseph Schocken and Barbara Lahav of Seattle discuss their uncle Salman Schocken with filmmaker Noemi Schory.
SOROS
An unprecedented look at billionaire George Soros, a Hungarian Holocaust survivor, who is one of the most influential and controversial figures of our time.
SUBLET | Gay Gezunt! LGBTQ+ Spotlight
John Benjamin Hickey (The Good Wife) stars as a middle-aged American travel writer subletting an apartment from a handsome free spirit in Tel Aviv.
THEY AIN'T READY FOR ME
Combating gun violence on the South Side of Chicago, African American rabbinical student Tamar Manasseh is a fearless community leader and force to be reckoned with.
THOU SHALT NOT HATE
An endearing dual love story and romantic misadventure of clashing cultures and families. Can the couples build a future together without ignoring the past?
WINTER JOURNEY
An intimate story of family secrets and a father-son interview, remarkably illustrated through archival images, footage, and actual conversations. Bruno Ganz (WINGS OF DESIRE) delivers a sublime and vulnerable performance as the father in his final role.
(Visited 2 times, 1 visits today)