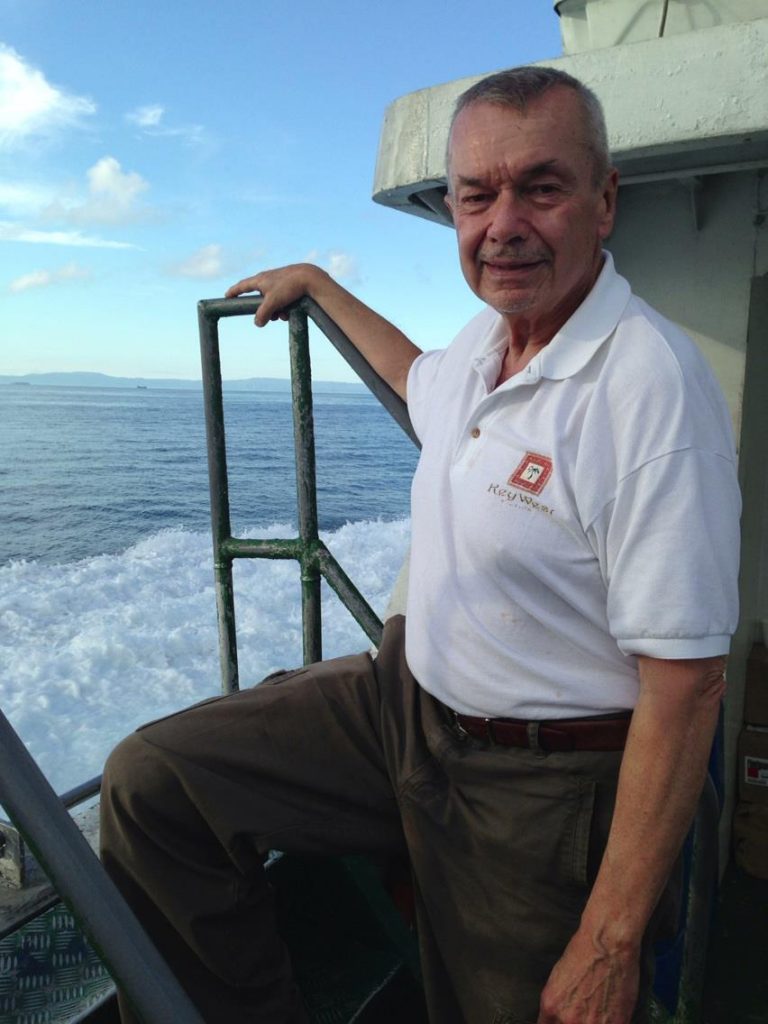 One of the pioneering fighters for LGBTQ equality in Seattle passed away on February 9th, 2021. Charlie Brydon, 81, was a local business leader with his own insurance agency who gathered together other local gay and lesbian business people and community leaders to create The Dorian Group, which sought to fight for LGBT equal rights and to educate the community about the LGBT community at a time where gay people were largely vilified and shunned.
Born in New Jersey and educated at military schools in South Carolina and Georgia, Brydon was a Vietnam War veteran who moved to San Francisco in 1970 after leaving the military and began cautiously putting his toe into gay activism at that time by writing letters of encouragement to area media outlets when they printed or broadcast positive stories about gay subjects.
His interest grew once he moved to Seattle in 1974 to run a local insurance agency and Brydon quickly became active in local politics and specifically local gay groups like the Seattle Gay Alliance, a very early pioneering gay advocacy group. When that group fell apart in 1975, Brydon and other leaders started The Dorian Group which was a rebranding of an earlier organization called The Dorian Society which was heavily involved in the creation of Seattle Counseling Service which still exists today.
Charlie Brydon and The Dorian Group were instrumental in the fight to ban local housing discriminations against the gay community, a fight that continues to this day with the Biden Administration just announcing yesterday they were over turning Trump Administration mandated housing discriminations based on sexual identity or gender orientation.
When anti-gay activist Anita Bryant's "Save Our Children" campaign led to Seattle's Initiative 13 in 1978 which would have repealed city ordinances protecting employment and housing rights for gays and lesbians, Charlie created the group "Citizens to Retain Fair Employment" which successfully helped defeat Initiative 13.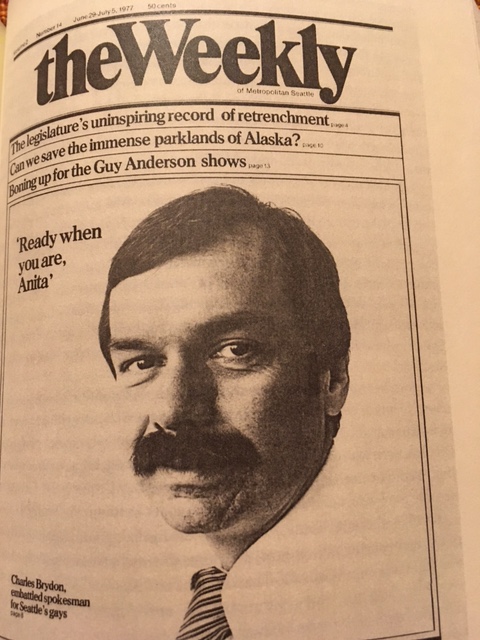 Brydon was also instrumental in pushing then Mayor Wesley Uhlman to declare the first officially sanctioned Seattle Gay Pride Week in 1977.
The GSBA released a tribute to Charlie Brydon from its former executive director Louise Chernin. Here are excerpts:
This week we lost a great leader, mentor and friend. A founder of most of our early LGBTQ organizations and leader in the fight for LGBTQ equality, Charlie Brydon, is considered to be the "father of the LGBTQ Civil Rights Movement" in Washington State. Others called him the "un-elected or self-appointed tribal leader of the gay community". Charlie worked to bring gay rights to the forefront of Seattle and Washington politics…. Always at the forefront for LGBTQ rights, Charlie led the community in gaining a major legal victory with the passage of city ordinances banning employment and housing discrimination against sexual minorities in 1973 and 1975. However, in 1978, those rights were challenged by Initiative 13, but with Charlie at the forefront and other activists including Anne Levinson, Tom Rasmussen, Don Moreland, Jim Reid, Cal Anderson, Mary Kay Wright, Jan Bianci, Laurie Jinkins, Tim Bradbury, Lonnie Lusardo and others, the initiative was soundly defeated by Seattle voters.
By 1975, activist groups were continuing to press for legal protections similar to those in the Fair Employment Practices Ordinance. It was The Dorian Group, under Charlie's leadership that proposed a revision of the city's Open Housing Ordinance that would make it illegal for landlords and home sellers to discriminate on the basis of sexual orientation. In 1977, Brydon persuaded then Mayor Wes Uhlman to commemorate Seattle's first Gay Pride Week and in 1978 Brydon rallied activists to join Citizens to Retain Fair Employment, which organized fundraising and educational activities to push back at national efforts to roll-back employment protections. Understanding the importance of an national gay liberation movement, in 1979 Charlie joined the Board of Directors of the National Gay and Lesbian Task Force. But what most defines Charlie was his work with Hands Off Washington and the Privacy Fund, organizations created in his living room to fight against statewide anti-gay legislation, successfully stop discriminatory state ballot initiatives, establish chapters across the state, and laying the very foundation of many of today's LGBTQ political organizations, initiatives, campaigns and public officials.

Whether you knew him or not, your life has forever been changed because Charlie Brydon spent most of his adult life fighting for LGBTQ equality. Thank you, dear leader and friend.

– Louise Chernin, former CEO of Greater Seattle Business Association

A toast to a gay pioneer, Charlie Brydon.
Major source for this piece is GAY SEATTLE: STORIES OF EXILE AND BELONGING by Seattle historian Gary L. Atkins which is available to purchase via Elliott Bay Book Company's website HERE! For anyone interested in Seattle's LGBTQ history, this is the book to own. Highly recommended.
(Visited 20 times, 1 visits today)