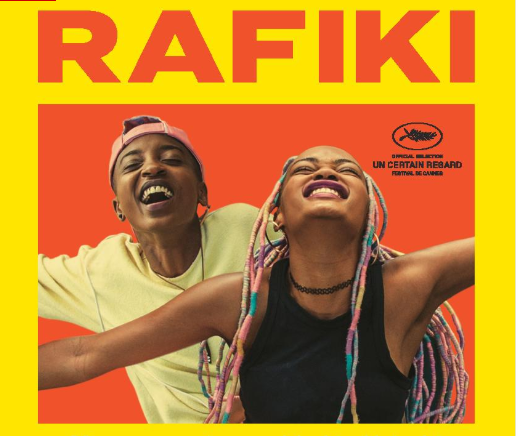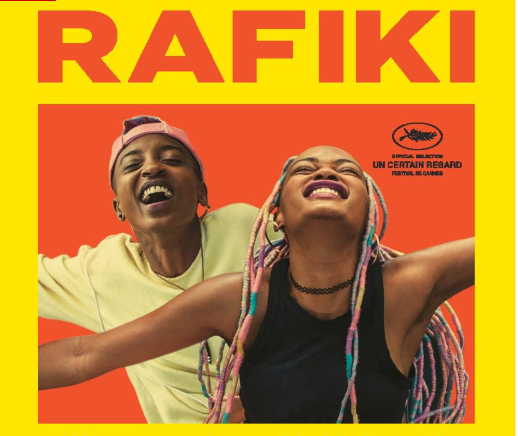 The eleven day long TWIST: Seattle Queer Film Festival wrapped up Sunday night, October 21 with a sold out screening of the acclaimed lesbian film from the African nation of Kenya, RAFIKI which went on to claim both top narrative film prizes at the festival. Both the Audience Awards and the Narrative Jury picked the film as Best Narrative Feature. 
The film has won accolades around the world but had been banned in its own country for "promoting" homosexuality. The producers of the film recently sued the government to get the film screened for a week in its home country; without that week of public screenings, films are ineligible to be submitted for Academy Awards consideration. The Kenyan government relented and the week of screenings played to packed houses.


All TWIST 2018 winners are listed below.
Congrats to Three Dollar Bill Cinema for another excellent festival!
SEATTLE, Wash. (October 22, 2018) – Three Dollar Bill Cinema is proud to announce the winners of the festival jury and audience awards of the 23rd annual TWIST: Seattle Queer Film Festival. The 11-day film festival concluded on Sunday, October 21 with a sold-out screening of RAFIKI, a lesbian film from Kenya that has been banned in its home country.

Audience awards are determined through ballots filled out by film festival attendees. Awards for excellence are chosen by narrative, documentary and short film juries.  

"I want to thank our wonderful juries who dedicated so much of their time and energy to the awards process," said Kathleen Mullen, TWIST Festival Director. "It is gratifying to honor films that moved, inspired and entertained our jury members and audiences and that tell the vital stories of our diverse queer lives."

The winners of the jury awards for excellence each receive a cash prize in recognition of their artistic achievement.

"Congratulations to the winners and to all of the filmmakers who contributed to the success of this year's film festival," said Ben McCarthy, executive director of Three Dollar Bill Cinema. "We are thrilled that RAFIKI won both the audience and jury awards for narrative feature and that we can bring further attention to this important, beautiful film from a country whose LGBTQ community faces rampant discrimination and fear of imprisonment."

TWIST featured the latest slate of queer cinema from 25 different countries including Kenya, Taiwan, Switzerland, Columbia, Australia, Tonga, Israel and Argentina. The 11-day film festival screened 143 narratives, documentaries and short films and welcomed more than 40 directors, producers, actors and film subjects from around the country.
______________________

Audience Awards

Favorite Narrative Feature: RAFIKI, directed by Wanuri Kahiu (Kenya, 2018)

Runner up: TUCKED, directed by Jamie Patterson (UK, 2018)

Favorite Documentary Feature: WHEN THE BEAT DROPS, directed by Jamal Sims (USA, 2018)

Runner Up: THE MOST DANGEROUS YEAR, directed by Vlada Knowlton (USA, 2018)

Favorite Lesbian Short Film: MASKS, directed by Mahaliyah Ayla O (USA, 2018)

Favorite Gay Short Film: I LIVE HERE, directed by Shane Watson (USA, 2017)  

Favorite Transgender Short Film: BURTON BEFORE AND AFTER, directed by Courtney Hermann (USA, 2017)

Jury Awards, Awards for Excellence

Best Narrative Film Award Winner: RAFIKI, directed by Wanuri Kahiu (Kenya, 2018)

Jury statement: For its honest and vibrant depiction of real life and beautifully displaying queer Kenyan romance. Director Wanuri Kahiu manages to show the beauty and ugliness with courage and artistry.

Narrative Honorable mention: SORRY ANGEL, directed by Christophe Honoré (France, 2018) & TUCKED, directed by Jamie Patterson (UK, 2018)

Jury statement: We would also like to recognize SORRY ANGEL and TUCKED for their unique contributions.   

Best Documentary Film Award Winner: LEITIS IN WAITING, directed by Dean Hamer, Joe Wilson & Hinaleimoana Wong-Kalu (USA/Tonga, 2018)

Jury Statement: We the jury recognize that LEITIS IN WAITING is the top prizewinner in this year's Twist Film Festival in the documentary category. LEITIS IN WAITING is a thought provoking and compelling story that explores the decolonizing resistance of Tongan transwomen within a culture deeply affected by monarchy and organized religion. Elegant in style, LEITIS IN WAITING demonstrates beautiful cinematography that illustrates the battles of homophobia and transphobia. LEITIS IN WAITING is a must see for those who desire a film that shows the effects of culture change and highlights the impact of transformative justice.

Documentary Honorable mention: PATERNAL RITES, directed by Jules Rosskam (USA, 2018)

Jury statement: We recognize PATERNAL RITES for its boldness, beauty and unflinching authenticity. By painting a portrait in fragments, the film creates an extraordinarily intimate examination of the relationship between trauma and memory and the healing power of being present. We honor PATERNAL RITES' emotional and stylistic risk taking and its ability to create universal connection and transformation through one person's story, bravely told.

Best Short Film Award Winner: MARGUERITE, directed by Marianne Farley (Canada, 2017)

Jury statement: For its multi-generational storytelling that speaks of universal love in a compassionate and genuine way and finding a connection through sensuality without requiring sexuality.  

Most Innovative Short Film Award Winner: MAKE OUT PARTY, directed by Emily Esperanza (USA, 2017)

Jury statement: For its unabashed commitment to style and storytelling in a fun world of joy and frivolity, we award the prize for most innovative short to MAKE OUT PARTY.

Best Short Film Honorable Mention: THE THINGS YOU THINK I'M THINKING, directed by Sherren Lee (Canada, 2017)

Jury statement: By challenging assumptions and seeing through appearances, this film showcased an honest portrait of coming to terms with self-identity and self-acceptance.  

Most Innovative Short Film Honorable Mention: DANCES, directed by Ramon Watkins (Australia, 2018)

Jury statement: Through its integration of dance, music and social media, we were struck by the portrayal of acceptance and rejection of dating in the digital age.

Narrative Jury

Anastacia-Renee is the 2018-19 Seattle Civic Poet, the recipient of the City of Seattle's 2017 Artist of the Year Award, and the 2015-2017 poet-in-residence at Hugo House. She has received numerous writing fellowships and writing residencies, and is the author of Forget It, (v.), 26 (as Anastacia Tolbert) and Answer (Me). Her work has appeared in Women of Resistance: Poems for a New Feminism, Sinister Wisdom: Black Lesbians—We Are the Revolution, Ms. Magazine, Berkeley Poetry Review and many more. She teaches poetry and creative writing at Hugo House and Seattle University and lives as a superhero in Seattle with her wife and dog.

Beth Barrett is the artistic director of SIFF (organizers of the Seattle International Film Festival, SIFF Cinema, and SIFF Education). She serves on the board of the Film Festival Alliance and has participated in juries and panel discussions at several universities and film festivals.

Paul Struthers started working at Frameline (the San Francisco International LGBTQ Film Festival) in November 2017 as its Director of Exhibitions and Programming. Prior to that, he worked for four years in Sydney as festival director for Queer Screen's Mardi Gras Film Festival.

Documentary Jury

Mocha Jean Herrup is an award-winning documentary filmmaker and photographer whose films have screened worldwide. Currently, they are working with the Freedom Project to create digital media for their Nonviolent Communication and Prison Reentry programs. Mocha has a PhD in Film and Media studies and was a professor in the Radio-TV-Film Department at the Austin Community College, where they also helped found the Peace and Conflict Studies program. They have programmed for many festivals including Cinematexas, SXSW and the Austin Gay & Lesbian Film Festival.

Kevin K. Maifeld is the founding director and a professor of the graduate and undergraduate arts leadership programs at Seattle University. He previously served as the managing director of the Seattle Children's Theatre from 2001 to 2007. Kevin currently serves as vice president of the board of directors for the Seattle Men's and Women's Choruses. He has an MFA in arts management from University of Alabama and a BS in accounting from the University of Denver.

Dr. Quinton Morris is a concert violinist, chamber musician, educator, entrepreneur and filmmaker who performs solo concerts, chamber music and lectures internationally. He embarked on "Breakthrough," a two-year tour of solo recitals, lectures on entrepreneurship, master classes and community outreach projects, and his self-produced short film about Chevalier de Saint-Georges received a European Independent Film Award and a Global Music Award. The recipient of the Washington State Governor's and Seattle Mayor's Arts Awards, among others, Dr. Morris is currently an associate professor of violin and chamber music at Seattle University. He is the executive director and founder of Key to Change.

Shorts Jury

Jon Garcia, founder of Lake Productions, is a Portland-based filmmaker whose latest film ROOM TO GROW screened at the 2018 TWIST: Seattle Queer Film Festival. He has released six feature films, including The Falls cult trilogy. Jon was nominated for an Emmy in 2016 for producing and directing original content for Oregon Public Broadcasting. He is also a trained actor, novelist and singer-songwriter, having performed his music in his own films.

Megan Leonard is a producer, editor, and festival programmer based in Seattle. She has been a programmer for SIFF for the last nine years, where she heads the New American Cinema team and is also the lead shorts programmer. Additionally, she programs for Indie Memphis, Cucalorus, and Doc NYC, and has served on the jury at Fantastic Fest in Austin. Her most recent short film, Mixtape Marauders, premiered at the Aspen ShortsFest in 2017 and was in the opening night program of SIFF.

Aleksa Manila is a drug counselor by day, drag queen by night and a widely recognized social change agent and provocateur. She has mastered the art of sensuality to evoke feelings and challenge bias, prejudice, discrimination, and hate. She continues to be recognized for her community efforts, having served as the Seattle Pride Community Grand Marshal, received the Dr. Wood Award for Excellence in HIV Prevention and Mayor Durkan's Pride Award for Outstanding Leader, and been named GSBA Community Leader of the Year and Seattle Women's Pride Community Champion.

###

About TWIST: Seattle Queer Film Festival

Started as the Seattle Lesbian & Gay Film Festival in October 1996, TWIST: the Seattle Queer Film Festival has grown into the largest event of its kind in the Pacific Northwest, gaining industry and audience recognition for showcasing the latest and greatest in queer film, from major motion picture premieres to emerging talent. An important venue in the Seattle film scene, the festival provides unique opportunities for visiting and local filmmakers to engage and entertain the Greater Seattle region's LGBTQ and allied community. For more information, visit https://threedollarbillcinema.org/twist

About Three Dollar Bill Cinema

Three Dollar Bill Cinema is a nonprofit arts organization that provides access to films by, for, and about lesbian, gay, bisexual, transgender, and queer (LGBTQ) people and a forum for LGBTQ filmmakers to share and discuss their work with audiences. Annual programs include TWIST: Seattle Queer Film Festival, Translations: Seattle Transgender Film Festival, Three Dollar Bill Outdoor Cinema, and Reel Queer Youth. For more information, visit https://threedollarbillcinema.org
(Visited 1 times, 1 visits today)