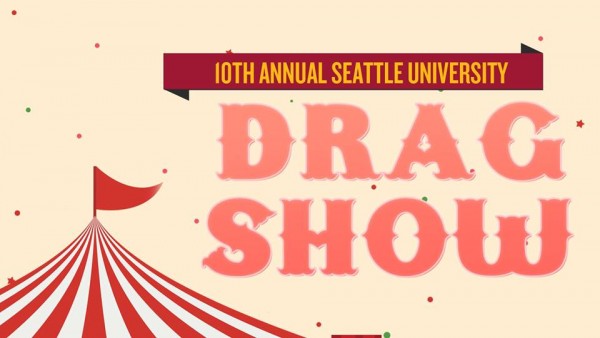 We went to Cornish College of the Arts annual student drag show a few weeks back (hosted by Mama Tits) and absolutely fracking adored it…the kids were awesomely talented and fresh and exciting and it was just hellacious amounts of fun.
College Drag Shows are big thing now apparently, since just about every local college does one (well…maybe not Seattle Lutheran University…at least I haven't heard of one happening there). Two of biggest campuses have oddly scheduled their 2016 drag shows on the same day…TODAY! APRIL FOOL'S DAY!
How cute.
Seattle University's 10th annual drag show presented by their Triangle Club kicks off at 7pm (doors) with the show at 8pm. It's ALL AGES so it's a chance for the under 21 crowd to check out local drag stars including our local Drag King of Kings, Ceasar Hart plus a Paradisco or two (or 90….they breed like rabbits on meth) Jessica and Drew Paradisco, PLUS our Reigning Empress of Us All, Her Holiness, The Lady Empress DonnaTella Howe. PLUS/PLUS all the adorable kids performing from Seattle U.
We THINK they might have tickets ($5) at the door…it's at Campion Ballroom at Seattle University, which is pretty big.
The University of Washington is also getting in on the the drag act with their 13th Student Drag Show presented by the the ASUW Queer Student Commission and starring Aleksa Manila as host…(Miss Manila is BUSY this weekend! She's also doing SEATTLE RED DRESS PARTY as an official hostess! Plus, she has the huge Seattle Counseling gala, ICON coming up on April 10th!)
Here's the LOOOOOOOOOONG info/list of rules/pedantic lecture on 'what is drag/gender?' provided on the invite….you best be not wearing any scents or angry young justice warriors will throw you to the ground and scrub you with baking soda!!
Witness the fierceness of ASUW Queer Student Commission's annual drag show! Come help us celebrate how we do gender expression and fluidity as our competing and showcasing acts WERK* the Meany Hall stage!

This year's drag show is a UW-competition-community-showcase mashup! We wanted to open up a free, all-ages, 1200-seat venue to folks whose access to drag events are limited (because of 21+ venues, entrance fees, etc.). Both UW students and community drag performers will be entered as competitors.

FREE — first come first serve on the day of the event (doors open 6:15; performances begin promptly at 7:00)

On- and off-campus queer organizations and resources will also be tabling during intermission!

FRIDAY, APRIL 1st
MEANY HALL, UW Campus
15th Ave NE & NE 40th St
7:00 PM, Doors @ 6:15 PM

Gender and Drag are Both Real

So what is gender? Gender is one of the ways society tells people how to act and interact with each other. Gender is the way you perform your reality while drag is a discussion on that reality. Some people think all gender is drag. While that may be the case for some people, simplifying it as such erases the experiences of people who need drag, the people who built drag, and does damage to trans* identities. There are elements of drag in how you perceive and perform gender, but performing gender doesn't lessen the value of living it. Where does drag come from? Drag has historically been a way for queer people to make community while critiquing gender norms. It doesn't have one starting place and what it means for different people is complicated. Class, race, politicized bodies, all complicate what gender and drag is and how it works for the individual.

What is drag?

Drag is a joke about the ridiculousness of gender roles
Drag is a reminder that the gender isn't binary or fixed
Gender is what you do to get ready in the morning, the clothes you wear, and the way you interact with other people
Gender isn't predetermined or biological
Drag has historically been a way for queer people to make community while critiquing gender norms
The performers aren't the punchline, you are.
What drag is not (or shouldn't be)

Drag isn't making fun of femininity
Drag isn't just RuPaul
Drag isn't a chance to play down privilege
Drag isn't a chance to tell someone else's story or to live their life
Drag isn't about performing stereotypes, it's about undermining them

DETAILED INFO, DIRECTIONS, & ACCESSIBILITY:

All updates concerning the event and its accessibility will be posted here.

-Meany Hall is on the UW Campus on:
4140 George Washington Lane Northeast
Seattle, WA 98105
-Meany Hall: http://www.washington.edu/maps/

-University District Metro Bus Routes can be found here: http://metro.kingcounty.gov/tops/bus/neighborhoods/university_district.html

-The Central Plaza Parking Garage is the nearest parking lot to Meany Hall.
(http://www.washington.edu/facilities/transportation/commuterservices/parking)
There is also potential street parking surrounding the campus, on 15th Ave, University Way, and Brooklyn Ave.

-Meany Hall's front entrance is wheelchair accessible and there will be spaces for those who need it (and their companions).

-An all-genders restroom can be found on the first floor of Meany (the main restrooms), as well as binary bathrooms with multiple stalls.

-Meany Hall is not kept scent-free but we ask that you do not wear scented/fragranced products (e.g. perfume, hair products) or essential oils to/in Meany in order to make the space accessible to those with chemical injury or multiple chemical sensitivity.

-We will have baking soda and scent free soap available if folks are asked to wash off scents.

-For more information about MCS and being fragrance free:
http://billierain.com/wp-content/uploads/2010/02/Myths-and-Facts-About-Chemical-Sensitivity.pdf
http://www.peggymunson.com/mcs/fragrancefree.html
http://www.brownstargirl.org/1/post/2012/03/fragrance-free-femme-of-colour-realness-draft-15.html

To request disability accommodation contact the Disability Services Office at least ten days in advance at: 206.543.6450/V, 206.543.6452/TTY, 206.685.7264 (FAX), or e-mail at dso@u.washington.edu OR contact asuwqsc@uw.edu.

-Flash photography will be used during the reception. Some shots of the crowd may also be taken.

-If you have questions, concerns or accessibility details that were not addressed here OR if you wish to volunteer, email asuwqsc@uw.edu! All updates concerning the event and its accessibility will be posted here.

-Much of accessibility notices are thanks to this rad accessibility checklist. Check it out and share: http://blackbrokenandbent.wordpress.com/2012/11/17/creating-accessible-events-a-checklist-for-programmers-organizers-advertizers-speakers-and-event-attendees/
(Visited 1 times, 1 visits today)