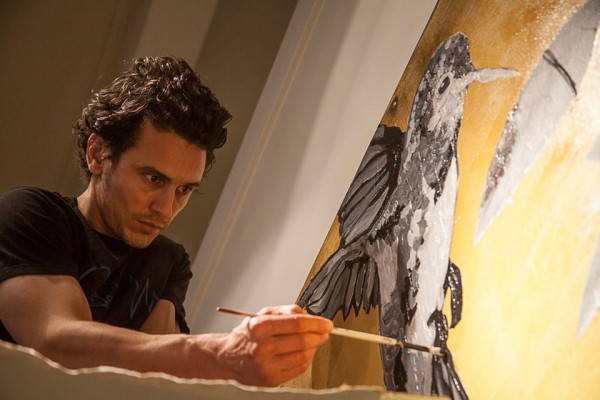 Yes, the multi-hyphenated actor/director/screenwriter/producer/poet/writer/singer/songwriter/sculptor/opera singer/painter/contortionist other wise known as JAMES FRANCO is bopping around Seattle RIGHT NOW because he loves US!!!
Actually, he's been in town since at least 1/31/16  to collaborate in an art project with CHEYENNE RANDALL, a local mixed media artist who's gaining national attention for his series of "Shopped Tattoo" pieces which feature famous images of famous people altered with tattoo art. Randall and Franco have been working on a large mural piece for the opening of  Cheyenne Randall: HOLLYWOODNT at The Treason Gallery in Pioneer square. Opening reception for HOLLYWOODNT will be held on Thursday, February 4th from 6pm-8pm during the First Thursday Art Walk in Pioneer Square. It's widely surmised that Mr. Franco is hanging around to appear at the opening.
From Treason's press release:
HOLLYWOODNT will showcase the largest collection of Randall's "Shopped Tattoo" series to date. Exploring the identity of iconic individuals from yesterday and today, Randall blends traditional American tattoo culture with some of history's most celebrated Pop Icons….

HOLLYWOODNT will also showcase a collaborative mural done by Randall and Hollywood's own James Franco. Using multiple images of Franco for his "Shopped Tattoos" series the images became some of his most identifiable pieces yet. Working on a number of projects together, Franco and Randall decided to collaborate on a mural installation. Both artists will work simultaneously in the gallery on the mural, colliding individual works and influences to create a one of kind piece of art.

Join us at the opening reception on Thursday, February 4th from 6pm-8pm at TREASON Gallery located in Pioneer Square, 319 3RD AVE S, Seattle, WA 98104.
The prices for the "Shopped Tattoo" pieces seem reasonable. We like these two a lot:
(Visited 5 times, 1 visits today)