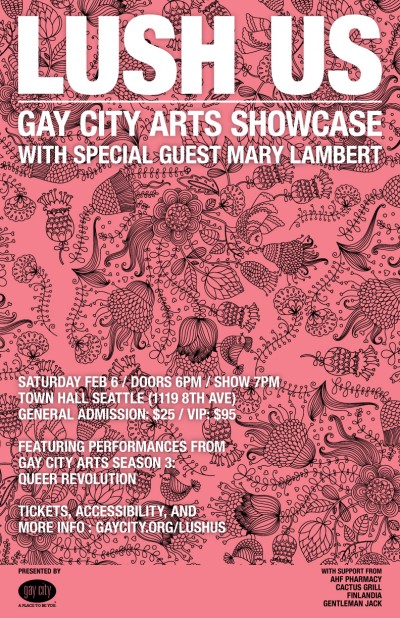 Just posted on Facebook:
Wow, there's only 13 VIP tickets left for #LushUs! VIP ticket holders get access to a special VIP reception with Mary herself, from 6pm – 7pm. The VIP reception includes a dedicated VIP cash bar, delicious appetizers from Root Table restaurant, and, of course, the chance to meet Mary. VIP guests also have a reserved seating section, front and center, in the Great Hall for the show. These will probably sell out before Saturday, so don't miss out on a great way to support queer artists and #GayCityArts!
"Lush Us" is the big fundraiser/concert happening this coming Saturday, February 6th at Seattle's Town Hall. It's a showcase and a fundraiser for Gay City Health Project and their terrific Gay City Arts program which features both visual art on the walls at Gay City's offices but also performing arts in their Calamus Auditorium space.
And, Mr. Strangeways is particularly fond of Gay City Arts since he tried to launch pretty much the exact same thing at the old Seattle LGBT Center with Q-Arts back in the mid/late 2000s before the Center went belly up due to gross mismanagement. It behooves you to attend this event and support this very worthy community enterprise that supports queer art of all kinds. It's the kind of event we'd have LOVED to have media sponsored but….no body bothered to ask!
How lazy of them!
MORE info on the event!
Gay City Arts presents
LUSH US: GAY CITY ARTS SHOWCASE
featuring special guest performer Mary Lambert

Saturday, Feb 6
Doors: 6pm / VIP Reception: 6pm-7pm / Showtime: 7pm
Town Hall Seattle / 1119 8th Ave
General Admission: $25 / VIP: $95

Gay City is proud to present Lush Us: Gay City Arts Showcase, featuring performances from artists in Gay City Arts Season 3: Queer Revolution along with special guest performer Mary Lambert. Whether you're a long time Gay City Arts fan, or are experiencing it for the first time, be prepared to be challenged, be moved, and be inspired, all while helping to support our vital and growing Queer Arts program.

Art is the voice, spirit and conscience of every community and is a vital tool for community reflection, dialogue and pride. Through Gay City Arts, we collaborate with local LGBTQ artists to galvanize an audience for queer arts, foster the development of LGBTQ artists and works, and facilitate artistic excellence that is accessible. Gay City Arts is committed to presenting challenging, dynamic and excellent queer art across a wide range of disciplines, including theater, music, dance, film, spoken word, literary and visual arts.

At Lush Us: Gay City Arts Showcase, audiences will have an opportunity to enjoy a sampling of Gay City's arts program, featuring selections from Season 3 of Gay City Arts. Performances will include music, theater, dance, comedy, and spoken word.

Our special guest performer at Lush Us with be Mary Lambert, a Seattle-based singer, songwriter and spoken word artist. She worked with Macklemore and Ryan Lewis on a track on their album The Heist. Lambert is the featured artist of their gay rights single, Same Love. Lambert will be performing live at Lush Us with her band.bert is the featured artist of their gay rights single, Same Love. Lambert will be performing live at Lush Us with her band.
Scheduled To Appear
Ela Barton
Ariana Bird
Andy Burian
Nathan Blackwell
Chad Goller-Sojourner
Dorothy Frances Kent
Imani Sims
Christian Swacker
Casey Tonnelly
(Visited 1 times, 1 visits today)