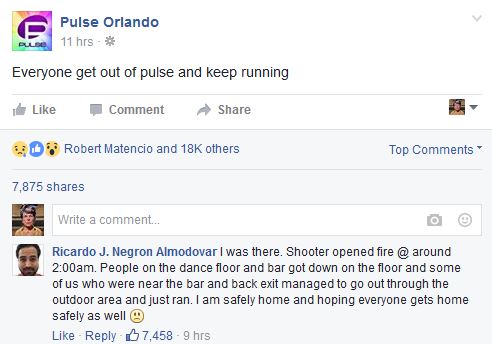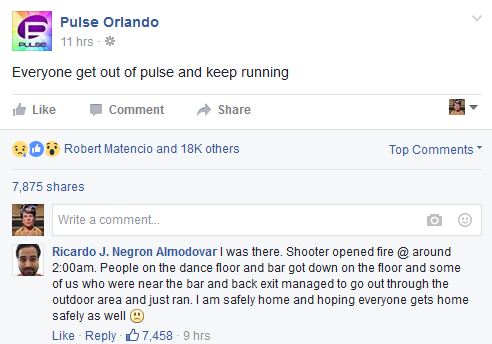 50 dead and 53 injured in mass shooting at Orlando gay nightclub Pulse making it the worst mass shooting in US history. The massacre began around 2:02 AM, EDT Sunday morning, June 12 when the gunman, identified as 29 year old, Omar Mateen, opened fire with an AR-15 type assault rifle and a handgun. Mateen was shot dead around 5 am by an Orlando Police SWAT team who stormed the club to rescue hostages being held by Mateen.
There are reports that Mateen, who worked as a security guard in his hometown of Port St. Lucie, Florida which is about 120 miles away from Orlando, had stated he was committing the attack in the name of the radical Islamic group ISIS. Mateen, who was born in New York, had legal security licenses for his firearms.
Names of the victims have not yet been released.
Seattle leaders respond after news of the slaughter. And, a public vigil is scheduled for tonight in Cal Anderson Park in Capitol Hill, Seattle's LGBTQ neighborhood.
Louise Chernin of the GSBA:
We have been attacked. We have been callously murdered.

Late last night a gunman opened fire inside Pulse nightclub, one of the largest LGBT clubs in Orlando, Florida. As of this time more 50 people are confirmed dead and dozens more wounded – making this the deadliest mass shooting in the history of our country. Our hearts are broken this morning, and we mourn for those who were brutally killed because of who they were. We don't yet know the names of the dead and injured, but we know that they could have been any of us. Undoubtedly many of you have family, friends and colleagues in Orlando, who may have been to Pulse, who may have been among the hundreds celebrating there last night.We have spent the last week kicking off a joyous Pride month with flag raisings, proclamations, special events and celebrations. Just a few days ago I wrote to you all that Pride commemorates our history and celebrates our accomplishments. Tragically, this act of terrorism in Orlando shows once again that our work is not yet done and that the dangers the lesbian, gay, bisexual and transgender community face are all too real. After our tremendous successes in Washington and nationally over the last decade, our community is under attack on many fronts. We are used to the toxic rhetoric of those who oppose us and our rights to life, liberty and the pursuit of happiness. Nonetheless, the profound pain that we all feel this morning upon waking up to this news is something else entirely.

We know all too well that an attack against even one person in a community because of who they are reverberates throughout an entire community. We must continue to stand up against those so infected with hatred that they lose sight of our common humanity.

More information will surely come out as Pride month progresses. Let us all keep in our hearts those who have been killed – not just last night but throughout the year because of who they are or who they love. Let us rededicate ourselves to the original purposes of these celebrations – proclaiming our Pride in ourselves and our community despite the violent and deadly discrimination we continue to face nationally and globally. We will continue to stand up against bigotry against any member of our community or any community.

There will be a vigil at

8 PM

tonight

at Cal Anderson Park. Please join the community in coming together in response to this tragedy.

Louise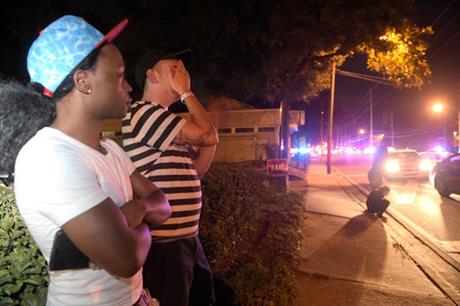 Egan Orion from Seattle PrideFest:
Today, we woke up to news of the massacre at Pulse nightclub in Orlando. 50 people were killed and another 50+ were injured in the attack on the gay club in what is the worst mass shooting in U.S. history. A statement from the shooter's father suggests this was attack fueled by hate of LGBTQ people.

We will find out more in the days to come, but right now we encourage the community and our allies to focus on the victims, their friends, and their families. If you are in Orlando or have friends or family there, please encourage them to give blood, which is needed right now to save the victims of last night's mass shooting.

Pride is normally a joyous time, but this event is a reminder that we still have a lot of work to do and that lesbian, gay, transgender, bisexual, and queer people in this country still face everyday dangers. An attack on one of us is an attack on all of us, and we at PrideFest will use the rest of this season of Pride to renew our fight against forces of hate that seek to divide us and marginalize our community.

In the days to come, the victims of this attack will need our help, our donations, and our solidarity. Please give all you can to support them in their hour of need.

A vigil is planned at Cal Anderson Park at 8 PM tonight. Please join the community by coming together in response to this tragedy.

Egan Orion
Executive Director, PrideFest
We followed up with Egan and asked if PrideFest, in the wake of this mass murder, would increase security for the June 26th Seattle PrideFest festival at Seattle Center. He responded:
"We already have massive security at Seattle Center. But we will sit down with SPD to determine what steps we need to take to keep PrideFest as safe as possible."
And, the City of Seattle has responded with a statement from Seattle Mayor Ed Murray:
"Americans woke up this morning with the all-too-familiar feeling of incomprehension at another act of mass violence, and LGBTQ Americans awoke with the sickening, all-too-familiar feeling of fear that our community has once again been attacked.

"Words cannot adequately encompass the feelings of grief I am feeling for the loss of so many of our LGBTQ and allied brothers and sisters in Orlando during the largest single act of violence against LGBTQ people in United States history. For too long, our community has been the target of violence throughout the world. It will never make sense to me that love is met with such hate.

"On behalf of the people of the City of Seattle, my heart and my thoughts go out to those whose lives were forever changed by the events last night. Today our community draws closer to one another for comfort, support and healing, and to honor those who were tragically lost."

Mayor Ed Murray
Murray will speak to the Seattle LGBTQ community at a candlelight vigil at 8:00 pm at Cal Anderson Park this evening.
Murray said that all SPD officers have received substantial active shooter training, and the Seattle Police Department has increased security for Pride events and other large gatherings.
He has ordered the flags at City Hall to be lowered to half-staff.
(Visited 1 times, 1 visits today)