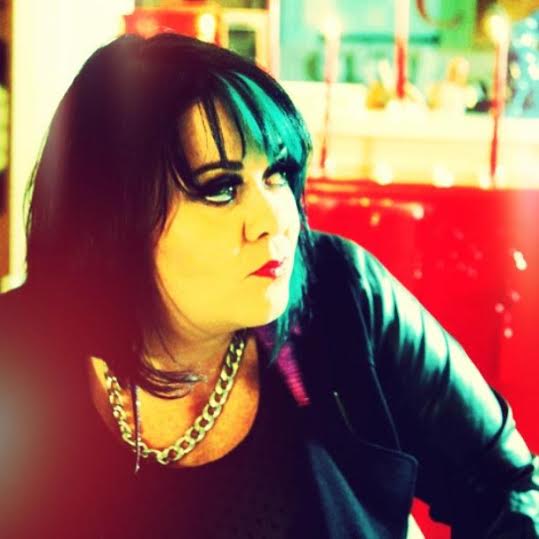 With our 10th annual Seattle PrideFest less than two weeks away, it's a crazy and wonderful thing to look back on all of the artists we have hosted, and how PrideFest itself has grown in the last 10 years.  In honor of celebrating this milestone, we invited back a handful of artists from the last decade who have contributed to the festival before.  Just a few of the most popular, who we've shared special moments with, and who have left an indelible mark on our history.  Those artists include:  Cazwell, Princess Superstar, Kristine W and, of course She (of God des & She).  Each of these artists is bringing something new to the festival in these return appearances.  Kristine W has many tricks up her sleeve for the Main Stage; Cazwell drops a DJ Set this time as opposed to his live performance from his last visit; Princess Superstar moves from the DJ Stage to a live set on the Mural, and She returns with all new solo works for her inaugural appearance on the Mural Stage.   Really exciting stuff that we can't wait to see come to life on June 26th at Seattle Center!
She was gracious enough to take a few moments from her busy touring schedule to sit down with me and answer a few questions about her upcoming appearance.  We talked going solo, activism, her PNW roots and more.  Check it out!
---
LA Kendall:    So you are working on new solo stuff?  Tell me about that.
SHE:    Yes the first solo record in 13 years.  I lost my Dad a few years ago and writing this record was a way for me to process that grief.  Also, I was a songwriter before I joined up with G&S.  I had put out 2 records prior to joining up with her.  I had a rock band called "doll".
LAK:    Does this mean no more God Des & She?
SHE:    I wouldn't say no more G&S.   We still do shows but we don't tour together to make a living anymore.  We toured constantly for 9 years. It was quite an adventure. We are still very much a group and will always be.
LAK:    Your first album as God Des & She was released in …2004ish, right?  "Reality" was the name of the album I think (aging myself here)?  What brought you guys together as a band?
SHE:    We lived in the same town and were in different groups, me in my rock band "doll" and she had a male singer named Wanda that was going away to grad school.  She asked me to sing some hooks for her.  As a lark, I did.  G&S was born.
LAK:    When you put out that first music, did you have any idea you would be picked up by "The L Word" and become such sensations among the lesbian community?
SHE:    When we moved to NYC and I heard about "The L WORD" I did know we were going to get on it.  I was like OF COURSE we will,  haha.  We were so driven in NYC, you have to be.  God-Des is a charming individual.  Used car salesmen around the country want to give her a job 😉  So, drive and charm go far.  Oh, and hard work and never giving up.  There was no path for us in the beginning so we had to create one.  I learned to hustle in NYC…God Des already knew how. As far as the sensation, all I gotta say is ALL HAIL THE PUSSY.  haha.  When I say I've made my living running around the world yelling about how to eat pussy and that be a true statement, well you're just winning.
LAK:    I'd Say!  ☺ I've always really loved the activism edge that you have had as a band, and that you obviously have as a solo artist.  What drives this?  What is your end goal?
SHE:    I'm a Libra, so fairness is real important to me. I've always championed the underdog.  I care deeply for my fellow humans. We're all in this together.  AND I have a big mouth.  So why not use it for good?  One of my favorite moments in my whole career actually happened in Seattle.  It was pride last year and gay marriage had just been federally passed. I'm walking by myself in the bright sunshine watching all the happy gays.  Such a sense of peace washed over me.  For all those years, thousands of times calling for that equal rights on stage. Demanding it in our songs and here it was. It felt really felt circle for me and I will never forget it.
LAK:    What is your best story about touring and being on the road? Funny story or best celebrity encounter…GO!
SHE:    When we were on the "The L WORD" we had to go to the Whistler Resort in Vancouver to film it.  We had to wait in these offices of the golfing lodge because we were filming upstairs.  I just remember Kate Moennig and the chick who played Jenny photo copying their asses and filing it away for the office staff to find at a later date.
LAK:    Ok, that's a great story!  How many people reading this wish they found those photos?!  Back to the business of your new solo works, how does it differ from what you were doing/still do, as part of God Des & She?
SHE:    I'm working with super producer DJ Pain 1.  He has produces some of G&S best songs.  So there is definitely  a hip hop edge to the songs.  It feels good to tell my story and write songs that were cathartic and healing.  I'm hoping to help heal up a bunch of hearts out there.
LAK:      No doubt you will! You have some roots in the PNW.  Did you recently out yourself as being from Tacoma to me on Facebook, or did I imagine that?  What took you away from the PNW?
SHE:    I was born in Tacoma on the Air Force base there.  I moved back to the midwest when I was still a baby.  My mom said she had to use a ladder to get on the beds at the base.  I love the PNW and always feel a profound sense of home there.
LAK:    The real burning questions that all the ladies have is:  What would it take to get you back to the PNW?  
SHE:    Honey, we never left.  Hire us.
LAK:    Girl, you're hired!  But I meant getting you, here, living in the PNW again!  HA HA!  Ok, last questions: This will be your 3rd appearance at Seattle PrideFest.  Both prior times has been as God Des & She.  What are you excited about sharing with the audience in your solo work?
SHE:    This new music comes straight from my heart and I'm excited to share it with every-damn-body 🙂
LAK:    We are SO EXCITED ABOUT IT!
---
Catch She live on the Mural Stage at Seattle PrideFest, Sunday, June 26th!  For a full list of artists: www.seattlepridefest.org/artists
Tags: God-Des & She, Mural Stage, Out Musicians, seattle pride, Seattle PrideFest, She, The L Word