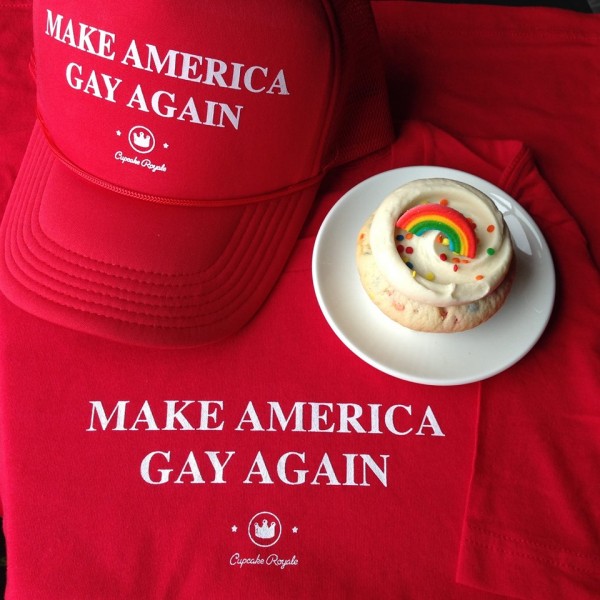 Seattle's own beloved cupcakery, CUPCAKE ROYALE, has been an upstanding member of not only the community of Seattle, but the LGBTQ community specifically, as they've donated time, money and resources over the years to raise funds and support equality for LGBTQ people. This past June, as part of Seattle Pride Month festivities, the local mini-chain raised $8000 via sales of their specially themed "Gay Cupcake" as well as some fun "Make America Gay Again!" merchandise that they sold in their shops and online.
On Thursday, September 8, 2016, the Capitol Hill Cupcake Royale shop at 12th & Pike, Cupcake Royale CEO Jody Hall will present an $8000 check to the National Center of Lesbian Rights (NCLR) in a public ceremony at 5pm. Kate Kendell, the Executive Director of the NCL), along with her team will be there to accept the donation. And, from 5 pm to 7 pm, the shop will host a reception featuring free "Babygay" cupcakes to all who attend.
"This is our fifth year of selling The Gay cupcake and dedicating a portion of sales in June to make a difference and raise awareness on behalf of the LGBTQ community.  We are absolutely honored to dedicate this year's proceeds to NCLR.  All the work that NCLR does to stand up for those whose rights are being violated are is especially critical in this divisive political climate," said Cupcake Royale CEO Jody Hall.

"We want to show our appreciation to all of our customers who purchased The Gay cupcakes to support the NCLR," added Nicki Kerbs, Cupcake Royale's Director of Operations. "Our community has been so supportive of this campaign and we wanted an opportunity for everyone to meet the NCLR folks and celebrate their work. The money we present will go directly to the NCLR to help advance the civil and human rights of LGBT people and their families. We love our community and could not have raised this money without their support."

Cupcake Royale's Make America Gay Again trucker hats will be available online and in stores, so what do you say Seattle, get out and #MakeAmericaGayAgain

Founded in 1977, the National Center for Lesbian Rights (NCLR) is a national legal organization committed to advancing the civil and human rights of lesbian, gay, bisexual, and transgender people and their families through litigation, legislation, policy, and public education. For more information: http://www.nclrights.org/

Cupcake Royale has six cafes in Seattle in Ballard (featuring Rodeo Donut), West Seattle, Madrona, Capitol Hill (featuring Rodeo Donut), 108 Pine near Pike Place Market in downtown Seattle, and Queen Anne. Assorted flavors of Cupcake Royale cupcakes are also available fresh daily at Metropolitan Market. Follow Cupcake Royale on Facebook/CupcakeRoyale, on Twitter @CupcakeRoyale and cupcake royale on Instagram. To place an order call 206-883-7656 or visit www.cupcakeroyale.com.
(Visited 1 times, 1 visits today)