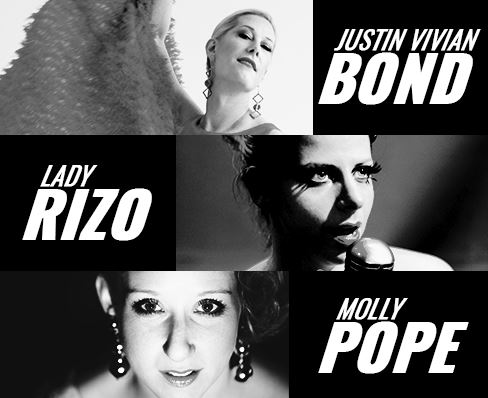 Today's big news didn't involve presidential politics.
For Seattle area theater/cabaret nerds, the real thrill was finding out that our own TEATRO ZINZANNI is partnering with New York City's  JOE'S PUB AT THE PUBLIC for a brand new cabaret series called, "Joe's Pub Seattle" which will feature beloved cabaret artists from New York City headlining late night shows under the Spiegeltent at Teatro ZinZanni.
AND, to make it even more exciting, this new series will kick off next month on Saturday, October 15, 2016 with the one and only JUSTIN VIVIAN BOND!!!
<cue high pitched squealing>
Yes, the trans-iconic singer and performer who was one half of the beloved Tony Award nominated cabaret duo, "Kiki and Herb" will return to Seattle to debut V's current cabaret show, "Love Is Crazy". Mx Bond* will be followed by the LADY RIZO on Saturday, November 12, 2016 and MOLLY POPE on Saturday, December 17, 2016. Tickets for all three shows are on sale now at the Teatro ZinZanni Box Office or via phone or their website.
It's been a couple years since Mx Bond paid a visit to Seattle…we think the last time was at 'Mo Wave Festival at Chop Suey in…2013? 2014? It's been too long regardless. While all three of these performers are terrific, we have a sneaky feeling V's show will sell out very quickly so don't dilly dally TOO long about grabbing tickets. AND, Justin Vivian Bond is very outspoken and political…you can probably expect some very candid talk about this year's presidential election. It should be highly entertaining.
Here's more poo on this terrific new series from Teatro ZinZanni and Joe's Pub. Hopefully, it's hugely successful and leads to more performers coming in 2017.
New York City's best cabaret venue has found a home in Seattle! In an all-new producing partnership, 

Teatro ZinZanni

 and 

Joe's Pub at The Public

, one of New York City's most celebrated institutions for emerging and accomplished performance artists, present a brand new late night series, "Joe's Pub Seattle." Showcasing the talent seen at Joe's Pub in New York City under the illustrious Teatro ZinZanni tent, "Joe's Pub Seattle" will feature monthly late night performances from critically acclaimed artists 

Justin Vivian Bond, Lady Rizo

, and 

Molly Pope

. Tickets are on sale now and can be purchased online at 

ZinZanni.com/Seattle

.

Named for Public Theater founder Joe Papp, Joe's Pub at The Public opened in 1998 and plays a vital role in The Public's mission of supporting young artists while providing established artists with an intimate space and superior acoustics to perform and develop new work. Joe's Pub showcases talent from all over the world with a fair number of those artists also gracing the stage at Teatro ZinZanni including Joey Arias, Lady Rizo, and Puddles the Clown. "Our mission at Teatro ZinZanni is to present the world's best circus, comedy, and cabaret performers in a live intimate setting – we have a commitment to quality, diversity, and artistic freedoms that is parallel to that which Joe's Pub has offered its city and its artists for years," Teatro ZinZanni Casting Manager and Special Events Producer, Tim Gonzalez-Wiler comments.

"Joe's Pub has nurtured hundreds of incredible artists who consistently push at the boundaries of live performance and are reinvigorating and redefining cabaret," Shanta Thake, director of Joe's Pub comments. "Both Seattle's expansive cultural palette and the inventive minds at Teatro Zinzanni are completely aligned with our vision of creating and showcasing innovative forms of performance. We are thrilled to kick off this partnership with three of our leading voices from New York City."

 

Launching the first iteration of this partnership in Seattle is Tony Award-nominated and multi-award-winning artist 

Justin Vivian Bond

 performing "Love is Crazy!," a celebration of obsession, sex, romance and all their queer and mysterious complications on

October 15

. A trans-genre artist living in New York City who has graced on and Off-Broadway stages and gained high praise as one half of the acclaimed duo Kiki and Herb, Mx Bond's "Love is Crazy!" showcases V's legendarily twisted wit through performance and song. On

November 12

, Northwest-grown performance artist and Grammy Award-winning diva 

Lady Rizo

 pays homage to the high priestess of soul, Nina Simone, after 5 years of presenting her annual sold out tribute to New York City audiences. Rounding out this inaugural series, Seattle audiences will be introduced to up and coming talent 

Molly Pope

 on

December 17

in her part concert, part free-flow banter, part sing-a-long event, "An Audience with Molly Pope." Critically beloved for her powerhouse vocals and nonstop creative wit, Pope gleefully exploits her life experience while paying it wry tribute.

"At Teatro ZinZanni, we have long admired the work Joe's Pub has done on the east coast to introduce audiences to talent from around the world. We are a natural fit to expand that mission to the west coast," Gonzalez-Wiler adds. "I am so thrilled that we are bringing a slice of the New York City cabaret scene to Seattle."
WHERE: 

Teatro ZinZanni

222 Mercer Street, Seattle

 

WHEN: 

Saturday, October 15

– Justin Vivian Bond

Saturday, November 12

– Lady Rizo

Saturday, December 17

– Molly Pope

TICKETS:

Starting at $20 — ON SALE NOW

 
*Note: Justin Vivian Bond uses "V" as a personal pronoun and "Mx" as an honorific.
Tags: Cabaret Stars, Joe's Pub, Joe's Pub Seattle, Justin Vivian Bond, Lady Rizo, Molly Pope, Teatro ZinZanni