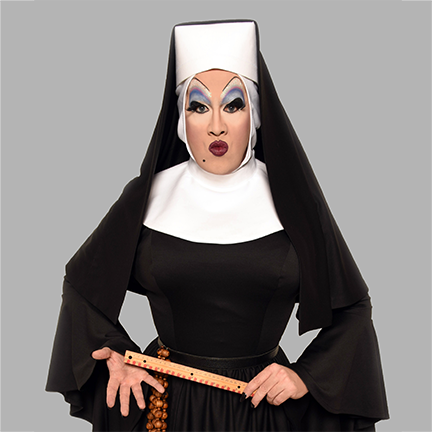 A few tickets remain for the first big drag event of 2017…the return of PEACHES CHRIST and one of her wiggy wonderful movie parodies that features all star drag diva casts. This time it's a send up of the Whoopi Goldberg musical comedy Sister Act but starring RuPaul Drag Race stars LATRICE ROYALE and WILLAM in addition to Peaches with our own up and coming little diva ABBEY ROADS in a major role. "MISTER ACT" is set for two big shows this upcoming Thursday, January 12, 2017 at 7 pm and 9:30 pm at the Egyptian Cinema on Capitol Hill.
There are ticket options to fit every budget level including fahncy VIP tickets that let you hobnob with the stars. Go HERE to snag them. The 7pm is getting close to selling out, so don't dawdle!
Here's a bit more skinny on this fun filled night of light hearted entertainment…something we most definitely need in these stressful times.
GO!
Qurb Media Group and Peaches Christ Productions Present:

LATRICE ROYALE, WILLAM, PEACHES CHRIST, and ABBEY ROADS in: "MISTER ACT"

A SHE-larious stage show parody of the divinely funny 90's Whoopi Goldberg classic "Sister Act."

Drag superstar and reformed criminal LATRICE is a struggling Reno drag performer who spills the tea after accidentally seeing some seriously shady shit. She finds herself in the rare position of having to go back into the closet to hide— but lucky for us, she finds a whole new way to express her drag habit when she flees to Seattle to impersonate a nun at a struggling skid row church in the Capitol Hill neighborhood ghetto.

It seems SISTER WILLAM has a hidden talent for singing and tucking, but it just needs it to be brought out– her voice, that is. When REVEREND MOTHER CHRIST suggests that "Sister Mary Latrice" use her "experience" to direct the failing church choir, she embraces the challenge and eventually makes the parishioners EAT IT! Joined by the giggly SISTER ABBEY ROADS and former choir director SISTER SYLVIA LAZARUS, and many more, their "Mister Act" becomes a huge hit that knows no bounds— until Ms. Royale's trashy past catches up with her!

STARRING
Latrice Royale as "Sister Mary Latrice"
Willam as "Sister Willam"
Peaches Christ as "Reverend Mother Christ"
Abbey Roads as "Sister Abbey Roads"


FEATURING
Sylvia O'Stayformore
La Gaviota
Fraya Love
Isabella Extynn
Leicester Landon
Strawberry Shartcake

Written & Directed by Peaches Christ

TICKETS ON SALE NOW!

VIP MEET & GREET EXPERIENCE AVAILABLE: Includes premium seating, full cast meet & greet, a professional photograph with Latrice Royale, Willam, and Peaches Christ, a complimentary glass of champagne, and a goodie bag. VIP Meet & Greet begins immediately following each showing.

VISITING FROM OUT OF TOWN
Please check out our official partner hotel ACE HOTEL SEATTLE and ENJOY your stay!

---

NOTES
Suitable For Ages 16+

Produced by: Qurb Media Group
Here's a heads up for everyone who actually read posts all the way to the bottom…for bargain shoppers, here's a tip that you can snag discount tix for the 9:30 pm show over at Goldstar! You can buy premium tickets at discount prices…SWEEEEEEET!!!!!!!
See. It pays to read all the way down to the bottom!
#BottomsRule
(Visited 1 times, 1 visits today)