Information has started to emerge about some of the bigger LGBTQ social events coming up in the wintry weeks ahead as we await our fate in this Brave New World.
First up, the popular HIV/AIDS charity fundraiser SEATTLE RED DRESS PARTY has a date (Friday, March 31, 2017) and…not much else other than the interesting news it will NOT be at its traditional venue, the cavernous Fremont Studios but will relocate to the quasi gay friendly confines of our supposed homohood, Capitol Hill. Oh, and it's being produced by the fine folks at Seattle Pridefest for the second year in a row. More news will be revealed VERY soon (and links to buy tickets) and we actually know very little but we will smack down one rumor…
Seattle Red Dress 2017 will NOT be at Neighbours.
You do the geography. (Venues big enough to host a big charity event on Capitol Hill…GO!!!)
One event that WILL take place at the Fremont Studios this winter…next month's huge semi-annual Lifelong Drag Bingo benefit…you know. The one that used to be monthly (or was it weekly?) for years and years and years then some dumb boring people pitched a fit because a drag queen host used potty language and it was a huge scandal because…it's shocking when drag queens are rude and offensive.
Huh?
Now, Lifelong's bingo party happens twice a year (winter/near Valentine's Day and in June near Pride) and it's at Fremont Studios (big crowds!) and it's pretty much always hosted by the lovely Aleksa Manila with the presence of Disco Vinnie doing his usual Disco Vinnie schtick. The theme is "Winter Wonderland" and here's the weird poster for it….with a RAAAAAAL white and blonde drag queen figure.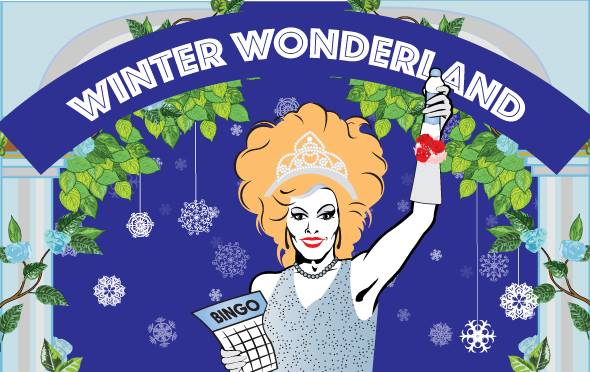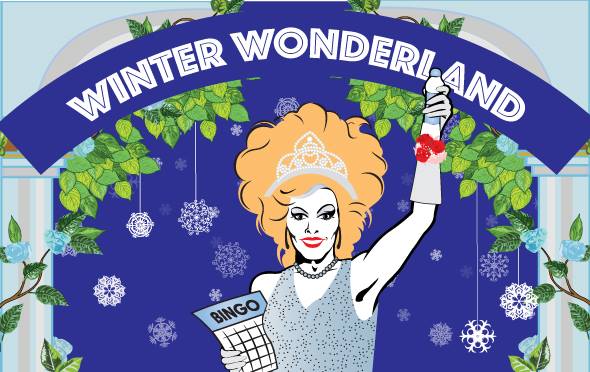 Have they MET Aleksa?
I keed….I keed….mostly. But, seriously Lifelong…maybe that drag queen figure could be a teeny weeny bit more diverse?
Ya think?
This event is hella popular, so snag your tickets NOW!!!!
Also announced: the details on a couple of Three Dollar Bill Cinema's annual biggy wiggy events. Their uber popular OSCAR PARTY which they share with Gay City is happening on Sunday, February 26, 2017 at the Egyptian Theater on Capitol Hill. They've just announced this year's hosts and shocker of shockers…it's not drag queens!
GAAAAASP!
It's queer comedians Elicia Sanchez and Nick Sahoyah and since Nick is one of Jinkx Monsoon's besties, I guess he's considered "drag adjacent" so it's ok.
Some more poo:
Join Three Dollar Bill Cinema and Gay City with comedic hosts Elicia Sanchez and Nick Sahoya on February 26 to celebrate our community, raise money, and watch the Academy Awards Live!

Your ticket includes food, cash bar, stars on the big screen, and fabulous commentary by our hosts.

VIP Tickets include upgraded food, reserved premier seating, and complimentary sparkling wine!

$125 VIP (Earlybird $95 until 1/11!)

Stay tuned for a chance to vote in our 3rd Annual Rainbow Cinema Awards!
The other Three Dollar Bill event is their 10TH annual gala dinner/auction which is being called
PROM NIGHT
and it's happening Saturday, March 25, 2017 (the Saturday before Red Dress for those planning ahead….) Our own Robbie Turner will host this one. Mo' skinny:
Three Dollar Bill Cinema 10th Annual Auction & Dinner

Saturday, March 25th, 2017

@ 6:00 pm Showbox SODO at 1700 1st Avenue South; Seattle, WA 98134
(Visited 1 times, 1 visits today)