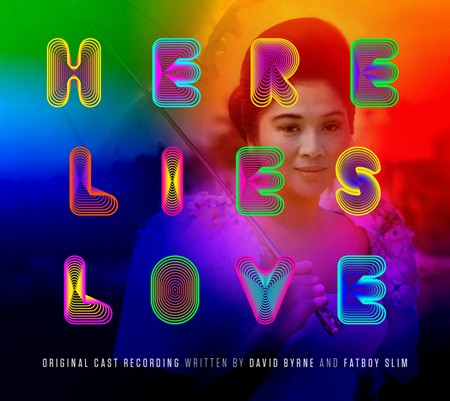 Tickets are now on sale for the next hot show at Seattle Repertory Theatre our local regional theater that keeps presenting sold out hits like the huge hit musical "Come From Away" (now in previews on Broadway) and recent successes like December's Vietgone" and "King Charles III". The Rep is closing out their 2016/17 season with a very special musical making its West Coast stage debut: it's HERE LIES LOVE the immersive musical collaboration between musicians David Byrne and Fatboy Slim that chronicles the life of infamous Filipino First Lady, Imelda Marco.
(If you're over 40 or so you probably know all about Imelda Marcos…for our younger readers, she is the widow of Filipino dictator Ferdinand Marcos who ruled the country of the Philippines for 20 years before being ousted in a People's Revolution in 1986. When revolutionaries stormed the presidential palace in Manila, it was much publicized that Imelda left behind thousands of pairs of very expensive shoes [in addition to other luxuries purchased with money acquired from decades of plundering the Filipino treasury…] After Ferdinand's death, Imelda eventually returned to the Philippines to a triumphant welcome from her fans [less so from her detractors] and was elected to serve in their House of Representatives in 1995 and is, surprisingly at age 87, still in office as an elected official. As for her shoes, they're still on display in Manila…)
"Here Lies Love" first appeared as a concept album in 2010 before being adapted into a staged musical with superstar theatrical director Alex Timbers (known for "Peter and the Starcatcher" and "Bloody Bloody Andrew Jackson") which debuted off-Broadway at NYC's Public Theatre in 2013 and then had a sold out run in London in 2014. Reportedly, there are changes being made for this production so Seattle will experience a version of "Here Lies Love" not seen anywhere else. The musical is billed as an immersive/disco dance party experience and Timbers is restaging the work for its Seattle premiere in a proscenium theater that will still emphasize the dance club experience.
In other words, you're going to be expected to have a good time and be on your feet for the 90 minute show. (If you're less inclined to be "immersed" there will be less immersive options in seating. If you're inclined towards that option, you'd be wise to call the Rep's box office to arrange for that choice. Also: go HERE for more information on the immersive experience).
It's highly likely this show will sell out…not only does HERE LIES LOVE have an impeccable provenance with several star names attached (David Byrne and Fatboy Slim fans alone could sell out the run…) but Seattle also has a large and active Filipino community who will undoubtedly turn up to see their history portrayed on stage. Because of the chance for it to be a hit, it's scheduled for a longer than normal run with previews beginning April 7, and the official press opening on April 20th and a scheduled closing of May 28, 2017.
For ticket reservations, call the Seattle Repertory Theatre Box Office at 206.443.2222 or toll-free at 877.900.9285, or go online at seattlerep.org
Here's the Rep's press release announcing several major Filipino stars cast in this production including actors who created their roles in NYC at The Public Theatre:
Seattle Rep Announces Star-Powered Cast 

for Immersive Musical Here Lies Love 

from David Byrne and Fatboy Slim

  

Starring Filipino pop star Mark Bautista, and Critically-Acclaimed Actors Jaygee Macapugay and Conrad Ricamora from The Public Theater's Award-Winning Original Production

Seattle Repertory Theatre has announced the star-studded cast of its highly anticipated immersive theatrical event, Here Lies Love. Hot off The Public Theater's award-winning production, Jaygee Macapugay (Broadway: School of Rock, Hello,Dolly!, and Miss Saigon) is set to portray Imelda Marcos, the controversial former First Lady of the Filipino dictator Ferdinand Marcos, who will be played by Filipino singer and actor Mark Bautista. Bautista is beloved in the Philippines for his chart-topping album Dream On, and most recently performed as Marcos at the Royal National Theatre in London. Also from The Public Theater's production comes television, film, and theatre star Conrad Ricamora (TV: "How To Get Away With Murder;" Film: Talladega Nights: The Ballad of Ricky Bobby; Broadway: The King and I) as Aquino, and prolific TV and theatre actor Melody Butiu (TV: "Raising Hope," "NCIS," "Desperate Housewives," "Scrubs;" Theatre: The Intelligent Design of Jenny Chow [Pulitzer Prize-nominated], Dogeaters, and Boy [La Jolla Playhouse]; Long Story Short ([San Diego Rep]) as Estrella.

 

For Here Lies Love, Seattle Rep is transforming their Bagley Wright Theatre into a vibrant dance party, where techno beats spin and tell the story of the People Power Revolution that inspired the world and changed the Philippines forever. Here Lies Love features music and lyrics by Academy and Golden Globe Award-winning, culture icon David Byrne (Talking Heads) and Grammy Award-winner Fatboy Slim. Directed by two-time Tony-nominated director Alex Timbers, Here Lies Love traces the non-violent restoration of democracy in the Philippines in 1986 and follows the meteoric rise and dramatic fall of the controversial First Lady of the Philippines, Imelda Marcos. This revolutionary music experience is an immersive, 360-degree spectacle unlike anything you've ever seen before!

 

WHAT:

Here Lies Love

concept and lyrics by David Byrne

music by David Byrne and Fatboy Slim

additional music by Tom Gandey and J Pardo

choreographed by Annie-B Parson

directed by Alex Timbers

WHEN:

Performance times: Wednesday-Sunday and Tuesdays at

7:30 p.m.

Select Saturday, Sunday, and Wednesday matinees at

2:00 p.m.

(no matinees during previews)

Press Opening Night:

Thursday, April 20 at 7:30 p.m.

WHERE:

Seattle Repertory Theatre's Bagley Wright Theatre, located at Seattle Center at the corner of Second Ave. and Mercer St., Seattle, Washington

 

TICKETS:

Tickets Start at $88 – ON SALE NOW

Discounted tickets for groups of 10+ may be purchased by calling

206.443.2224

.
Tags: Alex Timbers, Concept Albums, David Byrne, Disco, Fatboy Slim, Filipino History, Here Lies Love, Imelda Marcos, Immersive Theatre, Jaygee Macapugay, Mark Bautista, The Philippines