March 15, 2017

•
by
Michael Strangeways
It's shocking she hasn't been here before…it's taken 36 years but finally, internationally beloved drag icon MISS RICHFIELD 1981 will make her Seattle debut this April 20th and 21st with two big shows at Century Ballroom, 915 East Pine St on Capitol Hill. The kooky Minnesotan has been dazzling audiences every summer in Provincetown Massachusetts, the famed gay beach resort where many of Seattle's own superstar performers trek to every summer including Dina Martina and The Atomic Bombshells. Miss Richfield has been headlining at The Crown & Anchor for decades but has also achieved fame as a television spokesperson for Orbitz.com and with appearances on The Today Show and The Tonight Show (NBC seems to love Miss Richfield!)
Miss Richfield is being presented in Seattle by Kendall's DJ & Events and Skyscraper Entertainment who have been bringing major drag superstars to Seattle for the last couple years as part of their "Legends" series but this is the first time they've produced a show outside their home base at The Unicorn where Skyscraper produces their "Mimosas Cabaret" drag brunch every Saturday and Sunday. Mama Tits, star and producing partner at Skyscraper is currently in Puerto Vallarta, Mexico for her winter residency at Act II Stages; the drag diva is scheduled to return to Seattle in May.
Here's more info on Miss Richfield and her new show, "2020 Vision"…we suggest you snag your tickets to her Seattle show NOW…grab'em HERE!
In her all new show, "2020 Vision", Miss Richfield 1981 offers a survival guide for the new world. With comedic songs, videos, and her unique take on audience participation, Miss Richfield will help calm any post-election panic, and provide tools to prevent the apocalypse!

Miss Richfield 1981 dedicates her life to the friendly citizens and responsible merchants of her hometown – Richfield, MN. Her live performances across the country receive critical acclaim with The New York Post declaring Miss R as "the must-see act in Provincetown" and The Chicago Sun-Times describing her as "Garrison Keillor meets Mary Tyler Moore." Miss R's wide appeal includes riotous appearances on "The Tonight Show" & "Today" on NBC, "Cake Boss" on TLC, and " Watch What Happens Live" on Bravo along with being a national spokesperson for Orbitz and Palm Springs, CA. Each year her schedule of more than 100 shows sell out theaters and nightclubs across the country, including a summer residence at the Crown & Anchor in Provincetown, MA, and frequent tours with Atlantis Events cruise ships and resorts.
Miss R has recently purchased a refurbished Apple IIe computer and entered the digital age. She invites you to join like her on Facebook, follow her on Twitter, and watch her on YouTube. And be sure to visit her at missrichfield.com where she keeps a calendar of events and shares words of wisdom, such as her favorite Bible verse: "It's important to be nice, but it's nicer to be important"
(Visited 1 times, 1 visits today)
As the Editorial Director/Co-Owner, Michael Strangeways writes, edits and does about a million other jobs for Seattle Gay Scene, Puget Sound's most visited LGBTQ news, arts and entertainment website now celebrating its 14th year as a media outlet. A semi-proud Midwesterner by birth, he's lived in Seattle since 2000. He's also a film producer who would like you to check out the Jinkx Monsoon documentary, "Drag Becomes Him" now available on Amazon.com. In his spare time, he gets slightly obsessive about his love for old movies, challenging theater, "otters", vodka, chocolate, "I,Claudius", Lizzie Borden, real books made out of paper, disaster films, show tunes, Weimar era Germany, flea markets, pop surrealistic art, the sex lives of Hollywood actors both living and dead, kitties, chicken fried steak, haute couture and David Bowie. But, not necessarily in that order.
Related Posts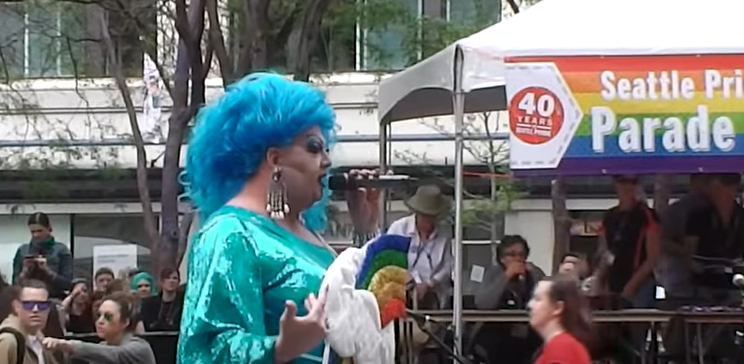 *Dragolicious • *Resist. Protest. Obstruct. Inform. • Drag O'Tainment • Equality • Gay 101 • Hate Groups • Legends • News • Pride • Provincetown Gay Scene • Queer History • Queer News • Seattle News • Seattle Pride 2014 • Seattle Pride 2019 • Seattle PrideFest • Seattle Queer History
Wow! It's been five years already?!?!?!? Since Seattle Diva Mama
...