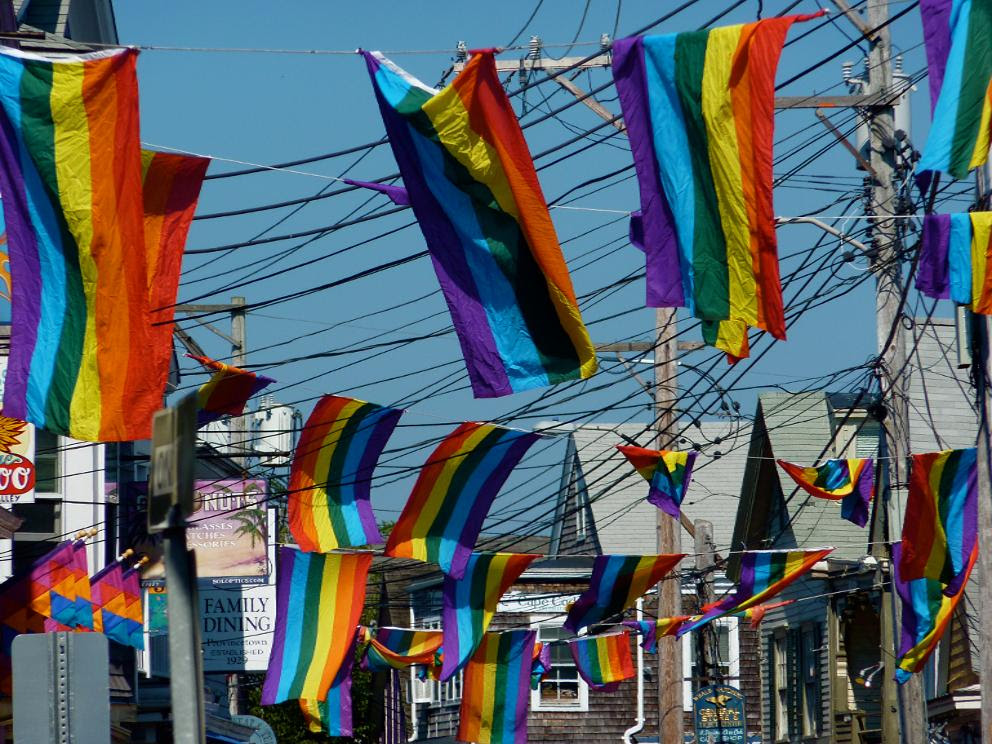 Provincetown, Massachusetts is the LGBTQ summer resort beloved for its idyllic summer weather and secluded beaches plus the delights of Commercial Street, the main street that is one long stretch of shops, restaurants, bars, inns, and arts & entertainment venues featuring some of the most popular stars of the community including tons of talent with Seattle ties including Dina Martina, Jinkx Monsoon, Ben DeLaCreme and Mama Tits.
Obviously, the coronavirus pandemic has caused a major change in all of our plans, especially ones for vacation and Provincetown has been working on solutions to provide a relaxing stay for visitors while trying to keep them safe from Covid-19.
Here's a report from Provincetown on what you can expect. It oddly doesn't address live entertainment but you should be aware that as far as we can determine, many live stage shows have been canceled for the 2020 summer season. Hopefully, 2021 will see the return of beloved performers.
June is Pride Month and Provincetown, Massachusetts, the leading LGBTQ+ getaway destination in the United States, is welcoming visitors back to its guesthouses, restaurants, and shops. The announcement by Governor Charlie Baker of Phase 2 of the reopening, effective today, allows lodging, restaurants and retail to open under newly eased and specific guidelines mandated by the Commonwealth of Massachusetts.

"Provincetown is open for business and ready to welcome visitors this summer" says Anthony Fuccillo, Director of Tourism for the Town of Provincetown. "We now have the necessary and required direction for Phase 2 openings that our hotels, restaurants, shops and galleries have been waiting for throughout this challenging time."

Located 60 miles out to sea at the tip of Cape Cod, Provincetown remains a safe haven for tourists and locals, gays and lesbians, families and friends. Everyone is welcome to come and enjoy the pristine beaches, the shops and restaurants, and the charming seaside town during a moment in time when safety and health are as necessary as sun and sand. The major events and festive weeks of summers' past are on hold until 2021. The summer of 2020 will offer a different sort of welcome to this colorful town noted for celebrating individuality and freedom of expression, as well as for its peaceful sand dunes and beaches.

According to the Phase 2 guidelines, Massachusetts residents are now welcome to come and stay for as long as they like. It is suggested that out-of-state guests self-quarantine for 14 days upon arrival if possible. Here's what's open in Provincetown as of today, June 8, 2020:

LODGING Provincetown's famed hotels, motels, inns, and guesthouses have reopened to guests as of today. For a small town, the range of charming, quirky, and welcoming accommodations is remarkable, encompassing more than 70 properties ranging from charming beachside guest cottages to inns, guesthouses, bed & breakfasts, motels and hotels. They offer a blissful escape for a carefree weekend, a week of sun and sand, or even multi-week stays to really get away from it all.

RESTAURANTS This is the summer of alfresco dining. Restaurants in Provincetown are now open and offering outdoor dining as well as takeout. Sea breezes are the perfect accompaniment to lobster rolls, oysters, scallops and other seafood. The town where Anthony Bourdain got his start in the restaurant business is renowned for its traditional Portuguese food, classic Italian fare and sophisticated restaurants with inventive menus. Bakeries and cafes are fixtures of the town's dining scene, as are the popular ice cream shops which are serving take-out.

GALLERIES The oldest continuous arts colony in the US, Provincetown has a flourishing contemporary arts scene. The town has 60-plus art galleries that have now reopened. Most of them are clustered in the East End section and offer a wide and eclectic range of artwork.

SHOPS Provincetown's shops are now open for business along Commercial Street. Independent boutiques set the tone here, offering everything from clothing, shoes and accessories to home goods, antiques, artisan crafts, makeup, jewelry, gifts, and books.

BEACHES Herring Cove Beach, Race Point Beach and the dramatic dunes of the Cape Cod National Seashore are among the celebrated outdoor attractions welcoming everyone to Provincetown this summer.

GETTING HERE Provincetown is a two-hour drive from Boston. Cape Air continues to offer multiple flights daily between Boston's Logan Airport (BOS) and Provincetown Municipal Airport (PVC) and daily flights from New York's Westchester County Airport (HPN). The Boston to Provincetown 90-minute ferry service run by Bay State Cruises  is tentatively scheduled to begin on June 22 while Boston Harbor Cruises will start on June 29.
The Provincetown Office of Tourism
Provincetown lies 60 miles out to sea at the tip of Cape Cod. Visitors are drawn to this remote swath of land for its beautiful beaches, welcoming restaurants and the charming art galleries and shops. They come for the luxurious guesthouses and the boutique inns. A favorite LGBTQ+ destination, the town is known for celebrating individuality and freedom of expression. Provincetown has a rich creative history as the oldest continuous art colony in the country. This year marks the 400
th
anniversary of the Mayflower's arrival before continuing on to nearby Plymouth. Provincetown is a two-hour drive from Boston and five hours from New York by car. It can be reached via Cape Air flights from Boston's Logan Airport and Westchester County Aiport in New York and via scheduled 90-minute ferry service from downtown Boston. Visit
https://ptowntourism.com/
(Visited 1 times, 1 visits today)