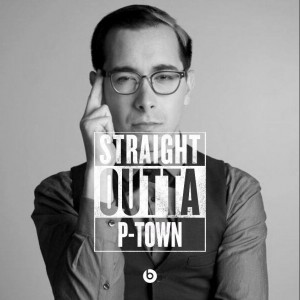 What a difference a week makes! The town of Province is in full swing now, the dregs of Family Week having been tossed; the streets cleaned of baby vomit and quietly judgmental gay parents off the promenades and back to their gentrified communities where they prefer to be. There's an energy wafting off the tourists that screams, "Let's spend money." And P-Town is happy to oblige.
The locals performers feel this energy too, and few are more visible this time of year then the tried and true juggernauts, the queens who have performed here almost longer than anyone. Even they know that the best way to attract a crowd is to walk the streets and advertise. Shake a hand, kiss a baby, hand them a flyer: it's half politicization, half prostitution, and all performing. Why, there goes Varla Jean Merman down the street now. An award-winning body builder in day-to-day life, Varla is the most buff young woman you'll see walking Commercial Street, crown braid around her bouffant and a spring in her muscled step. You might see her riding her giant pink bike down the street or hiding in one of the large bushes nearby her theater space, quietly whispering at the passersby, "Come see Varla's show… it's good…." These tactics manage to pull in full houses to her delightfully eccentric and theatrical shows. Expect smart takes on punny themes: this year's space show is entitled "Big Black Hole" and you can guess where that leads.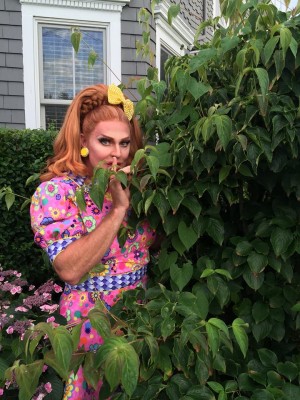 The other big presence this year is the glut of Seattle gals laying claim to our seaside town. BenDeLaCreme is just finishing up her run with The Atomic Bombshells, featuring Seattle burlesque luminaries Kitten and Lou, as well as Ruby Mimosa. This week Dela begins a 5-day run of her solo show "Terminally Delightful," which will bring all the humor and pathos you've grown to love in her larger holiday shows "Freedom Fantasia" and "Homo For the Holidays" to a more intimate stage. In the same building comes Dina Martina, with her newest offering of terrifyingly hilarious drag and song. Also representing the Emerald City are two stalwarts from the Seattle burlesque scene, the brothers Paris and Trojan Original performing in "Jett Adore's Diamond Studs". If you like the camp and fantasy of a drag show, but need just that extra little bit of man t & a, this is the show for you. Plus, you get some amazing dancing in the mix, no death drops allowed.
And who can forget Seattle's reigning drag queen by televisual decree, Jinkx Monsoon? This is her second year gracing P-Town with her iron lungs. Last summer it was with "The Vaudevillians" (also featuring this author, though that's neither here nor there). This time around it's with a concert version of her Inevitable Album. Songs will be sung, audience members asses will be bared, and then at some point the show begins. While "The Vaudevillians" seemed to go swimmingly in town, the looser, simpler content of a cabaret album show seems to go down a bit easier on the tipsy tourists. There are few vacationers who want to get drunk on the beach, then go see a challenging work of art. Hence the art galleries here full of water colored boats on canvas, the extreme lack of dramatic theater, and the plethora of short and funny drag shows. Who wants to go clubbing after seeing "Equus"? Soon Jinkx will be splitting her time between this show and Peaches Christ's revival of "Return to Grey Gardens," bringing the drag act to the Cape Cod home in which it was always meant to reside.
It's worth mentioning that two other RuPaul's Drag Race performers are in town as well, Aussie beauty Courtney Act and Bianca Del Rio, the Harvey Fierstein of insult comedy. Both share a dressing room with Monsoon. I'm not sure I can properly convey the look of this room. Cavernous yet cramped, full of dresses hanging on racks haphazardly. Wigs line the walls as options for the ladies, depending on how they feel for the night. Makeup is strewn about the counter tops. Then there's the insect issue, open windows letting in various moths and such that sometimes get smashed on the walls. If Buffalo Bill had to share his space with two other serial killers while they all got skinned-dressed, this would be the space.
And on that note, we leave this week's P-Town scene. Next time we shall examine the climax of summer, the week-long Pride parade known simply as Carnival. Until then,
Goodbye Horses,
Major Scales
---
Fans of the Major and his favorite chanteuse Ms Monsoon who might happen to be in the general vicinity of the Northeastern United States might want to drop into Provincetown Massachusetts this summer between July 15 and Sept 18, 2015 to check them out in The Inevitable Concert at Provincetown's Art House Theatre.
You can also check out all the other delightful shows (many of them mentioned up above) at the Art House this summer including the lovely Black Hole-ness of
Varla Jean Merman
and the Grey Garden-y Goodness of
Peaches Christ
.
Go HERE
for line-up and tickies!
AND, check out the Major and Miss Monsoon at the Gramercy Theatre in New York City on September 25, 2015 with special guest Ivy Winters! It's
"Jinkx Monsoon In Concert"
and grab tickets
HERE!
(Visited 1 times, 1 visits today)