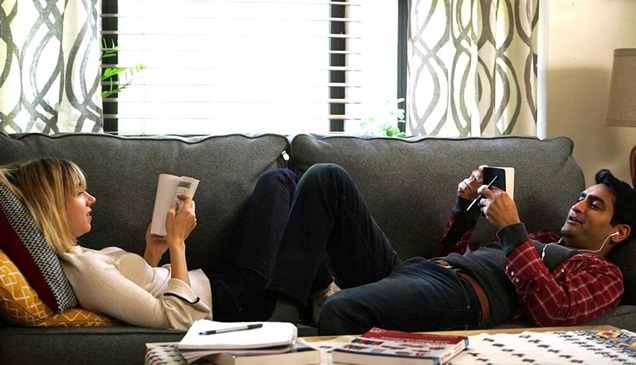 SIFF (aka the Seattle International Film Festival) has just announced the opening film for Festival 2017…it's THE BIG SICK a comedy film from Amazon Studios and starring Kumail Nanjiani and it will screen on Thursday May 18th at McCaw Hall as the Gala Opening Night Film. It's the start of North America's largest/longest film festival which runs through June 11 at venues throughout Seattle and the metro area. Tickets are now on sale for THE BIG SICK as well as festival passes. Individual tickets and full line up all happen on May 3rd.
More from SIFF about the film:
SEATTLE, WA —

April 7, 2017

— The Opening Night Gala of the 2017 Seattle International Film Festival (SIFF) on

Thursday, May 18

will feature the Seattle premiere of Amazon Studios' The Big Sick. This festival favorite comes from a powerhouse team of beloved comedians including Kumail Nanjiani (best known for his acerbic and witty character in Silicon Valley), industry mogul Judd Apatow (Bridesmaids and Knocked Up), and is directed by alt-comedy legend Michael Showalter (Hello, My Name Is Doris and The Baxter). SIFF's Opening Night Red Carpet and screening will take place at the 2,900 seat Marion Oliver McCaw Hall at Seattle Center with a celebratory party to follow at Fisher Pavilion. The 2017 Festival runs

May 18 through June 11

at venues in Seattle and surrounding cities. 
After opening to much acclaim at Sundance Film Festival, The Big Sick promises to electrify audiences as it kicks off the largest film festival in North America. The smart and complicated romantic comedy features Kumail Nanjiani as the star and co-writer, Zoe Kazan, Holly Hunter, Ray Romano, as well as comedian friends Aidy Bryant, Bo Burnham, and Kurt Braunohler. Co-written by Nanjiani and his wife Emily V. Gordon and based on the beginnings of their relationship, Pakistan-born comedian Kumail and grad student Emily fall in love, but struggle as their cultures clash. When Emily contracts a mysterious illness, Kumail must navigate the crisis with her parents and the emotional tug-of-war between his family and his heart. Amazon Studios will release The Big Sick in limited theaters on June 23rd with an expansion set for July 14th.
SIFF Artistic Director Beth Barrett says, "We are beyond thrilled to open the doors of the 43rd Seattle International Film Festival with a film that pairs cross-cultural tension with a rawly honest love story. Amazon Studios has surfaced as one of the leading film distributors and content creators to push for strong theatrical releases, and we are honored to continue as partners with them for a second year bringing relevant and endearing films to Seattle audiences."
Tickets for the Opening Night Gala of SIFF 2017 are now available online at SIFF.net, by phone at 206-324-9996, and in person at SIFF Cinema locations (Film Center, Uptown, Egyptian). Opening Night access ranges from the festive, see-it-all Film + Party Ticket to the exclusive VIP Red Carpet Experience.
The complete Festival lineup will be announced on Wednesday, May 3. Box office sales for single tickets open online, by phone, and in person for the general public on Thursday, May 4, with special advance access to SIFF members on Wednesday, May 3.
Tags: Amazon Studios, Kumail Nanjiani, McCaw Hall, Opening Gala Film, Seatle International Film Festival, SIFF 2017, South Asian Artists, The Big Sick