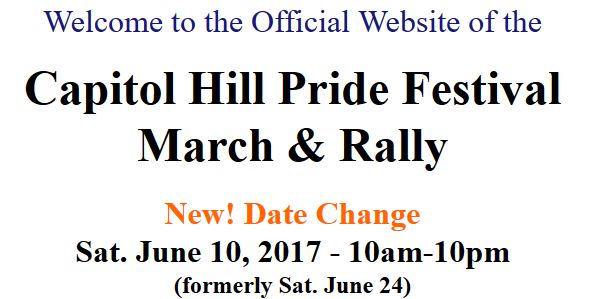 So the complicated merry go round that is Seattle's annual pride celebration continues its topsy turvy revolution with the just announced news that the Capitol Hill Pride Festival is moving its traditional Saturday of Pride Weekend event/street festival (the last Saturday in June) that they've held on Broadway for the last several years to Saturday, June 10th. From the email sent out this afternoon by Capitol Hill Pride Festival chairs, Charlette LeFevre and Philip Lipson:

Dear Community,

The Capitol Hill Pride Festival March & Rally is changing its date for its festival march and rally from June 24th to June 10th, 2017 10am-10pm  to support scheduling, barricade, staging and facilities for "The Equality March for Unity and Pride – Seattle" at Noon on June 11th.


Seattle is proud to join New York City, Los Angeles, Austin, TX, Detroit, Las Vegas, San Diego, Philadelphia and San Francisco—to date a total of 33 cities as well as the Intl. cities of Barcelona, Sydney Australia and Zurich Switzerland in solidarity to march for Equality and Pride in this national and global movement.

We feel this date change will assist the thousands who will be in Seattle for the Equality March for Pride weekend and for Pride Month.  The festival on Saturday also being a day of recognizing civil rights Pride, and on Sunday the Equality March as an assertion of our unity, humanity and strength coinciding with sister cities and the march in Washington D.C.

We apologize if the date change causes anyone inconvenience but we believe supporting a national and global movement is important to the community and solidarity.

Please let us know that you have received this e-mail or if you have any questions.

Thank You.

Sincerely with Pride,

Charlette LeFevre and Philip Lipson
Capitol Hill Festival March and Rally
The Equality March for Unity and Pride – Seattle
This change comes after news earlier this week, first reported by the blog Capitol Hill Seattle, that there were two competing plans for local Seattle marches on Sunday, June 11th in solidarity for the National Pride March scheduled that same day in Washington D.C. Both Capitol Hill Pride Festival and Seattle PrideFest were working on separate local events. Capitol Hill Pride Festival has been putting on its Broadway based street fair since 2009 and claims they created their event to help bring Seattle Pride weekend festivities back to Capitol Hill, the longtime home to Seattle's LGBTQ neighborhood. Seattle PrideFest is the group that took over production of Seattle's official Pride festival at Seattle Center back in 2007 after Seattle Out and Proud suffered severe financial hardship after they moved both the Pride Parade and the Festival away from Capitol Hill in 2006.
But, it's not the first time that the two groups have had issues over competing events with Capitol Hill Pride Festival unhappy that Seattle PrideFest began staging events on Capitol Hill on the Saturday of Seattle Pride weekend. Last year, CH Pride Festival then tried to launch a second day of  celebrations on Pride Sunday (in addition to their traditional street fair on Pride Saturday) but a lack of support from the City of Seattle put the kibosh on those plans.
This year's fight over the competing June 11th marches had Capitol Hill Pride seething and they sent out press releases protesting the competing march with claims they had started organizing in January. From Capitol Hill Seattle:
Organizers of the Broadway-centered Capitol Hill Pride Festival are protesting a decision by Seattle PrideFest to hold a march planned to start in Cal Anderson on June 11th along with marches expected to take place in cities across the country. The Broadway festival organizers say their plans for the same date starting on Broadway have been in motion since January:

The Capitol Hill Pride Festival March & Rally organizers are strongly opposed to a second march traveling away from Capitol Hill to downtown not only because it is divisive but removes attendees from the heart of Seattle's LGBT community, non-profit storefronts, restaurants with access to facilities, creates a hardship for Seniors and those less mobile in attending and participating in a march and strains police and fire resources.
PrideFest's Egan Orion responded to those claims with his own release:
PrideFest is building a large coalition of Pride organizations and local non-profits for our Pride March from Cal Anderson to Seattle Center on June 11. We have repeatedly asked Capitol Hill Pride Festival organizers to join our coalition but they simply counter with, 'Why don't you join ours?' We have secured the park and the Seattle Center and have non-profits as part of our coalition—including Seattle Pride, the GSBA, Gay City, Gender Justice League, Entre Hermanos, PFLAG, and others—that serve over a half a million people in the region, so we feel we're off to a strong start. We're very interested in having a united front in this effort, and will continue our efforts to involve any LGBTQ non-profit that wants to join with us to put on the largest march our community has seen in a generation.
Capitol Hill Pride's announcement today changes the landscape for both the scheduled events for the weekend of June 10th and 11th as well as for Seattle Pride Weekend itself, June 24th and 25th. PrideFest already has announced they are continuing their now annual events on Capitol Hill; will the abdication of Capitol Hill Pride from the Broadway street event on June 24th cause a ripple of other changes for Pride celebrations and protests?
More as it develops.
ADDED INFO:
There seems to be some confusion so let us clarify the new schedule of events:
Saturday June 10th: Capitol Hill Pride Festival with a small protest march attached (apparently)

Sunday June 11th: Seattle March in conjunction with National Pride March in DC. This is a BIG protest march!!! Capitol Hill Pride apparently is still trying to do their own separate march but…ignore it. The big march is a collaboration between many area LGBTQ organizations including Seattle Pride and PrideFest.


Saturday June 24th: Seattle PrideFest will hold their annual event in Cal Anderson Park on Pride Saturday. Also: Dyke March and other Capitol Hill bar events at Purr/The WildRose Bar.

Sunday, June 25th: Seattle Pride Parade in downtown Seattle/Seattle PrideFest at Seattle Center
(Visited 1 times, 1 visits today)