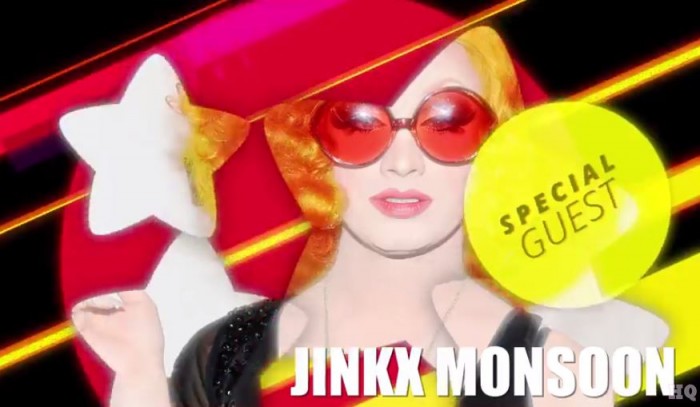 Apologies for being tardy to the pardy but…
I'M BUSY!!!
I was supposed to post about the fantastically fun infotainment/talk show webseries HEY QWEEN! a couple weeks back but it slipped through the cracks in my lofty tenement and didn't happen but they've done a couple recent episodes featuring two of Seattle's drag superstars, both of whom have appeared on RuPaul's Drag Race with JINKX MONSOON of course winning Season Five and ROBBIE TURNER being a star attraction of Season Eight.
Hey Qween! has been around for a few years now and it seems to be getting more and more popular…and, more and more polished looking! It looks like a cable TV show! It is hosted by the divine Jonny McGovern, one of drag's biggest cheerleaders, along side his hilarious shade throwing "Ed McMahon" the also divine Lady Red Couture.
You should check them out here:
Here's more about the Jinkx and Robbie episodes…both have some juicy info that even I was not aware of and I know EVERYTHING!
Jinkx Monsoon:

 

Ladies and gentleman, royalty is upon us once again… The winner of "RuPaul's Drag Race" season 5, Jinkx Monsoon, is here! On her first visit to Hey Qween, Jinkx dishes the details on her soon to be released sophomore album "The Ginger Snapped!" Then Seattle's premiere Jewish narcoleptic drag queen spills all the drag race tea, from her experiences on set to some advice RuPaul gave her that she still follows to this day! Then things get spicy when Jinkx and Jonny chat about life and sex after she took home the crown. And during a sick'ning round of Reddit Questions, Jinkx tells all about her one night stand with fellow Drag Race contestant… Magnolia Crawford! Y'all better be ready for this one because it's Monsoon season bitches! 

Robbie Turner:

Robbie Turner roller-skated into our hearts on season 8 of "RuPaul's Drag Race" and now she's skating her way onto our couch for this week's episode of Hey Qween! Joining Jonny McGovern and Lady Red Couture, Robbie opens up about her past and talks all about her new book, "I'll Tell You For Free," a collection of short stories chronicling her life. From coming out to religious parents to her old Hollywood inspirations to her experiences on the "Drag Race" set, Robbie is telling all! And of course, it wouldn't be Hey Qween without a juicy round of "Look At Huh!" Miss Turner isn't afraid to spill the T or throw a little shade so you definitely do NOT want to miss this one!
(Visited 3 times, 1 visits today)