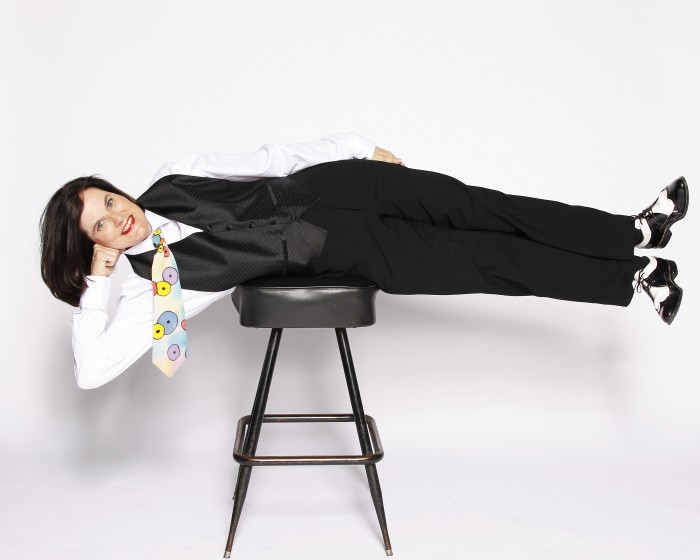 As a stand-up comedian, as a writer, and as a panelist for NPR's weekly comedy quiz show "Wait, Wait…Don't Tell Me!" Paula Poundstone has been using her razor sharp wit and keen and sometimes scathing observations to make people laugh for 38 years.Her resume includes being the first woman to host the White House Correspondents' Dinner, numerous HBO specials, starring in her own series on HBO and ABC, an Emmy Award, two Cable ACE Awards, and an American Comedy Award for Best Female Stand-Up.
Poundstone's newest book, The Totally Unscientific Study of the Search for Human Happiness takes Paula on a journey through swing dancing, meditation, getting earthy, getting organized and volunteering among other things all while watching her human and animal family grow and supplying the reader with enough laughs to…well, give you happiness long after you finish the last page.
Lily Tomlin describes the book as "a remarkable journey. I laughed. I cried. I got another cat."
You can watch Poundstone on stage at the Moore Theater on Saturday, May 20th.  
I had a chance to talk with Paula about cats, kids and that darn technology we older folks like to complain about but we started with her thoughts on coming to Seattle.
---
Paula Poundstone: I'm looking forward to being in Seattle. That's always a great date. I love Seattle. What's not to love? I've been at Moore theater many times and it is always fun.
Jeffrey Robert: Well this is NPR territory. I am about the same age as you, and for a person my age living in Seattle doing comedy, NPR is the height, it doesn't get any better than that for me. I have to know, what is it like after everything you've done to have acheived NPR stardom?
Poundstone: It is not what I would have guessed. It's not what I would have thought I'd end up doing. I can say I'm pretty damn happy there. I have fans that have no idea, that have never heard of  "Wait Wait", and then I have fans that are "Wait Wait" fans that come to my stand-up shows and wonder why I'm not answering questions about the news. Fortunately, the two groups get along really well. The NPR audience has folded in nicely with my original crowd. I've been at this for 38 years now. I think I've been on NPR for 15 or something like that.
Robert: Being famous on a quiz show on NPR, a lot of folks may have never seen what you look like.
Poundstone I tend to get recognized in cabs because they listen to the radio. I'll get in a cab and I'll say something and the cab driver will say "Oh, aren't you…?"
Robert: You have a distinctive voice. You also have a really distinctive style. I'm speaking of your dress, your hair. How did you come up with that?
Poundstone: My hair is just my hair and there is not a damn thing I can do about it. As for clothes, a few years ago I stumbled across the idea of Zoot Suits and I had a bunch made, and I don't know – they are kind of me all over again. It's nice. I've evolved. My shoulder pads have come down over the years which is a good thing. Two of the chapters in my book are about getting organized. The part where I go through my closet is both painful and funny. I think I've tossed out the last of the huge shoulder pads, which as I say in my book I entered into of my own free will.
Robert: If there is ever an 80s nostalgia, and I think that has happened, those could come in handy.
Poundstone: For protective gear. Then they had this kind you could attached. They always moved around. They were relatively inconvenient.
Robert: How did the book come to be?
Poundstone: I'm not exactly sure why I thought of the idea. I had these ideas of a series of experiments, doing things that I or other people thought would make me happy. Don't tell anyone this but I was hoping to get the publisher to pay for it. It seemed like a really great idea I could do these fun things and someone else would foot the bill. It didn't work that way at all. I paid for everything. I figured that by doing these experiments it would be a really terrific playground for writing in and it was. The key to the whole thing for me was not whether you enjoy doing a particular thing, the question was when you stopped doing that thing or you returned to your real life from that thing or between that thing, what kind of reservoir of happiness…what was the shelf life of that happiness? So each chapter is written as an experiment and the analysis is telling about my real life.
Being in a house with three kids and a houseful of animals and being a stand-up comic and being stuck being me 24 hours a day. It unexpectedly took me seven years to write this book so it ends up being this story of my kids growing up. Totally coincidentally it's actually a great Mother's Day book because it is the story of kind of kind of becoming, soon, an empty nester. Reflections on how hard that thing is and what you miss when you aren't doing it. My number one job is to be funny and so I chose a way of doing this I thought would give plenty of rope for comedy and I think I swung there because I got blurbs from some of the greatest comedy minds there are.
Robert: My God did you do that – you have Dick Van Dyke on the back of your book.
Poundstone: I have Dick Van Dyke, I have Carl Reiner, I have Lily Tomlin, Garrison Keillor, P.J. O'Rourke, Peter Sagal, Dick Cavett – not too bad!
Robert: Not too bad at all. That is an all star cast. The title alone is funny. I love the whole idea of an unscientific study. Did you realize when you started it – we would be in a time when unscientific is how our government runs?
Poundstone: No, I didn't. I didn't. I could never in a million years have predicted what has happened to us. But Democrats or Republicans, we can all enjoy some science.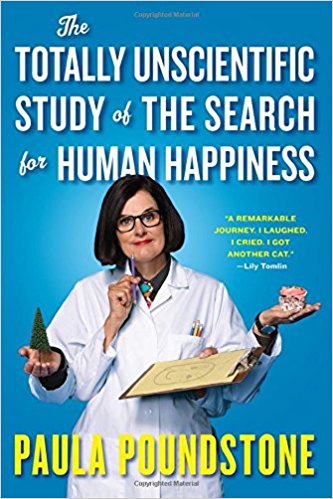 Robert: At one what time you hosted the White House Correspondents' Dinner. I know you don't make a big deal about being the first woman to do that, but you were the first woman to do that. For a lot of people that is a big deal.
Poundstone: The truth is back when I did it, the whole thing was less of a big deal than it is now. It was not televised. It was still a big event and some Hollywood people did come back then. One of the things about it that was interesting was who brought who, but the year I did I think the most interesting combination was Senator Alan Simpson (Republican Senator from Wyoming from 1979-1997) went with Nina Totenberg (Legal Affairs Correspondent on NPR). My point is, it wasn't really the big show bizzy event it is now. It was a long time ago. The first George Bush was President and I gotta say, honestly, he was gracious as could be. He really, really was. He called me to the White House and I was warned it was going to be to soften me up and make sure I didn't say anything against him or something and I talked to him for a little while and I said what do you not want me to say and he said "You know, you can say anything you want".  
Who knew we would pine for the days of the first George Bush?
Robert: Or even the second George Bush? Did you watch the most recent one?
Poundstone: No, no. I don't watch a lot of comedy stuff. It's a busman's holiday for me. Besides which, I'm more than likely either sleeping or reading or working. Or cleaning. Those are my modes.
Robert: Are any of your children still living at home?
Poundstone: My 23 year old is at home but they are all young adults They don't need me. I mean, you know, problems remain and there will be problems. They are all grown up okay.
Robert: How has happiness changed with having them grown?
Poundstone Well, it is true I have more time on my hands than I once had. I don't know. They are not my responsibility in a way that they once were. I think I'm doing a fairly good job at the part where I let them make their own choices and I don't weigh them down with what my big ideas are. I told them growing up I started doing the stand-up comedy at nineteen and people used to say to me all the time "Well what do your parents think?" I remember looking at them like they had two heads and I said "I don't know because I don't care". I told that to my kids all the time and told them they have the same permission to have the same opinion of my opinion. It's not my choice what they do. It is up to them.
Robert: Have any of them tried doing comedy?
Poundstone: No. My son took  an improv class at one time but he didn't particularly care for it. They are all funny. They all have good senses of humor but none of them are performers. My middle daughter is incredibly shy. The notion of being on stage would paralyze her.
Robert: Your children are mentioned throughout the book. Have they read it?
Poundstone: No. No, I don't know if they ever will. It's not that they couldn't, but I don't think they will. My middle daughter used to like to come to my shows sometimes but the other two don't care too much. And, so – leave it at that.
Robert: My husband and I have a 25 year old and it is the same. We tell him you do what you do. We don't expect anything from you except to be a nice person. But speaking of being a nice person, you have cats. Do you have cats and dogs or just cats?
Poundstone: I have two dogs. I have two German Shepherd mix dogs as well.
Robert: Well that takes some time I imagine.
Poundstone: If I only had a couple of cats it wouldn't take much time but like an idiot I have 14 and so it does take a lot of time. It is almost a full time job keeping up and cleaning up after them. I'll never be a world traveler because I can't go away for long stretches of time because it is just too much cleaning to be done. And although you can get somebody else to do some of it, they never do the same job you would do. The are high maintenance. But fun. It's sort of like looking out the window in New York City. It's a constant show.
Robert: Do you think cats ever achieve happiness?
Poundstone: Oh, I think they might. They look happy most of the time. A little disgusting food in the bowl and they look delighted. I don't think they have a lot tracks in their head. I think for people there are a lot of things that need filled. It's important to have a life that feels purposeful. Volunteering is a great thing that I think leads to happiness. I suppose it depends on what you volunteer doing. But finding something that fits that bill is a good thing and having contact with other people can lead to happiness. I think we are really screwing ourselves over with electronics. One of the things I notice, I'm in New York right now, and I was walking last night, and you just can't help noticing how prevalent the stupid headphones are. A lot of people are standing with their flat things, but even those that aren't are on their headphones and they are missing part of the whole deal of being in a city surrounded with people. I think that people should walk down the street like the opening scene in Beauty and the Beast. I think it should be Bonjour! Bonjour! You know? We need each other. And the idea that you put on some head thing to distract you from the very people you've chosen to live among seems sort of silly.
I walked last night following a couple so I could hear what they were saying. This guy was talking about his workplace. I got the sense that he was sort of some corporate coach maybe, and he was saying that George, who is apparently his boss…he is very upset by George. He got an email from Ellen but he is sure it came from George and it was a script of what he was supposed to say to these CEOs. And he wrote to Ellen and he was very upset and he said this is insulting, this is what I do for a living. It was fascinating listening to him talk because it is what every employee has on some level, how dare someone tell you what to do. There is always somebody up above you that is always bedeviling you. And I followed for blocks and couldn't always hear what they had to say but I kept hearing "George, George…". I was fascinated by it. I couldn't stay as close as I wanted without being creepy until they finally made a turn. I can't turn when I walk in New York or I'll get lost.
Robert: When you are at the Moore doing your stand-up, what can people expect?
Poundstone: Well, I talk about raising a houseful of kids and animals. I talk about politics here and there not as an analyst or expert by any means, but just as a citizen awash in the, you know…the…the…THIS. You know what I mean . It is everywhere and therefore you can't help thinking about it and therefore I can't help talking about it. My favorite part of the evening is talking to the audience I do the time honored way of "What do you do for a living" and this way a little biography of the audiences will emerge and use that from which to set my sails. So I don't always know what I'm going to say. That's part of the fun.
---
Tickets to Paula Poundstone at the Moore Theater
http://www.stgpresents.org/moore/calendar/eventdetail/2982/-/paula-poundstone
(Visited 1 times, 1 visits today)