Prepare yourselves, children, because R&B's reigning queen Mýa is coming to Tacoma Pride on July 8th! I got the great pleasure of interviewing the kindhearted, steadfast recording artist who brought us hit songs like "Lady Marmalade," "Case of the Ex," "Fallen," and "It's All About Me."
Ryan: We're so excited to have you performing in Tacoma Pride! Have you performed in the Pacific Northwest before?
Mýa: I have, but I have never performed at Pride. This will be my first time! But I've done shows in the area before, and my brother was in the military in Tacoma.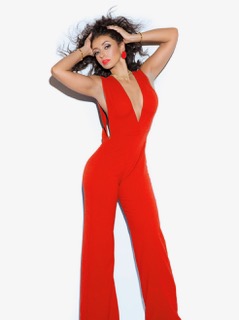 R: What can we expect in this performance from the R&B legend Mýa?
M: Well, a Pride performance from Mýa is like no other (laughs). A beautiful show will come to Pride. Celebrate yourselves, your community, your life. Anything can happen. I will give the classic hits of course, along with some brand new music.
R: Your newest album, Smoove Jones, highlights your ever-sexy and sly vocal style, but also has energetic hip hop bangers like "Spoil Me." What inspired you to create Smoove Jones?
M: I'm always recording, I'm always in the studio, so that's a place I don't leave. I kind of live out of the studio. So I took many of those songs from those sessions and assembled a project. And that's how Smoove Jones was born. The fans were actually behind this album, because they were the inspiration for this R&B sound.
R: You've had an amazingly loyal fan base over the years.
M: Oh yes. My fans have been very receptive, and they tell me what they want. I love social media because they can tell me what they like. We can connect. I'm here to serve!
R: You've been in the game and actively recording since the 90s, and have evolved over the decades to serve fresh versions of your talent. That takes a lot of passion and commitment.
M: Music is fun, but very excessive. It takes a lot of passion to drive me because it is not cheap (laughs). It keeps you alive, and when I say alive, I mean completely in balance. I love the way music makes me feel—all genres—because I grew up around soul and funk.
R: What fuels you to keep recording and performing?
M: People. To be able to entertain, to serve, and to give people the time of their life for a moment. Making people's worlds connect, whether it's having someone connect to something through those more emotional songs, or giving them something onstage. And music has done that for me. Performing live reaches people of all walks of life and brings them together, and lights up their world. Just the fact that people are together. Being involved in the community, there's so much love and so much joy, but also so much pain to work through. With things historically changing for our generation, we've got to be very bold. And I love that we can come together through that.
R: For you personally, what has been the highlight of your career so far?
M: The highlight of my career—wow—it's been thriving and staying sane. Because you can easily lose yourself. I think just finding a way is important. I think the Pride community has been a light for me there. It's not something they teach in school, but I pull strength from this community and I learn a lot from this community because of all the indifferences, all the hate, all the bullying you go through as a person who goes against the grain. That has definitely been a highlight in my life and in my career. And so many people in my operation, from the creative side to the professional side, are from the LGBTQ community. I resonate from that creativity and that idea of being true to you. That has kept me surviving and thriving.
R: Think back to the young woman who released the self-titled album "Mýa" in 1998. If you could speak to her now, what would you say to her?
M: I would say so many things that I probably have to write a book (laughs). I would say there is no right path to finding yourself. Define what beauty is to you and operate from there. Define was happiness is to you and operate from there. So many young people feel they have to become what society tells them, so if you try to change yourself to conform to what someone else has defined, that's where things go wrong. When you start living for someone else's idea of what you should be, that's a no-no. You're allowed to play. You're allowed to be you. Go for it! It's okay to make mistakes. Get back up and do it again.
R: Let's say you get to collaborate on a track with any artist in the world. Who would it be and why?
M: I have a list of people! I love Bruno Mars. I'm currently playing "24K Magic." I would choose Bruno first and foremost as a dream collaboration. I would also love to get into the studio with Miranda Lambert and Lauryn Hill, these amazing female songwriters. And I would love to do a remix with Amanda Lepore.
R: With your Grammy-winning song "Lady Marmalade" and your amazing "Cell Block Tango" performance in the movie Chicago, you've put your stamp on projects that became iconic moments for the queer community. You've certainly influenced LGBTQ pop culture. Has the LGBTQ community influenced you at all?
M: Absolutely. From a personal place, a creative place, a musical place, and a place of life lessons. I was bullied, and I know what that feels like. But pulling from the strength of a community that is considered to be outcast, getting rid of fears so you can live your life in truth, and learning major life lessons from all walks of life—it's a community that vibrates the highest. I feel happiness and joy—that's where I feel like I'm me. I wish more of the world was like this. But this brainwashing in some places has not allowed people to think and live a life of individualism. I know where I belong.
R: It sounds like you wish the rest of the world could experience the same kind of feelings you get with the LGBTQ community.
M: And to learn about themselves, learn about the bigger picture here. I don't quite understand all these demands and judgments cast on any group that exists in this world. But you have to step off that line of fear to be able to connect. There are so many stigmas with differences that people don't give themselves permission to explore.
R: You said you were bullied as well. What allowed you to get through that bullying and become the musical success you are today?
M: I think finding your common denominator and like-minded groups is important to make it through those tender years, because you don't know quite who you are. That thick skin is still in development. How did I get through it? The art. Afterschool activities, meeting with people who were focused on the same things, whether it was to win a competition and come up with the best routine ever, or to write songs. Our outer shell was not being focused on, where we came from and our make-up or background, that's not what the focus was. We were from all over the world. It was the common denominator: love. It helped me vibrate high.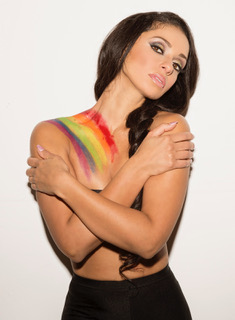 R: What does performing at Pride mean to you?
M: Performing at Pride is an honor, first of all. I think outside of myself, it's all about people. Coming to serve, coming to play, coming to uplift, catching people at their ultimate high. This is something to be proud about. All this light, you are allowed to be you. Live that truth and celebrate it!
R: What's next for Mýa?
M: I'm gonna stay quiet (laughs). I'm always in the studio, I'm always touring. But there will be official announcements.
R: I can't wait to see them! Any last words for our readers?
M: Yes. I'm taking special requests on my Instagram, @myaplanet9. So if you have any songs you want to hear, you can send those my way. But be ready to get called out because I will bring you up onstage to perform it with me.
Be sure to catch Mýa, Shea Couleé, Lady Bunny, and more at Club Silverstone's July Pride Party on Saturday July 8th!
(Visited 94 times, 1 visits today)