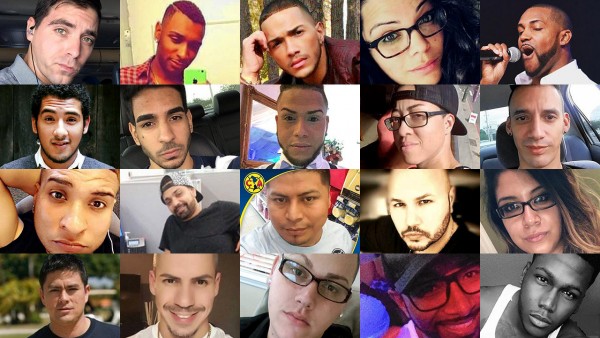 So, we're at the one year anniversary of the Orlando Pulse Massacre which claimed the lives of 49 people on June 12, 2016 at the gay nightclub Pulse in Orlando Florida. To honor those 49 lives and the lives of the 58 other people who were injured but survived, several members of Seattle's LGBTQ community banded together to create a vigil/memorial to be held this coming Monday June 12th at 7pm at Cal Anderson Park. The event, "WE REMEMBER-PULSE VIGIL ONE YEAR MEMORIAL" will feature speakers, music and a reading of the names of the 49 people who senselessly lost their lives that day. Co-organizer Sarah Toce from The Seattle Lesbian whipped up this press release to explain it all in more detail. We hope to see you at Cal Anderson on Monday evening.
Hundreds Expected to Pay Tribute to Pulse Victims in Seattle June 12

Speakers Include Seattle Deputy Mayor Hyeok Kim and Jacque Larrainzar SEATTLE, Wash. (June 9, 2017):  Seattle's LGBTQ community will unite at 7 p.m. at Cal Anderson Park on Monday, June 12, 2017 to honor the victims, family members and friends affected by the Orlando Pulse nightclub massacre – the deadliest shooting in U.S. history. On June 12, 2016, the Orlando community was rocked by the massacre at Pulse nightclub that claimed the lives of 49 victims. An additional 53 more individuals sustained injuries, and thousands in Orlando and around the world were traumatized by the attack. The horror unfolded in the middle of Pride month on Latin night at Pulse, a popular gathering place for young lesbian, gay, bisexual, transgender, and queer (LGBTQ) people of color. Elected officials in Orlando have now dedicated June 12, 2017 "Orlando United Day – A Day of Love and Kindness." "Our community will never forget the tragedy of Pulse or the grief of those who lost loved ones," Orlando Mayor Buddy Dyer said in a video posted to the website, OrlandoUnitedDay.com. "From heartbroken family and friends to survivors putting shattered lives back together, our entire community stands with you." The memorial at Cal Anderson Park is hosted by The Seattle Lesbian's Sarah Toce, Seattle Gay Scene's Michael Strangeways, Seattle Gay News' George Bakan , Seattle Pride's Melissa Celia Garcia, and The Mac McGregor Campaign. Supporters are encouraged to use the hashtag #HonorThemWithAction in reference to the memorial events throughout the nation on Monday, June 12, 2017. Attendees are encouraged to bring signs and rainbow flags. A  sign-making station will be set up for convenience as well. A reading of the names will be conducted. A full list of Pulse shooting victims can be found on https://honorthemwithaction.org. Speakers and performers will include Seattle Deputy Mayor Hyeok Kim, Jacque Larrainzar, Pride Idol winner Ruth Soto, singer Jack Mozie, Seattle City Councilmember Lisa Herbold, Seattle City Council candidate Mac McGregor, and Rev. Brian Hutchenson from Seattle MCC Church. "It is important for us to stand in community to honor and remember those who have paid the ultimate sacrifice in the fight to create a world where we can all live together without having to hide who we are or who we love," said McGregor, event co-organizer. McGregor, a transplant from Florida, is currently campaigning for  Seattle City Council Pos. 8. He says this event goes beyond politics as usual. "I grew up in Central Florida and owned my business there," McGregor said. "The Pulse club is a place I have been and a place where we all felt safe in the South to come together and celebrate who we were. As someone who grew up under the oppression of LGBTQ people in the South, acts that attempt to take our few safe places hit our community hard. We will stand together in strength and pay tribute by not allowing them to silence us or make us hide in the shadows." "By honoring the victims of the Pulse massacre, we are giving a voice to the intersections of race, gender, and sexuality," said event co-host and The Seattle Lesbian publisher Sarah Toce. "We must honor the victims with action." Seattle Gay Scene publisher Michael Strangeways said, "I think it's vital for the worldwide LGBTQ community to remember and honor all the victims of the Orlando Pulse massacre…not only the 49 people who were senselessly butchered that night, and the 58 people who were injured with many sustaining injuries that will impact their lives forever, but also the families and friends of all the victims and the injured. Orlando Pulse touched all of us and we must remember and honor all those people." By honoring the victims with action on June 12, 2017, community members and organizers pledge to uproot hatred and bigotry of all kinds and make the world better and more equal for everyone.
Oh, and we should also note that we need to thank Seattle Event Printing (Dan Lane) and Kendall's DJ & Events (L.A. Kendall) for help in putting together this event.
(Visited 1 times, 1 visits today)