RuPaul's Drag Race Season 9 standout Shea Couleé will be coming to Tacoma Pride to perform onstage July 8th. I got the chance to catch Shea between gigs and interview her with questions we've all wanted the answers to since that season finale shakeup—and her skyrocketing success thereafter.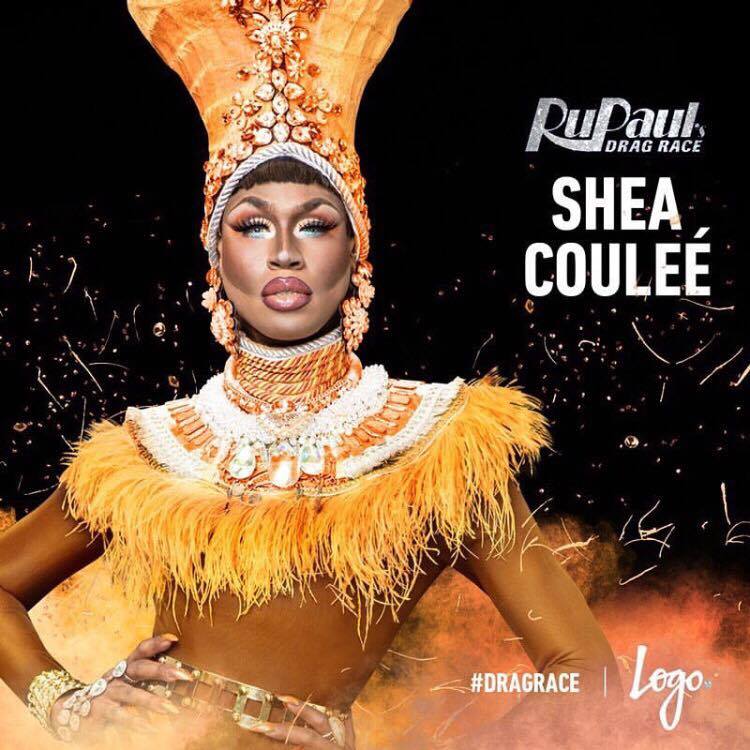 You're coming to Washington State for Tacoma Pride and we couldn't be happier to see you! What does Pride season mean to you, as a performer and as a participant?
Pride season is amazing. It's so important to me because the first time I ever did drag was at Chicago Pride 6 years ago. It just holds a special place in my heart as an artist and as a queer person because it's an amazing celebration and opportunity for us to come together and organize and gather. In this political climate, that's the simplest form of peaceful resistance.
You've of course gotten a bajillion fans from the Pacific Northwest—and all over the world—after appearing on a little show called RuPaul's Drag Race. What has your life been like after Season 9 started airing?
You know, it's honestly just been a crazy travel schedule. Most of the time I'm only in cities for 12 to 14 hours. It's just that intense. Although it takes a lot of getting used to, it's great getting to connect with the fans and all the people who watch and love the show, and who support the queens who participate. It's such a wonderful experience.
Did you always want to be on Drag Race?
Yeah, absolutely. From the very beginnings of my drag career. I watched the show and was really inspired by it. It was just a great showcase of talent and I totally saw myself being a part of that show. I auditioned 5 times, every year since I started drag.
You got a lot of well-deserved praise for your original rap and lip sync performance to "Category Is." Had you written music before that challenge?
I'd written maybe 2 or 3 songs prior to that challenge, but it's just something that I love. I love music and writing. I probably wrote that verse in 20 to 30 minutes and I was just like, "There it is. Let's throw it down. Let's do it."
And Todrick Hall gave you such great feedback in the studio! That must feel good getting that kind of praise from someone who is so talented.
Todrick was really great. I really admire him and his work ethic. He's a go-getter, and for that reason I think we really saw eye to eye. My mom has always called me her little go-getter.
At the Drag Race Season 9 finale, you had to go toe-to-toe against your friend Sasha Velour and perform Whitney Houston's "So Emotional," right after telling an international audience that your father and sister had passed away. I can't imagine how difficult that must have been. What emotions were you feeling during that performance?
To be perfectly honest, I'm gonna say I was actually a bit numb. The experience in and of itself was just so crazy and the timing and scheduling, the surprise lip-sync battle, all that new stuff that was surfacing, I felt like I was just in a place to not fully process it and take it in. I was really just trying to make it through, because with losing my dad and my sister, there wasn't much time to grieve and be with my family. I had to put these family members to rest and then immediately hit the road. It definitely has been a challenging year for that reason alone, and to go through all those emotions and reflect on the experience and miss my dad and sister and having to lip sync against my best friend, it was a lot. I just did what I had to do to push through.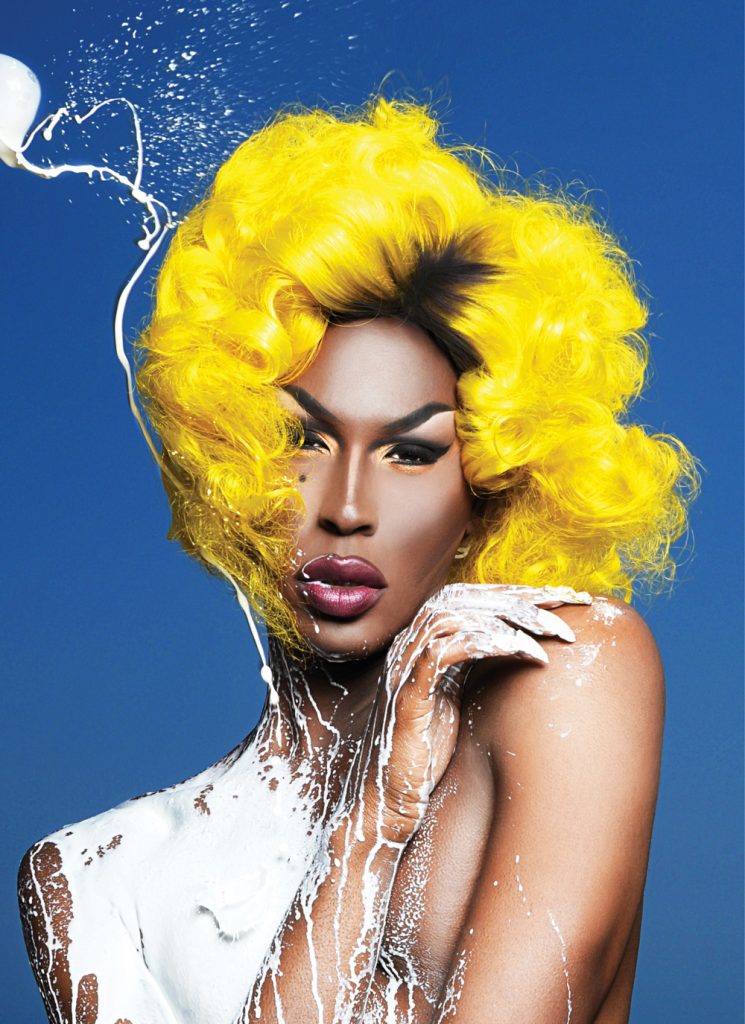 Many of us were shook af when Ru announced Miss Shea Couleé, winner of 4 challenges this season, would not be going to the Top 2. I was pretty angry myself. Were you as surprised as we were?
I mean, I guess yes, it was very shocking for me. But you know, gosh, I probably shouldn't say that Production pays attention to the critiques that are given on Reddit. But I know it's something they do pay attention to—they're only human—and I think the fans were feeling like this season was predictable. I think Production was trying to shake things up and give the fans a surprise ending. And ultimately taking the crown is a takeaway, but you win just by being on the show and participating. In so many ways it was still such a blessing and still is, so I'm at peace with it.
Now that the show has wrapped up, you released not one, not two, but three professionally-produced music videos. They're all dazzling, and each very different! Do you feel like you have a set trajectory for your music, or are you more in an exploratory phase?
I'm definitely in an exploratory phase right now, because there's just so many different types of music that I really like, so as someone who's just experimenting and figuring out what my voice is, I'm trying all different types of things that appeal to me and see what sticks, what feels organic, what people respond to, that sort of thing. There's no real set goal as to what my sound is, I just want to do what feels right.
It's definitely something I've always, always, always wanted to try. And after I got back from filming the show, I was just really inspired. There were so many things that were happening that I wanted to get into. Trying music, curating beats. I actually recorded 11 songs but just 3 made the cut. But I still have this nice body of work to choose from for future projects. I just really love music, I'm such a fan of it, and I wanted to create a soundtrack to a really interesting visual piece. I did a short film last year, Lipstick City, and one of the biggest challenges was sourcing music that worked well with the images. So we were just like, "How about we just start with the music and build from there?" It was a completely different process and so much smoother, fun, and experimental. I'm just excited to do more projects and create more music and explore more of that side of drag.
Is that where you want your career to go? To become a recording artist?
I do have a huge passion for music. There's also a huge part of me that loves acting and I want my career to go there too. Not just as Shea Couleé but for other things too. There's a couple opportunities on the horizon that I'm excited to explore.
I'm excited to see where those take you! The show gave you a platform to show us your amazing talents in music, dance, fashion design, and acting too. What other talents does Shea have up her sleeve?
(laughs) I'm also a witch.
You've earned an enormous fan following, and now have a huge platform to reach people. What influence would you like to have on the queer community at this point?
I would say the influence I would like to have on the queer community would be to inspire people—specifically queer POCs—to feel comfortable in themselves and their identities, to understand that they're special, they're amazing, and that anything you want or dream about, you deserve it. All you have to do is work hard and find the people who will help you. Find your support system.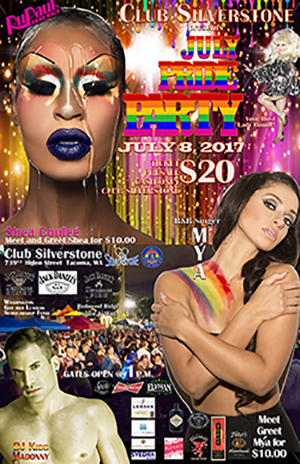 I want to inspire because I know the people who inspire me—RuPaul, Naomi Campbell—to be at a place now that they know who I am and they know my work? It's incredible. We're all the authors of our own destiny. We have to take control and do our best to leave our mark while we're here. It's so empowering and uplifting for me, so hopefully it's that way for other people who are watching.
You can catch Shea, Lady Bunny, and R&B legend Mýa at Club Silverstone's July Pride Party on Saturday July 8th! 

(Visited 2 times, 1 visits today)