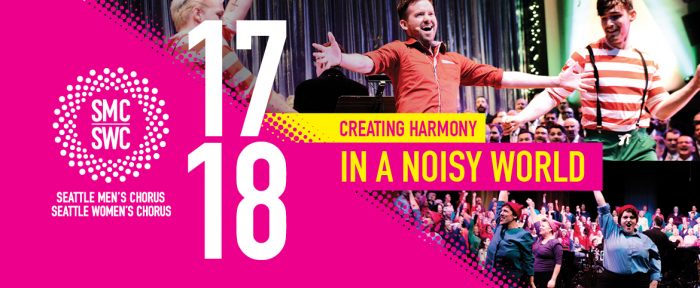 Seattle Men's Chorus and Seattle Women's Chorus announced the line-up for their 2017/2018 today…and, it includes a special 15th Anniversary Concert for the Seattle Women's Chorus (SWC) as the season kickoff in October.
The season continues with the Seattle Men's Chorus's annual holiday show and Puget Sound area tour, then both the SMC and the SWC join forces for a huge spring show NOT IN OUR TOWN with special guest, YouTube megastar, out gay comedian and commentator RANDY RAINBOW on hand as special guest. The SMC/SWC is gonna get PO-LIT-I-CAL with this April show at McCaw Hall….
Gee, we wonder why?
The SMC will wrap up the 17/18 season with their annual Pride show on June 22nd and 23rd at McCaw Hall. This year's theme: BRITISH QUEENS!!!
Season subscriptions are on sale now…individual tickets available on September 5, 2017.
More to know:

Seattle, WA –Paul Caldwell leaps into his second season as artistic director for Seattle Men's Chorus (SMC) and Seattle Women's Chorus (SWC) with SWC's highly anticipated 15th Anniversary, a brassy sassy holiday concert, the arrival of Randy Rainbow at April's massive joint concert and an homage to Britain's "queens" in all their forms.

Additionally, the Choruses will engage other communities when they take their music on tour to Olympia (March 2018) and three concerts in Eastern Washington (July 2018). Paul describes the season as, "an amazing journey of music and mission." Single tickets go on sale on

Tuesday September 5

and the best seats are expected to get snatched up quickly.

 

SEATTLE WOMEN'S CHORUS – 15th Anniversary Season kickoff

Fired Up                                                                                                           

Every social movement in modern history has been accompanied by music that rouses the masses, speaks truth to power, and cements public consciousness. SWC brings heart and soul to songs of protest and social justice. Traditional pieces by Pete Seeger complement contemporary music by singer, songwriter MILCK. The sounds of new works by Mari Esabel Valverde and Abbie Betinis will fill Saint Mark's Cathedral as well as a new song by 13-year old You Tube sensation Isolde Fair. Collectively the concert shines a spotlight on the music that has been inspired by such movements as anti-war, human rights, and the 2017 Women's March. Through song, SWC reminds us all of Seattle's crucial role as a harbinger of social activism.

Dates:  

10/13/17 – 10/21/17

              10/13, 10/14, 10/20, 10/21 at 8:00

pm

; 10/21 at 2:00

pm

              Seattle, Saint Mark's Cathedral

A Sassy Brassy Holiday

The color and warmth of brass infuses beloved holiday carols, classic seasonal anthems, and a pinch of sass. Featuring a soaring gospel arrangement of "Joy to the World," the cheeky and cheerful "A Super Gay Christmas," plus a down and dirty Dixie styling of "Let It Snow."

Dates:

 

12/10/17 – 12/23/17

                  12/10, 12/20,

12/21 at 7:30

pm;

12/17 at 8:00

pm;

12/23 at 2:00

pm &

8:00pm

Everett, Historic Everett Theatre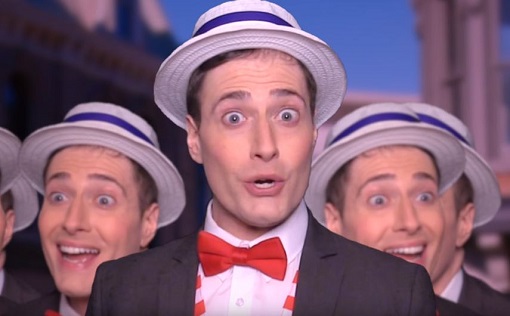 SEATTLE MEN'S CHORUS & SEATTLE WOMEN'S CHORUS

Not In Our Town

With Special Guest Randy Rainbow!

Standing up and singing out! The combined forces of SWC and SMC's voices share the stage for a special unity concert that confronts the rising tide of intolerance in our country. Featuring a tour de force musical theatre piece from the creators of 

Ragtime

 

about the history of civil rights in America, 

Not In Our Town

 is filled with inspiring stories of equality as well as songs of celebration from Katy Perry, Melissa Etheridge and Whitney Houston. 

              4/7 at 8:00

pm

& 4/8/18 at 2:00

pm

God Save The Queens

SMC ascends the throne to present 50 years of British rock and pop royalty, from The Beatles to Sting to Adele. This invasion is so lush and flashy that it edges on revolutionary!  

Dates:   6/22/18 & 6/23/18 at 8:00

pm

Subscription Packages:

    On Sale Now: $49 – $226             

Individual Tickets:

            Tickets on sale to the General Public

9/5/2017

:  $25 – $85

Box Office:                      

206.388.1400        Mon-Fri,

11:00AM-6:00PM

Randy Rainbow (yes, real name) is a comedian, actor, writer, host and Internet sensation best known for his viral comedy videos. His popular series of political spoofs and musical parodies have garnered international acclaim and hundreds of millions of views. Dan Savage called him "the best thing to come from the GOP race" and his musical tribute to the first presidential debate of 2016 ("BRAGGADOCIOUS!") received 28 million views in its first two days. He was subsequently asked by the cast of TV's Will & Grace to parodize a song which they performed during a fundraiser for Hillary Clinton. Randy has originated and starred in multiple hit web series for BroadwayWorld.com, written for comedian Kathy Griffin and hosted and performed in numerous theatrical events for the Broadway, cabaret and gay communities, as well as for the Tony Awards and some of New York City's most popular night spots including 54 Below, Birdland Jazz Club and Therapy NYC. Rainbow can be seen starring opposite Margaret Cho in a new musical ad campaign for Orbitz. He has also been seen on VH1 and Bravo's Watch What Happens Live, and has been heard regularly as both a guest and co-host on Sirius XM Radio.
Tags: 2017/18 Season, Gay Chorus, LGBT Choruses, randy rainbow, Seattle Men's Chorus, Seattle Women's Chorus, SMC/SWC