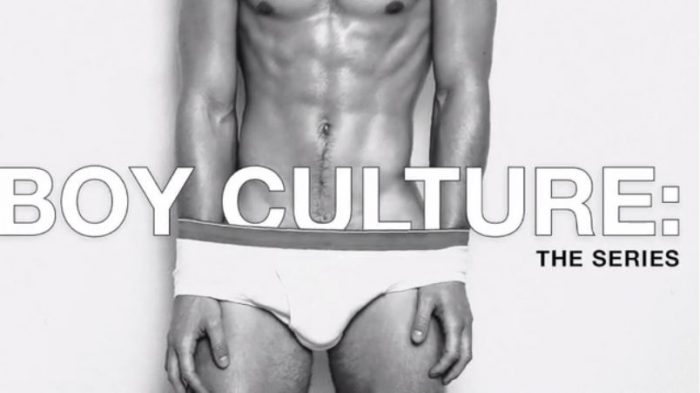 Q. Allan Brocka, the film director posted on social media a few hours ago that the Kickstarter campaign to raise funds to turn the popular indie queer film BOY CULTURE from a decade ago, into a sequel web series, was down to the wire and needing just a tinge more support to reach their $50k goal to go into production.
Happily, that last minute push got them over the threshold and BOY CULTURE: THE SERIES is good to go!
However, there's still a day and a half left in the campaign. You CAN continue to support this project by contributing money which will naturally help them maintain high production standards. Also, you don't get ALL the money you raise on Kickstarter…they get a cut! So if you can go OVER the goal that actually helps the fundraisers reach that actual amount!
Go here to continue pledging through 6am Pacific time, Thursday, August 24, 2017.
Here's some more skinny!
Boy Culture: The Series Reunites the Original Creative Team!

It's the return of the gay-favorite romantic dramedy about a hustler who knows all too well that SEX PAYS, LOVE COSTS — and 10 years later, he's learning even more about life and love.

Help Us Bring Back This Neo-Classic Gay Love Story!

You are contributing to help bring to life Boy Culture: The Series, an innovative, sizzling-hot, funny love story in series/film hybrid form that picks up 10 years after the action of the popular film Boy Culture.

Boy Culture: The Series will push LGBTQ entertainment in a new direction — and early backers like you can help make that happen!

The series will consist of six 15-minute stories, creating a feature-length, 90-minute whole.

Directed by Q. Allan Brocka; with a script by Brocka and Boy Culture novelist/blogger Matthew Rettenmund, and with production by Stephen Israel and Philip Pierce, the sequel will explore themes of sexuality, sex work, age, race, closeted celebrities, cosplay, PrEP, and how gay men can make a committed relationship work in a world where sex — just like your favorite show to binge-watch — is available on demand.

The New Series

Boy Culture: The Series is not a typical sequel. In many ways, it is more adventurous, outrageous and unconventional than the feature that inspired it.

Ten years after the drama of Boy Culture, "X" and Andrew — who were a couple when we left them — have broken up after a move to L.A., so are back where they started: They're roommates with way too much chemistry.

"X," out of hustling for years, is getting back into it, but finds himself rusty about how the business works. Hilariously, he is unwillingly taken under the wing of Chayce, a barely-legal twink who is ruthlessly up to speed on how to sell what he's got.

Who says millennials are afraid of hard work?

In no time flat, this snarky kid is leading headstrong "X" around by the nose, and it's a dynamic that the grumpily insecure, almost-over-the-hill-but-still-hot "X" never saw coming.

Boy Culture: The Series consists of six snappy, 15-minute episodes, each focusing on a different trick and exploring a different topic.

#1 "Marriage Equality": Keep in mind, the last time "X" turned a trick, gay marriage hadn't even come to one state, let alone all 50.

#2 "Larry Shippers": Guess who? Don't sue.

#3 "The N-Word": Race ya to the bottom!

#4 "The Women": Giving ladies' choice a whole new meaning.

#5 "The Surprise": You must be at least this tall to ride this ride.

#6 "Comic-Book Hero": There's no dressing up the fact that HIV is still every sex worker's kryptonite.

Throughout the series, "X" and Andrew's off-again relationship is coming to a head — will they get back together, or decide to stay apart for good?

Meanwhile, Chayce is on hand to mess with "X's" mind and to attempt to insert himself into the situation by inserting himself into "X's" ex.

In short, Boy Culture: The Series has even more sex, love, laughs and drama than the original. It's like A Man and a Woman: 20 Years Later … except it's A Man and a Bunch of Men: 10 Years Later!

Talent Involved:

Q. Allan Brocka, director and co-writer: Brocka made his directing debut with the widely admired gay shorts Quenton (Queerbait) and Roberta Loved. He is the creator of the popular Logo animated series Rick & Steve: The Happiest Gay Couple in All the World and wrote and directed Eating Out, the first gay film to ever spawn more than two sequels. His documentaries Vivid Valley and Camp Michael Jackson display his unique grasp of the emotional impact of pop-culture phenomena.

Matthew Rettenmund, co-writer: Rettenmund is the author of the novel that was adapted into the original film, but Boy Culture: The Series marks his screenwriting debut. He is the author of the books Encyclopedia Madonnica 20, Starf*cker, Totally Awesome '80s and many more. He is a photographer and writer who blogs at — where else? — BoyCulture.com.

Stephen Israel, producer: Israel is one of Hollywood's busiest filmmakers, and the producer of several gay classics. He made his first big splash in 1994 as a producer on Swimming with Sharks, which launched the career of Kevin Spacey. Along with Boy Culture, he has produced a wide variety of successful films, including G.B.F. with Michael J. Willett, Megan Mulally and Natasha Lyonne; and Helicopter Mom with Nia Vardalos.

Philip Pierce, producer: A successful Beverly Hills psychologist, it was Pierce who first optioned Boy Culture for the movies right after it was published, and it was Pierce who kept at it until it became a film nearly 10 years later. Along with Boy Culture, Pierce executive-produced the Web series Evil Shrink with Jennifer Elise Cox, Hamish Linklater and the late Taylor Negron.

Starring Matthew Wilkas as "X" and Darryl Stephens as Andrew (reprising his film role) with Matt Crawford as Chayce and Steve Grand and Stephen Guarino in undisclosed roles.
(Visited 3 times, 1 visits today)