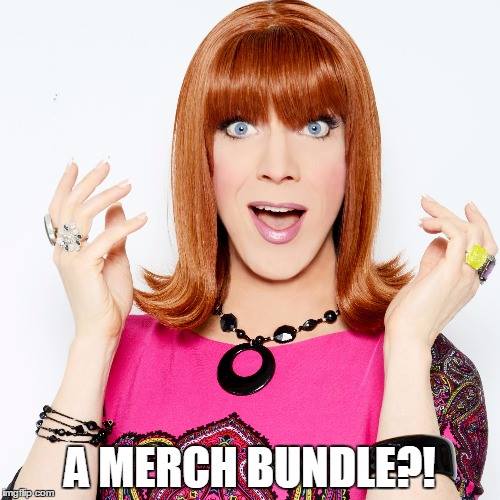 We really, really, really j'adore drag performer/icon MISS COCO PERU. She's funny, saucy, witty, gutsy and she doesn't take crap from anyone. If something "bothers her", you need to step BAAAAAAACK because she's getting ready to open the "Reading Library" (and we don't mean the one in Pennsylvania….) We've been a dedicated member of #TeamCocoPuff for years!
Now the Los Angeles based/New York born diva needs our assistance. She's crowd raising the funds to make one of her dreams come true. While Coco has had success with her hilarious YouTube videos (click here…our favorite is the one where she plays "Grand Theft Auto") and her successful live event, "Conversations with Coco" where she interviews celebrities like Jane Fonda and Liza Minnelli, she now wants to combine the two to create her own taped show for television.
(And, a portion of proceeds from the project, if it gets picked up, will go to aid the Los Angeles LGBT Center which was the beneficiary of the original stage shows.)
But, to make a TV pilot costs MONEY and even a Megastar like Coco can't bankroll a show to the tune of $80,000 so she's created a Kickstarter campaign to raise the money. With a week to go, they're already up to $70k but let's help her go over the top with a small donation.
Here's all the poo. Go here to help out!
This for-profit media project is inspired by a show created at the Los Angeles LGBT Center. Funds raised on Kickstarter will go toward producing the Conversations with Coco pilot and won't go to charity. The Center will receive a portion of all series profits after the show is produced.

Scheduled first guest: Lily Tomlin on August 13!*

As mentioned in the video above, Coco Peru is delighted to announce that her scheduled guest for the pilot episode is Lily Tomlin! Join us at the Los Angeles LGBT Center for the August 13 taping (date subject to change), as Lily reminisces on a legendary career of remarkable artistry, including:

Rowan & Martin's Laugh-In
Nashville
9 to 5
All of Me
Flirting with Disaster
Tea with Mussolini
I ♥ Huckabees
The Search for Signs of Intelligent Life in the Universe
Grandma
Grace and Frankie

*Date subject to change based on talent availability

How it all started

For ten years, Miss Coco Peru has conducted intimate interviews with some of the biggest names in entertainment. These live staged fundraising events benefit the Los Angeles LGBT Center, and guests have included:

Bea Arthur
Liza Minnelli
Allison Janney
Lainie Kazan
Jane Fonda
Charles Busch
Lesley Ann Warren
Karen Black

Audiences for each show have been limited to the 200 attendees lucky enough to squeeze into the sold-out theater, but we want to bring these remarkable conversations to a much larger audience, including you!

Portion of series proceeds benefits the show's birthplace!
This is a for-profit media project inspired by a show created at the Los Angeles LGBT Center.

A portion of all proceeds from the series will go to the Los Angeles LGBT Center, birthplace and home of CONVERSATIONS WITH COCO. Their share of the profits will expand their mission of building a world where LGBT people thrive as healthy, equal and complete members of society. This includes help for youth, homeless, seniors, job-seekers, and artists. Their live fundraising events typically raise around $45,000, and this for-profit venture is an opportunity to raise even more while bringing this show to audiences around the world.

Then, after she gets the pilot made, we need to bug LOGO to actually pick up this series. They rely FAAAAAAAR too much on RuPaul projects (love ya, Ru, but we're a tad….done with seeing you on EVERY original LOGO show.)
UPDATE: Coco made her goal! But, you can continue to help out so they can add production values to the pilot…you can contribute (and receive the incentives) through 5 pm on March 14, 2016. Go HERE!
(Visited 1 times, 1 visits today)