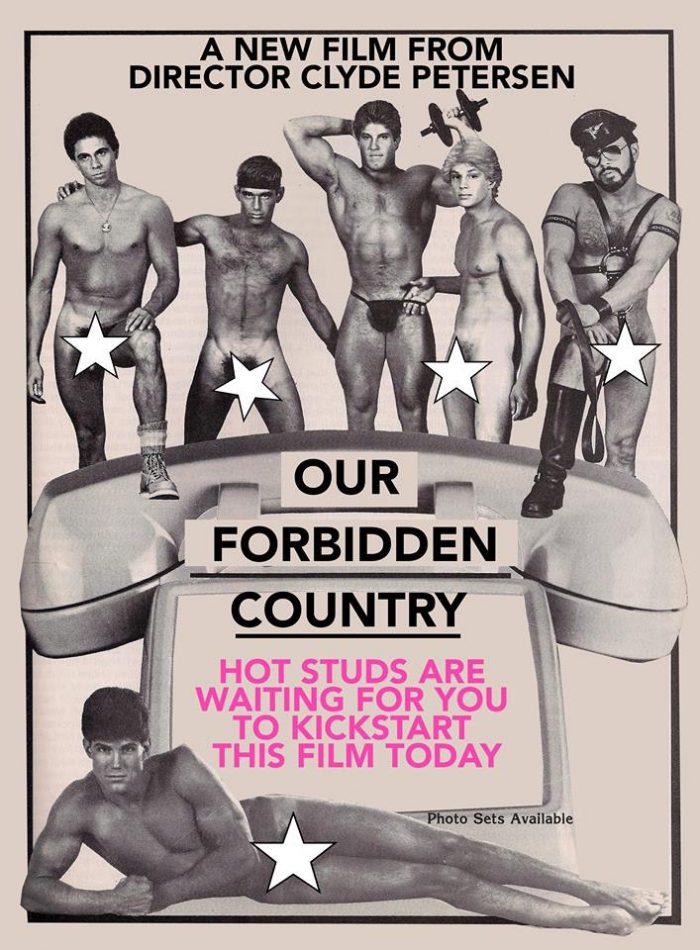 Polymath and professional multi-hyphenate (filmmaker-animator-graphic artist-musician-opera baritone-bowler-spelunker-hang glider-former Secretary of the Interior under Bill Clinton-snake handler-porn enthusiast) CLYDE PETERSEN needs our help to make their new project a reality!
Yes, it's yet another crowd sourced plea for money to work on a film project but Clyde actually follows through with his projects (for anyone who has been burned by other crowdsourcing projects….)! And, Clyde's new stop-motion animated feature film,  a follow up to their mega successful/praised TORREY PINES, is called OUR FORBIDDEN COUNTRY and it's a subject near and dear to our jaded little hearts: queer sexuality and eroticism intertwined with history and rebellion and art and literature and film and animation and dirty little secrets and cruising and….
ALL of our favorite things!
Clyde has a BIG goal of reaching $60,000 by December 22nd (they're at about $10k to date) and there are all sorts of great pledge gifts for a variety of different giving levels. Go HERE to pledge and here's more info on this terrific new project:
Our Forbidden Country is the second stop-motion animated feature film from director Clyde Petersen. This new queer film is influenced by the writings of historic and contemporary GLBTQI authors. With a focus on stories surrounding queer community, Our Forbidden Country touches on topics of secret and forbidden love, sex with strangers, the lives of hustlers, the impact of AIDS on homosexuals, historic events and rebellion all interwoven with several personal narratives.

With the spirit of Todd Haynes Superstar, the dreamlike quality of the infamous art film Boys in the Sand and the stories from Close to the Knives by David Wojnarowicz, Petersen turns to written materials and firsthand accounts to source the ephemeral remnants of a gay culture that was always underground and is all but extinct in our "beyond the closet" society.   A picture starts to emerge when you begin to examine the impacts of a loss of an entire generation of vibrant queer artists.  A picture begins to emerge when you start to celebrate infinite intimate moments within the queer community. A picture takes shape as you look into the gap in the generations between today's queers and their elders. A picture starts to show itself, emerging from between the lines of society, rising up from the margins, a picture unwavering in intensity, an anthem, a memorial. A motion picture called Our Forbidden Country.

Clyde Petersen is a transgender/queer working artist from Seattle, Washington. Their first animated feature film, Torrey Pines, toured the world with a live score, playing in film festivals, DIY spaces, museums and independent theaters. Clyde currently has a solo exhibition at the Bellevue Arts Museum.

Find out more about Clyde at: www.clydepetersen.com
Tags: Boys in the Sand, Clyde Petersen, David Wojnarowicz, Kickstarter, Our Forbidden Country, Queer Animated Film, Queer Crowd Sourcing, Queer Crusing, Queer Erotic Film, Queer Film, Seattle Queer Film, Torrey Pines