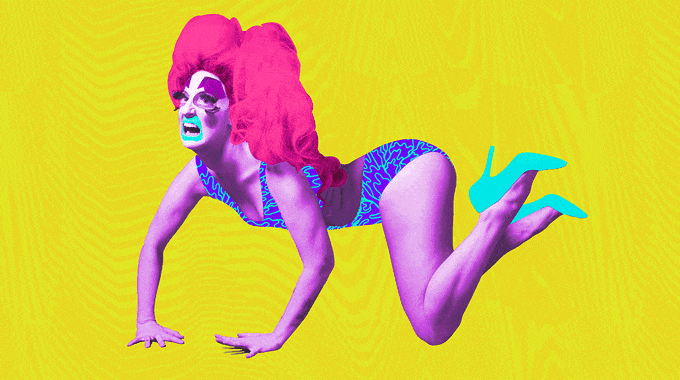 We must help her!
She's the one of a kind bio queen/performance artist/dancer/choreographer and all around whiz kid…CHERDONNA SHINATRA and she's crowd sourcing to fund her next arty project which is the first production from her new company "Donna".
"DITCH: OUT LOUD DEEP THROATED MIRTH" is the inaugural piece for her company and shockingly, Cherdonna (aka Jody Kuehner) wants to be able to pay her company members actual wages…but art isn't easy and it sure isn't cheap, so she's lookin' for a bit of help by Kickstarting her new project which will be "An immersive gallery installation with durational performances in response to the fragmentation of femme and queer identities…"
Here's a bit more info and click HERE for even more and the opportunity to throw a buck or two Cherdonna's way…they're already 5/8ths of the way there, so it won't take a lot to get them over the finish line!
ANNOUNCING MY NEW COMPANY!!

DONNA

ANNOUNCING OUR INAUGURAL WORK
AND KICKSTARTER CAMPAIGN LAUNCH!!

DITCH: OUT LOUD DEEP
THROATED MIRTH
Much is underway in Cherdonna's world. I am thrilled to announce that DITCH will be the inaugural work for my official new company called DONNA. I am honored to be working with Jenna Eady, Allison Burke, Alyza DelPan-Monley, Katie Wyeth, and Julia Sloane. These five incredibly smart and fiery dance artists are joining me along with Maggie Rogers as our company dramaturg, Danial Hellman as our company costume designer, Sara Jinks as our company manager, along with under-study Carlin Kramer and rehearsal assistant Erin McCarthy! I am so happy to be breaking new territory with this fierce group.

We are deep in rehearsals developing DITCH, an immersive art installation with DAILY performances at the Frye Art Museum 

January 26 – April 28th, 2019

.  I'm so excited about this project.

I hope you will consider donating to our kickstarter! Take a look HERE!!

Because I am fully committed to paying artists equitably for their work, this fundraising effort is all about them! Their hard work, brains and beauty they offer to this company and project. I hope you will follow the link and learn more about DITCH and the artists you are supporting!

Thank you for your consideration!
(Visited 1 times, 1 visits today)