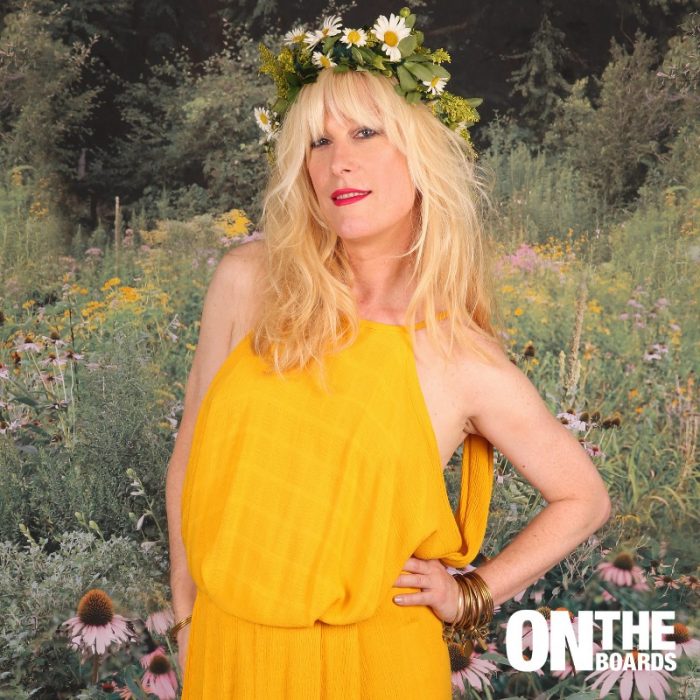 Our beloved Kiki returns to Seattle!
Yes, the delightful chanteuse and artistic activist JUSTIN VIVIAN BOND is paying Seattle a visit in June to support local performance arts producers, ON THE BOARDS, 100 W. Roy Street, with benefit shows on June 20th and 21st. 
Mx Bond won our hearts as half of the wonderful musical/comedy duo "Kiki & Herb" back in the 90s/00s and though Kiki and Herb went their separate ways, Mx Bond continues to delight audiences around the country with their cabaret act as well as performances in film and on television. 
The Thursday, June 20th show will be a solo cabaret performance from Bond….expect a wide array of classic songs from the golden era of cabaret, and a considerable amount of frank discussion about the current state of the world as seen through JVB's eyes. The 2nd show, on Friday, June 21st will feature Viv and a cast of terrific local performers and artists including writer Mattilda Bernstein Sycamore and performance artist/dancer/choreographer Cherdonna Shinatra and Nath Ann Carrera an Ms. Briq House.
The shows are being performed cabaret style with a limited number of 4 top tables available as well as single seating.
Justin Vivian Bond is VERY popular…snag those tickets QUICKLY if you want to guarantee a seat.
More:
***Get your Limited On-Stage Table Seating before June 12!***

The inimitable Justin Vivian Bond – aka Viv – is returning to Seattle! Perhaps you've missed them from their days as salty-sassy Kiki of Kiki & Herb. Or you're now being newly introduced to them via their brilliant cameos in HBO's 'High Maintenance', Netflix's 'The Get Down', or 'Ugly Betty'.

Viv is offering two shows – one with just themself and the audience, and one as House of Whimsy, Viv's curated evening of queer spirit leaders and culture warriors, featuring Mattilda Bernstein Sycamore, Cherdonna Shinatra, Nath Ann Carrera, and Ms. Briq House.
Both nights offer limited 4-top, on-stage table seating that includes a bottle of bubbly and table service. Get close and comfy with Viv, and usher in summer in ultimate style.

About Justin Vivian Bond

"The greatest cabaret performer of their generation."
–Hilton Als, The New Yorker

As a performer both on and Off-Broadway, Mx Justin Vivian Bond has received numerous accolades winning an Obie (2001), a Bessie (2004), a Tony nomination (2007), the Ethyl Eichelberger Award (2007), The Peter Reed Foundation Grant, and a Foundation for Contemporary Arts Grants to Artists Award.

Thurs, Jun 20, 8 PM – Summer Solstice Benefit Cabaret
Join us on the eve of summer solstice for a benefit cabaret performance with Mx Justin Vivian Bond, featuring songs, banter, razor-sharp social commentary, and real glamour.

Fri, Jun 21, 8 PM – House of Whimsy
An alluring, edgy, and irreverent evening of Seattle's own queer spirit leaders and cutting edge culture warriors —selected and introduced by Mx Justin Vivian Bond. Established favorites mingle with talented newcomers in a program of variety acts including performances by Mx Bond themself. Featuring Mattilda Bernstein Sycamore, Cherdonna Shinatra, Nath Ann Carrera, and Ms. Briq House.

Tickets & Tables

Cabaret Seating: Get close to the action with an onstage table for four! Price includes a bottle of bubbly for your table.
$500 for the Summer Solstice Benefit Cabaret, $300 for House of Whimsy
***Limited Availability: deadline for table reservations is Jun 12!***

Gen Adm – Premium: Secure your seats in the first 3 rows
$100 for Summer Solstice Benefit Cabaret, $60 for House of Whimsy

Gen Adm – Standard: General admission seating
$75 for the Summer Solstice Benefit Cabaret, $50 for House of Whimsy
(Visited 1 times, 1 visits today)